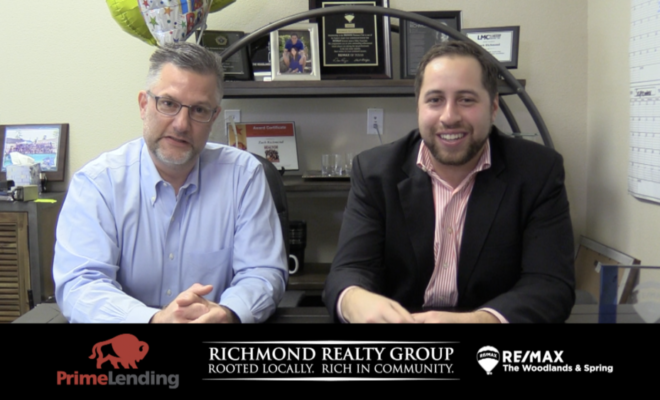 Business
Financial Forecast and Market Update for February 2019
By |
Zach Richmond of The Richmond Realty Group RE/MAX The Woodlands and Spring and Jon Sanderson with Prime Lending of The Woodlands share with Hello Woodlands a market update of the current and forecasted conditions globally, in the United States, Texas, and locally for The Woodlands and Montgomery County area.
View TREC Consumer Notices: https://bit.ly/TRECRichmondRealty  https://bit.ly/TRECTX
Global Market Update and Forecast
Jon: "The Mortgage Banker Association states risks that are possible is that a recession may be coming, which is normal market volatility, normal cyclical conditions. Global growth is potentially going to slow down. Trade wars are occurring. In all honesty, if Chinese trade war gets solved I think the stock market is going to take off and we will see a lot of positive in that. The good news is wage growth continues to be strong. The key word is jobs. There are so many jobs and people are struggling to find good quality workers. Leisure and Hospitality industry is starting to pick up. Interest rates are probably going to remain the same this year +/- 5%, so we are in good shape."
Zach: "Under 6% is a strong consumer rate environment. We are really not seeing this affecting home sales. Baker Hughes on February 8 put out a report with the United States rig count. The rig count is something that touches us nationally and locally. In the United States, there was 7.6% increase in rig counts since last year. There are a lot of jobs associated with this change. Real estate is location location location, but I think the economy is jobs jobs jobs."
Jon: "For the first time in 75 years, the United States is a net exporter of oil."
Zach: "This is a big deal for the Houston economy. We already produce enough for all of us and the country – we are now exporting our excess."
Texas Market Update and Forecast
Jon: "I wonder how big is our GDP in Texas?"
Zach: "From Senator Creighton's office, they were able to speak with us at the Economic Outlook Conference and he hit on some key things. We [the state of Texas] are the 10th largest GDP (Gross Domestic Product) in the whole world. We are now a bigger economy than Russia. We also have a population growth that is 3 times faster than the state of New York. Also as stated at our EDP Quarter Luncheon in January, the Texas Development Corporation states that 1000 to 1200 move to Texas every day. We also lead the country [per state] in exporting producing cattle, cotton, hay, ranch and sheep."
Jon: "Leisure and Hospitality jobs are up 2% in the last 12 months which is a really good leading indicator. People have more deposable income, leading to staycations or go far away. I myself go over to The Woodlands Resort at least once a year – love the pool over there."
Zach: "Things are going well and improving."
Jon: "I think oil is going to be $50-60 per barrel this year in 2019, which is good. Around here we would love to see it around 100 again, but we have to be fair to the rest of the country. We are willing to pay and there is a lot of employment."
Zach: "Ted Jones, the chief economist from Stewart Title, came to The Woodlands and gave a presentation. He mentioned there are seasonally adjusted jobs for The Woodlands, Houston, Sugar Land MSA."
Jon: "From the Bureau of Labor Statistics in the last 12 months, Houston has produced 114,700 net jobs."
Local Market Update and Forecast
Zach: "So right now we are in a great time because we have low inventories right now. In January there was 8% more contracts written that are going under pending in The Woodlands. The Woodlands is a benchmark for the rest of South Montgomery County and the area. Now for the first time in 2-3 years, homes that are $900,000 and below are in a sellers market. Many say that the best time to sell is in June, but literally right now if you have a chance to sell your house there is a strong market. The $500-600K is at about a 3.5 month's supply. You are seeing a pick up in this market right now. We survived one year after Harvey, we didn't have any major issues, and we are starting to work on some irrigation plans so I think we are moving in the right direction. I think people are starting to feel more confident."
Note: The 8% growth stated in January 2019 was based on the comparison to records for January 2018.
Market Overview
Zach: "From what we are seeing in are industries we are seeing pickup locally. We are not economists and do not have a crystal ball, but if we look at statistics of what we have from historical markets… I know there is talks of pending recession which could be possible, but also the fundamental indicators show things are pretty good too."
Jon: "Absolutely, jobs jobs jobs – plenty of them in this area."
Zach: "There's a lot of activity here. There's more consumer spending, more leisure and hospitality jobs. I mean things are good. Things could slow down, but I think we are pretty protected over the next year or so – that's my personal opinion."
For more information and questions, please contact Zach Richmond and Jon Sanderson:
Zach Richmond, The Richmond Realty Group RE/MAX The Woodlands & Spring
Website: RichmondRealtyTX.com
Facebook: Facebook.com/RichmondRealty
Instagram: Instagram.com/RichmondRealty
Jon Sanderson, Prime Lending The Woodlands
Website: https://lo.primelending.com/jon.sanderson/
Facebook: Facebook.com/JonMyLoanOfficer
Instagram: Instagram.com/JonSanderson316490
Stay tuned for more important news and updates on real estate in The Woodlands and Montgomery County from Hello Woodlands!
Legal Disclaimer: The material provided here is for informational purposes only and is not intended and should not be considered as legal advice for your particular matter. You should contact your attorney to obtain advice with respect to any particular issue or problem. Applicability of the legal principles discussed in this material may differ substantially in individual situations. 
Texas law requires all real estate licensees to provide TREC Information About Brokerage Services to all prospective buyers, sellers, tenants & landlords. To view, click here. For TREC Consumer Protection Notice, click here.