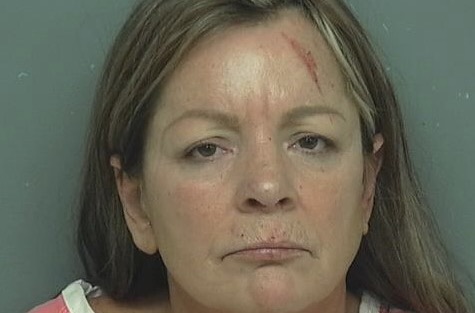 News
Maximum Prison for Drunk Driving Crash seriously injuring three
By |
On Friday, September 29, 2017, after a week-long trial, jurors in the 221st District Court of Montgomery County, Texas handed down ten years in prison for three counts of Intoxication Assault committed by Caryn Lee Stucky on January 2, 2017. Judge Lisa Michalk stacked all three of the sentences making her eligible for parole in fifteen years. ADAs Monica Cooper and Brittany Litaker responded to the scene the night of crash and prosecuted the case.
​

At trial, evidence showed that on January 2, 2017 at approximately 8PM, Stucky was seen leaving a local bar and appeared to be highly intoxicated. A bar patron asked Stucky if he could drive her home due to her condition. After some convincing, Stucky accepted the ride, but later demanded to be taken back to the bar and threatened to jump out of his vehicle. Once they arrived back to the bar, he again tried to offer a ride for approximately 45 minutes, but she refused. The bar patron then hid her keys and left. Stucky made it approximately 1 mile down the road with no headlights on before she drove into the oncoming lane of traffic. Stucky nearly struck two vehicles that were able to avoid the collision before slamming head on into a family of three consisting of a grandmother and grandfather and their 16 year old granddaughter.
​The family and Stucky were all transported to Conroe Regional Medical Center. The grandmother was immediately rushed into surgery for abdominal bleeding, the granddaughter was admitted to ICU with a brain bleed and traumatic brain injury, and the grandfather had an extensive stay at multiple hospitals for open leg fractures, a collapsed lung, and a torn stomach. Stucky was released from the hospital that night with bruising. It was later learned from a blood draw that Stucky's blood alcohol concentration was over twice the legal limit and she also smoked Marijuana.
​In the punishment phase, the jury heard Stucky was arrested on six prior occasions for driving while intoxicated in Colorado, and was convicted three times. There was evidence concerning her history of alcohol abuse over the years as well as use of Cocaine and Marijuana. There were also several arrests for assault and testimony from officers from Colorado for the jury to consider.
​After all of the testimony, the jury came back with a maximum sentence of ten years on all three cases. They felt it was the safest thing to do considering how serious the injuries were as well as Stucky's prior intoxication offenses and unpredictable future behavior. Prosecutor Monica Cooper said, "The defendant had demonstrated herself to be a danger to our community time and time again, so the jury knew they had to keep her locked away as long as possible." Prosecutor Brittany Litaker said, "The victims in this case feel safer knowing that, after so many chances, she is finally off our roadways and unable to put anyone else through the nightmare they have had to endure."
Vehicular Crimes Chief Andrew James said, "We want to thank the Traffic Unit with Conroe Police Department for responding to this scene and investigating and also to the emergency medical personnel with Conroe Fire Department, Montgomery County Hospital District, and Conroe Regional Medical Center. Without their exceptional work, three lives would have been lost. Also, a special thanks to Chief Deputy Robert Sullenberger and retired Officer Matt Taylor for coming in from Colorado to ensure an appropriate result in this case."
Source: J. Tyler Dunman, Assistant District Attorney, Chief, Special Crimes Bureau, Montgomery County District Attorney's Office