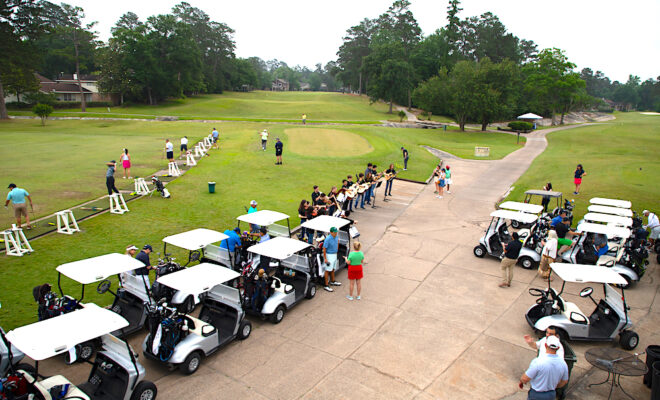 Photo Credit: Rod Prado
Fitness & Sports
MCHC and USMCOC host inaugural Cinco de Mayo Golf Tournament
By |
The Montgomery County Hispanic Chamber (MCHC) and the United States-Mexico Chamber of Commerce (USMCOC) held a joint Cinco de Mayo Golf Tournament on Friday, May 5, 2023 at the River Plantation Golf Club in Conroe.
Before the "Tacos, Tequila & Tees Tournament" began, golfers were serenaded by a 15-piece Mariachi Band from The Woodlands High School. 112 players and 28 teams participated in the inaugural Cinco de Mayo Golf Tournament. Participants had the opportunity to enjoy a luncheon, tequila tasting, and enter the silent auction and raffle.
View photos from the golf tournament on the Hello Woodlands Facebook page:
The event was sponsored by United, Amegy Bank, Don Cosme Tequila, Melissa Z. Marentez – Realtor, Richmond Realty Group, Carnitas El Cliente "Estilo Michoacán", Bonfire Coaching, Hello Woodlands, Houston Latino Network, Dominga Hernandez Gaxiola, Houston Methodist The Woodlands Hospital, SignatureCare Emergency Center, Galindo's Barbershop, The Cannon Houston, Confi Directorio Hispano, Pete Garcia International Inc., Houston Airports, and Experience Houston.
The Montgomery County Hispanic Chamber, established in 2003, celebrates its 20th year anniversary in 2023. The MCHC is a 501c(6) non-profit community based organization governed by a board of directors. The purpose of the MCHC is to advance the growth, success, and prosperity of the Hispanic Community.
The United States-Mexico Chamber of Commerce was established in 1973 as a 501(c)(6) nonprofit business association chartered in Washington D.C. Since its beginnings, the Chamber has grown into a unique bi-national entity operating 19 offices in the U.S. and Mexico. The local chapter for Houston, The Woodlands and the U.S. Gulf Coast was established in 2011.