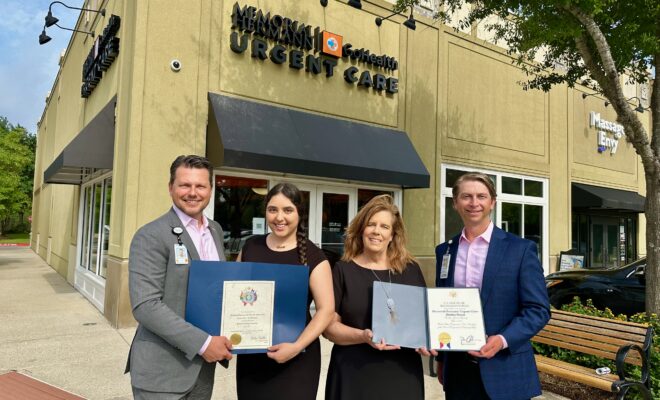 Photo Credit: Jennifer Bruse
Health
Memorial Hermann-GoHealth Urgent Care opens Second Center in The Woodlands
By |
Memorial Hermann-GoHealth Urgent Care opened a new center in The Woodlands today Monday, May 8 at 9595 Six Pines Dr., near the H-E-B in Market Street. The new location, named Market Street-The Woodlands, is the second Memorial Hermann-GoHealth center serving The Woodlands community and the 20th center to open in the Greater Houston area. The first Woodlands center opened last month at 10868 Kuykendahl Rd.
View photos from the ribbon cutting held with The Woodlands Area Chamber of Commerce on the morning of Friday, May 5 on the Hello Woodlands Facebook page:
The Market Street-The Woodlands center offers patients ages 6 months and older a wide array of services for non-life-threatening conditions, on-site X-ray services, COVID-19 testing and flu vaccines. It is open from 8 a.m. to 8 p.m., Monday through Friday, and from 9 a.m. to 5 p.m. on Saturday and Sunday.
"Access to quality health care seven days a week is essential to a happy and healthy community," said Betsy Koickel, MD, medical director of Memorial Hermann-GoHealth Urgent Care. "We are thrilled to expand our services to the convenient and central Market Street location and serve the residents, employees and visitors of The Woodlands."
Michael Bublewicz, Vice President, Chief Medical Officer at Memorial Hermann Health System, shared, "We're really excited to be in The Woodlands with this Urgent Care offering. We have been here with our hospital, a couple free standing EDs [Emergency Departments], but really lacked this very specific care setting for patients, for convenience, and to serve what the community needs. What's exciting about this location is that it gets us towards the front of The Woodlands, a different population density closer to the hospital as well, so the community can have a choice. If they are really ill they have close access to our hospital, but if they are just not feeling well or have a mild injury they can come here to this location."
"We are excited to be in this community," continued Bublewicz. "I think the Urgent Care space is one of those that fills the need for a lot of people throughout the year – during the cough and cold season, during the summer season when you have a lot of activities. We completely understand that there's difficulty in gaining immediate access to primary care physicians as well, so we're here to be that stop gap for those really acute needs and needs-something right now. We really pride ourselves in communicating back to the patient's physician as well to make sure they have a good understanding what is going on with their patient. It's a nice offering for this very specific set of needs that the community has."
Advertisement
The Woodlands center features GoHealth's innovative, award-winning design. Wood accents, curved surfaces and patient-friendly technology create a uniquely comfortable environment. Integrated electronic medical records can be accessed by caregivers across the Memorial Hermann network. The new center also provides residents of The Woodlands with a more affordable option for high-quality and efficient care outside of higher-cost settings, such as ERs. It also provides a direct connection to Memorial Hermann's robust network of care, which regularly earns regional and national recognition for excellence in quality and safety, research and innovation.
New Memorial Hermann-GoHealth centers have opened in the Heights, Tanglewood, Royal Oaks, Kingwood, Willis, River Oaks and Springwoods Village in the past year. An additional center are expected to open in Steeplechase and Sawyer Heights in the coming months.
Patients seeking care can be seen quickly and easily by walking into any Memorial Hermann-GoHealth center or by going online to save a spot and pre-register. For details about all Memorial Hermann-GoHealth locations, visit gohealthuc.com/memorialhermann.
Source: Memorial Hermann-GoHealth Urgent Care