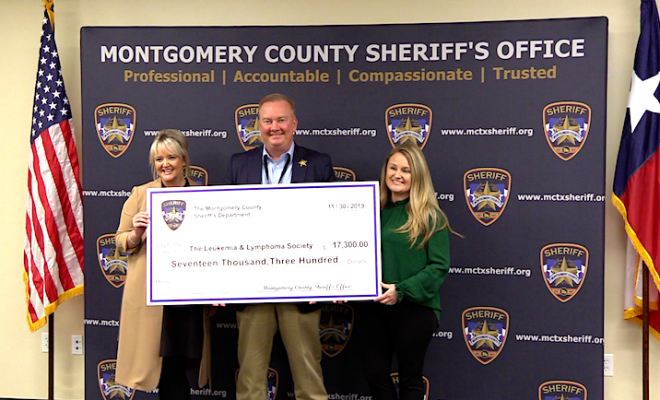 Photography by Rod Prado, Hello Woodlands
News
MCTXSheriff raises $17.3K during No Shave November for LLS
By |
On Monday, December 16, Sheriff Rand Henderson and the Leukemia and Lymphoma Society held a presentation at the Montgomery County Sheriff's Office in Conroe, Texas. The event highlighted the Sheriff's Office efforts to support the mission of the Leukemia & Lymphoma Society (LLS) in the battle against cancer and the Sheriff's Office participation in No Shave November to further this great cause.   
Sheriff Henderson shared that the No Shave November campaign was a huge success raising $17,300 mostly from employees plus outside donors that donated in employee's names. This is the second year that the Montgomery County Sheriff's Office partnered with LLS.
Kalli Gonzalez shared her thanks on behalf of LLS and that the nonprofit greatly appreciated partnership and the donation to kick off the 2020 Man and Woman of the Year campaign that launches in March.
Watch the full presentation in the Hello Woodlands video below!
Video by Rod Prado, HelloWoodlands.com