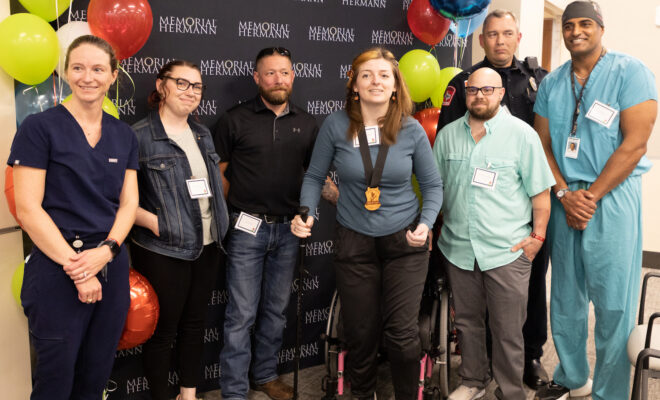 Photo Credit: Rod Prado
Events
Memorial Hermann The Woodlands hosts First Annual Trauma Survivors Day Celebration
By |
On Wednesday, May 17, the first annual Trauma Survivors Day Celebration was held at Memorial Hermann The Woodlands Medical Center.
View photos from the celebration on the Hello Woodlands Facebook page:
As a Level II Trauma Center, Memorial Hermann The Woodlands Medical Center is equipped to care for critically ill and injured patients. At the event, former trauma patients shared their stories, credited local EMS and hospital staff for saving their lives, and reunions took place between these patients and their caregivers.
The event program started with a welcome by Trauma Survivor Support Coordinator Melanie Bradshaw, MSN, RN, prayer by Trauma Program & Emergency Department Director Denise Martin, DNP, RN, NEA-BC., and introduction by Trauma Medical Director Timothy Hodges, M.D.
Three former trauma patients each shared their stories: two surviving a motorcycle crash and one surviving a motor vehicle crash. Following the program, trauma survivors got to meet and reunite with health care professionals and first responders.
Advertisement
Trauma Survivorship at Memorial Hermann The Woodlands Medical Center
Surviving a traumatic injury can be challenging, not only physically, but emotionally. Survivors may feel alone and struggling with what the future holds. The Trauma Survivorship Program at Memorial Hermann The Woodlands offers free resources that allow survivors to share their stories and challenges with others who have had similar experiences, while learning powerful skills for coping and navigating their new lives post injury.
Memorial Hermann currently offers a monthly, virtual support group for survivors, the ability to connect with a "peer survivor/mentor," a monthly newsletter, and referral to a wide variety of resources both locally and nationally.
All services are free and open to anyone who has sustained severe traumatic injury, regardless of where treatment was obtained.
To learn more about the Trauma Survivorship Program or injury prevention resources, visit https://memorialhermann.org/services/specialties/trauma/woodlands or email woodlandstrauma@memorialhermann.org.