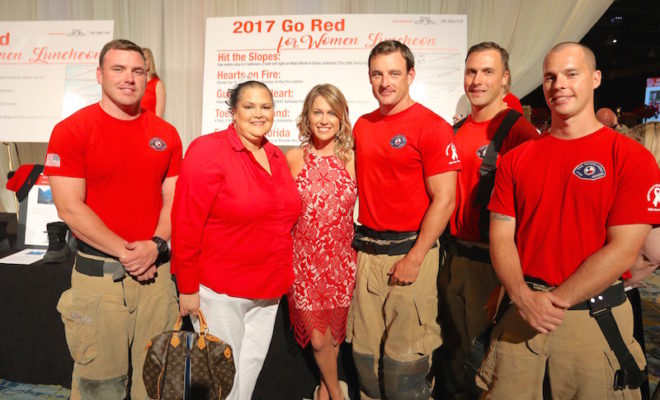 Calendar
Go Red For Women® Luncheon raises awareness for CPR
By |
With more than 180 luncheons across the county, the Go Red For Women® Luncheon held on Friday, May 19, 2017 by the American Heart Association of Montgomery County was part of the national movement to end heart disease and stroke in women.
Since its inception in 2004, Go Red For Women has proudly worn red, shared stories of survival, and elevated awareness of heart disease and stroke as the #1 killer of women.
Held at The Woodlands Waterway Marriott and Conference Center, Ralph Alexander, CEO of TALEN Energy Corporation, and Debbie Sukin, Regional Senior Vice President of Houston Methodist and CEO of Houston Methodist The Woodlands, served as the Event Co-Chairs. The event represented the collective power of many different industries coming together for the same cause – to beat heart disease.
Katherine Whaley, Morning Traffic Anchor at ABC 13, welcomed attendees to the luncheon and Mark Sorenson, Harvest Lead Pastor of The Woodlands United Methodist Church, gave a beautiful innovation.
This year the Go Red For Women® Luncheon celebrated the Barrett Family. Julie Barrett suffered a cardiac arrest while walking and thanks to her husband Seth's CPR training, her life was saved. The couple and their four children joined together and shared their testament before the luncheon attendees.
The guest of honor was Amy LeCrone who lost her husband, Dr. Vance LeCrone, to a heart attached in 2017. Due to her efforts as a strong advocate and long-time volunteer, hundreds of Montgomery County residents have received CPR training.
As the event came to a close, the Woodlands Township proclaimed March 19th as Go Red For Women® Day and all were invited to partake in a complimentary CPR Training in the Foyer.
To learn more about Go Red For Women® and how you can help take action, visit GoRedForWomen.org.
View more photos and videos at the Hello Woodlands Facebook page!