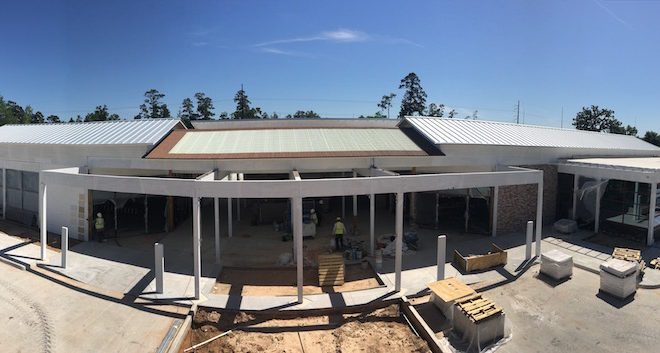 Food & Drink
Goode Company Opening This Summer in The Woodlands
By |
As it celebrates its 40th year of business, Goode Company Restaurants is growing and The Woodlands is the first non-Houston location for the restaurant group.  It is bringing its signature mesquite-smoked barbeque to a new restaurant in the Six Pines III development at 8865 Six Pines Drive.
Located just south of Research Forest Drive near Interstate 45, the barbeque restaurant will feature the same lineup of smoked meats and handcrafted side dishes as the much-loved original on Kirby Drive.
"Our customers who live in The Woodlands area have been asking us to join their community.  We participated in The Woodlands BBQ Festival in September and received a very enthusiastic reception," says Levi Goode, president of Goode Company Restaurants.  "We believe this area is a perfect fit for the Goode Company brand.  The family-first environment and local 'foodie' appreciation of good, quality food matches our values and interests. We look forward to serving area residents and businesses—and to making Goode Company food more convenient for our loyal customers."
A fifth-generation Texan, Levi attributes the Goode Company brand's longevity and success to his family's authentic Texas recipes that are handcrafted daily with quality ingredients.  Each dish reflects his commitment to preserving and sharing the rich cooking traditions of Texas.
Just as it has since its origins in 1977, Goode Company Barbeque handcrafts its two types of sausages (traditional Czech or jalapeno pork), along with its familiar jalapeño cheese bread, onion buns and famous Brazos Bottom pecan pie.  All of the seasonings, rubs and sauces continue to be handmade daily.
Levi notes, "Since the very beginning, we've prepared our food from scratch.  People don't realize that we have our own butchers and bakers.  Our folks begin each day by preparing stocks from scratch, hand-cutting herbs and vegetables, hand-trimming meats to our specifications and creating our proprietary blends of BBQ rubs.  All of our food is created in the same time-consuming way and it shows in the quality of the final product."
The restaurant will be adding seasonal side dishes, a grab-and-go section of items for quick selection and expanded dessert offerings.  Party packs will be available for take-out or delivery, as will an array of box lunches.  A branded van is already on the premises and will be delivering full-service catering to businesses and individuals.
Goode Company Barbeque will be open daily for lunch and dinner, with service beginning at 11 am.
Construction continues on the restaurant and a summer opening is planned.
Goode Company Restaurants is participating in two job fairs in The Woodlands in May and will be accepting applications for all positions. For inquiries about employment, please visit the careers link at https://goodecompanyjobs.compeatonboard.com/ or stop by the company's trailer at 8865 Six Pines Drive.
The restaurant will share a common patio with Goode Company Kitchen & Cantina, a new concept for the restaurant group.  The Kitchen & Cantina will be a full-service, live-fire grill-oriented border-style restaurant with an agave-centric bar.  Blending the familiarity of your favorite childhood Mexican food restaurant along with subtle refinements, it will emphasize mesquite-grilled meats and seafood.
These restaurants join seven other Houston-area Goode Company eateries which include three Goode Company Barbeque restaurants, two Goode Company Seafood locations, the Goode Company Taqueria and Goode Company Armadillo Palace.