Photo provided by The Woodlands Family YMCA
News
Montgomery County Food Bank to host Mobile Markets to distribute Groceries
By |
The economic impact of COVID-19 has spiked the need for hunger relief into levels not seen before. Many families in our community are already struggling without food and there are a growing number of elderly, children, and adults who need help during this crisis. Montgomery County Food Bank is working together with partner agencies to fight against hunger by distributing food and resources to those in need by hosting Mobile Markets throughout Montgomery County.
Mobile Markets are temporary drive thru distribution centers where pre-packaged bags of groceries will be provided to Montgomery County residents in need, while supplies last. Residents can drive up to the Mobile Market, stay in their car, and MCFB's partner agencies and trained volunteers will load the groceries safely into their car. View dates, times, locations and partners involved at Mobile Markets scheduled for the upcoming week.
Mobile Markets in Montgomery County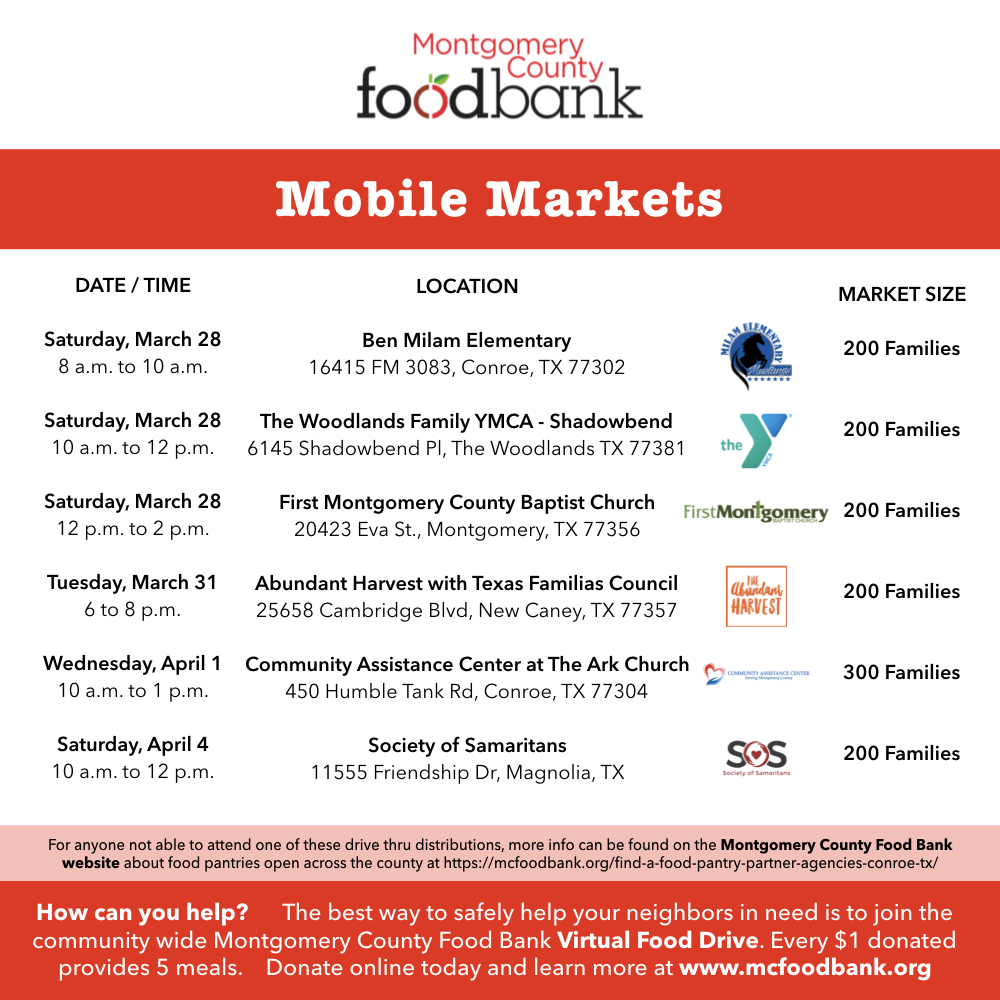 Friday, March 27 – 10am to 1pm – Anderson Elementary School, 1414 E Dallas St, Conroe, TX 77303 (Supplies limited to 200 families)
Saturday, March 28 – 8am to 10am – Ben Milam Elementary 16415 FM 3083, Conroe, TX 77302 (Supplies limited to 200 families)
Saturday, March 28 – 10am to 12pm – The Woodlands Family YMCA – 6145 Shadowbend Pl, The Woodlands, TX 77381 (Supplies limited to 200 families)
Saturday, March 28 – 12 to 2pm – First Montgomery County Baptist Church – 20423 Eva St, Montgomery, TX 77356 (Supplies limited to 200 families)
Tuesday, March 31 – Abundant Harvest with Texas Familias Council – 25658 Cambridge Blvd, New Caney, TX 77357 (Supplies limited to 200 families)
Wednesday, April 1 – 10am to 1pm – Community Assistance Center at The Ark Church – 450 Humble Tank Rd, Conroe, TX 77304 (Supplies limited to 300 families)
Saturday, April 4 – 10am to 12pm – Society of Samaritans – 11555 Friendship Dr, Magnolia, TX (Supplies limited to 200 families)
Upcoming Mobile Markets:
Advertisement
Mobile Markets will continue through the month of April – please stay tuned for upcoming dates and details.
For anyone not able to attend one of these drive thru distributions, more info can be found on the MCFB website about food pantries open across the county at https://mcfoodbank.org/find-a-food-pantry-partner-agencies-conroe-tx/
The Montgomery County Food Bank is mobilized, as a second responder, to serve the community with the highest safety standards in food handling and distribution. MCFB works with over 50 partner agencies in Montgomery County to distribute food to clients. With their network and relationships, they are able to provide the most cost-effective way for agencies to access the greatest variety of nutritional food and necessities in volume.
How can you help?
The best way to safely help your neighbors in need is to join the community wide Montgomery County Food Bank Virtual Food Drive at www.mcfoodbank.org.
At the Montgomery County Food Bank, every $1 donated provides 5 meals.
If you would like to volunteer, please visit the Montgomery County Food Bank website as they have screening measures in place.
To ensure the highest safety standards, the MCFB is not encouraging community food drives at this time.
Source: Montgomery County Food Bank