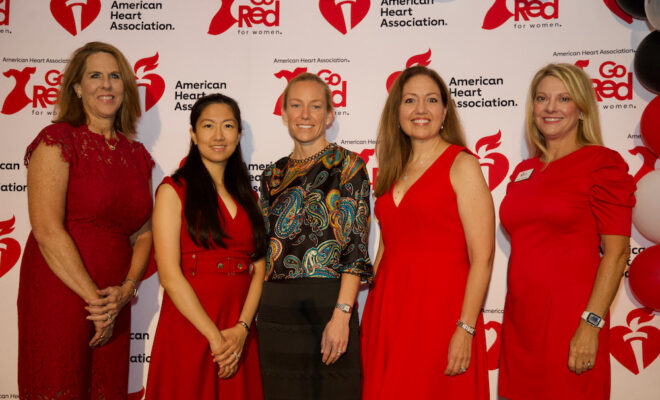 Photo Credit: Rod Prado, Hello Woodlands
Events
Montgomery County Go Red for Women Luncheon held in The Woodlands
By |
The American Heart Association held their 2022 Montgomery County Go Red for Women® Luncheon on May 20, 2022 at The Woodlands Resort.
View photos from the event on the Hello Woodlands Facebook page:
With a Queen of Hearts theme, this years' signature luncheon co-chairs from St. Luke's Health were Jessica Brown, MD, FACC; Margit Nemeth, MD, FACC; Brenda K Peabody, MD, FACC; Kelly Shum, MD, FACC, whose remarkable careers highlight the strides women have made in healthcare leadership and STEM careers.
The event started off with a Heart Healthy Expo featuring hands-only CPR demonstrations, Faces of Heart Survivor Gallery, Tribute Wall, Yogurt Parfait Bar, Photo Booth, Purse-onality Auction, and a puppy station to lower guests' stress with Friends of Faye. Cheryl Mercedes, Emmy and Murrow Award-winning investigative reporter and anchor at KHOU 11 News, was the emcee and led the program, including lunch and touching a "Open your Heart" Surivor Story with a testimonial and recovery of Steffany Quintana.
Just weeks before her final college exams, Steffany Quintana experienced what she thought was an anxiety attack. Between school and studying, working 60+ hours, and helping to care for her younger siblings, she was always exhausted and regularly experienced these attacks. But when she lost the ability to talk or move the left side of her body, she knew this was different. Doctors informed Steffany that she had suffered a stroke. After months at an Encompass Health Rehabilitation Hospital, Steffany recovered and was able to graduate during the Fall semester. Today, Steffany is studying for her LSAT with the goal of attending law school and planning her wedding to fiancée, Danny.
Since 2004, Go Red for Women has had a profound impact on women's health. As the trusted, passionate and relevant force to eradicate heart disease and stroke, the American Heart Association remains steadfast and committed to meeting the comprehensive health needs of women — at every stage of life.
Go Red for Women is nationally sponsored by CVS Health and the Montgomery County luncheon is locally sponsored by St. Luke's Health, Woodlands North Houston Heart Center, Black Pearl Technology, and Encompass Health. 
Learn more about the event, how to make a donation, and get involved with the American Heart Association by visiting MontgomeryCountyGoRed.Heart.org. Learn more about American Heart Association's signature initiative, Go Red for Women®, at GoRedforWomen.org or the American Heart Association at heart.org.