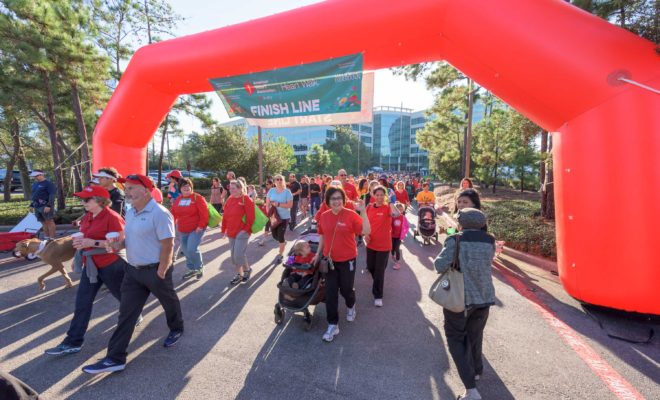 Calendar
Montgomery County Heart Walk on Saturday, October 28
By |
Hello Woodlands talked with Thomas Smouse, American Heart Association Montgomery County Board of Directors Member and Heart Walk Co-Chair, and Michele Blair of Alight Solutions about the upcoming Heart Walk on Saturday, October 28, 2017.
The American Heart Association's Montgomery County Heart Walk is a three-mile, non-competitive walk that promotes walking as part of a healthy lifestyle. The walk will center around teaching people the importance of making healthy choices. Healthy For Good is a revolutionary movement to inspire you to create lasting change in your health and your life, one small step at a time. The approach is simple: Eat smart. Add color. Move more. Be well.
When asked, "what is your why?" Thomas Smouse shared, "I feel that it's very important to give back to the community. It's important to educate about how to have a healthy heart. Also for my family and friends who have had heart attacks and strokes. Giving back and education is my why."
Michele Blair responded, "my why is family. I've had heart issues in the past. My stepmother had heart issues due to stress. She is recovering and she still has issues, but is monitoring them. And that would not be possible without the American Heart Association and all of the research that they do."
Cardiovascular diseases and stroke continue to be the No.1 and No.5 leading causes of death in America, and while over 80 million Americans are affected by one or more forms of heart disease, up to 80 percent of these diseases are largely preventable. Research shows that walking for 30 minutes a day can reduce the risk for developing heart disease.
Opening Ceremonies for the Heart Walk will begin at 8:15 a.m. on Saturday, October 28, 2017 at Alight Solutions. The Kid's 100 Yard Dash begins at 8:45 a.m. and the Heart Walk begins at 9:00 a.m.
The American Heart Association Montgomery County Heart Walk is expecting 8,000 Montgomery County residents to be walking, including:
CHI St. Luke's Health as the 2017 Heart Walk Chair
Thomas M. Smouse, American Heart Association Montgomery County Board of Directors Member as Heart Walk Co-Chair
Healthy for Good Local Sponsors: Alight Solutions, Kiewit, Strike USA,
Local Sponsors: CHI St. Luke's Health, TETRA Technologies, LGI Homes, Memorial Hermann The Woodlands Hospital, Houston Northwest Medical Center, Texas Children's Hospital, Northside Imports, MD Anderson Cancer Center, Global Shop Solutions, 5 Point Credit Union, CORE Lending – a division of Goldwater Bank, First American Title Company, Houston Methodist – The Woodlands Hospital, Conroe Regional Medical Center, Repsol, The Woodlands Development Company, Villa Sport
Join walkers from across our community as they step out to have fun, get inspired and support a meaningful cause! All ages, leashed dogs, and strollers are welcome in the walk. The route is handicap accessible. The Heart Walk will go on rain or shine. In the event of severe weather conditions, the American Heart Association Montgomery County will notify participants on their website about the status of the event.
The event will also have…
Kids Zone
Food tent in the festival area for all participants with light refreshments
3 water stations along the walk route and one within the festival area
Restrooms located at the event expo site
The Heart Walk is FREE to participate, but registration is encouraged. For more information, or to register, visit www.montgomerycountyheartwalk.org.