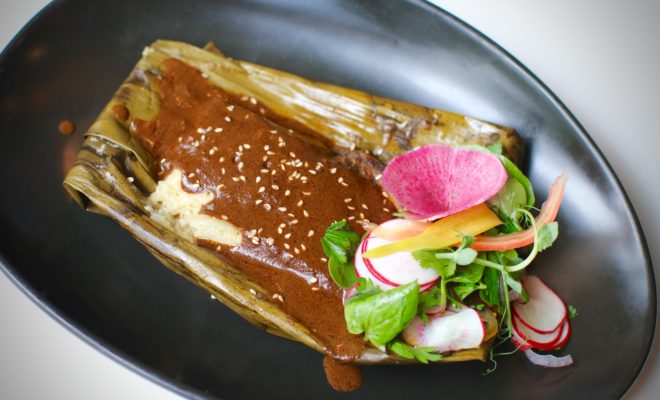 Photo by Jennifer Bruse of Hello Woodlands
Events
Culinary Stars Celebrates Xochi and Houston's Finest
By |
Located in downtown Houston on the 1st floor of the Marriott Marquis Houston is the restaurant Xochi. Xochi (so-chee), from Xochitl, Goddess of the Flowers, meaning to bloom or catch fire, is the newest creative endeavor of award-winning Chef Hugo Ortega and the H Town Restaurant Group culinary team.  Xochi celebrates the culinary and indigenous richness of Oaxaca, Mexico and its varied geographic regions and preservation of primitive customs with an unrivaled menu of Oaxaca-inspired food and drink.
Born in Mexico City, Ortega was the oldest of a family of eight children and immigrated to Houston in 1984. He then began his career in the restaurant business first as dishwasher and busboy and later as a line cook before graduating from culinary school and later becoming Backstreet's executive chef. Ortega is now executive chef/co-owner of four of Houston's top restaurants – Backstreet Cafe, Hugo's, Caracol and Xochi, and winner of Best Chef: Southwest at the prestigious 2017 James Beard Foundation Awards.
Xochi's menu features a wide variety of housemade masas incorporating many types an colors of corn, an endless variety of moles, housemade chocolate and ribbons of cheese (called quesillo) wrapped into balls, imported Oaxacan, coffee, grasshoppers, tlayudas (huge tortillas, fire-roasted with toppings), beans cooked with avocado leaves, and many other very distinctive and diverse Oaxacan-inspired dishes. Their stellar bar program has an extensive offering of mezcals, tequilas and Mexican craft beers.
Xochi was featured as the #1 restaurant on Alison Cooks' Top 100 restaurants in 2017 – included in the September edition of Luxe Life magazine – and will be featured at the upcoming Culinary Stars event on Thursday, October 26.
Jennifer Bruse of Hello Woodlands was invited behind-the-scenes tour with Culinary Stars Ambassadors. Watch the video on the Hello Woodlands Facebook page for moments captured from a cooking demo of the incredible dish Tamal De Mole Negro provided by Chef Ortega.
Learn more about Xochi and Chef Ortega at https://www.xochihouston.com/
The highly anticipated 4th Annual Culinary Stars event presents delicious small plates from more than 30 of Houston's top restaurants, this event is a salute to culinary mastery. The event is set to begin at 6:30 p.m. for general admission, with VIP early access available starting at 5:30 p.m.
Along with Xochi, Culinary Stars will also feature several Top 100 restaurants including Burger Chan, Giacomo's Cibo e Vino, Helen Greek Food Wine, Harold's Restaurant, Kitchen 713, Latin Bites, Ritual and Yauatcha. Meet the chefs at https://houstonculinarystars.com/meet-the-chefs/
This year's event will benefit those impacted by the devastation caused by Hurricane Harvey and organizations working to help displaced residents and pets, including: Second Servings, The Ballard House and Golden Beginnings- Golden Retriever Rescue. Learn more at https://houstonculinarystars.com/nonprofits/
Culinary Stars VIP tickets are sold out. General admission tickets are still available for $100 and include; tastings from more than 30 of Houston's top restaurants, wine from more than 20 estates, live entertainment and more. To reserve your spot, visit www.houstonculinarystars.com or call 713-557-5732.