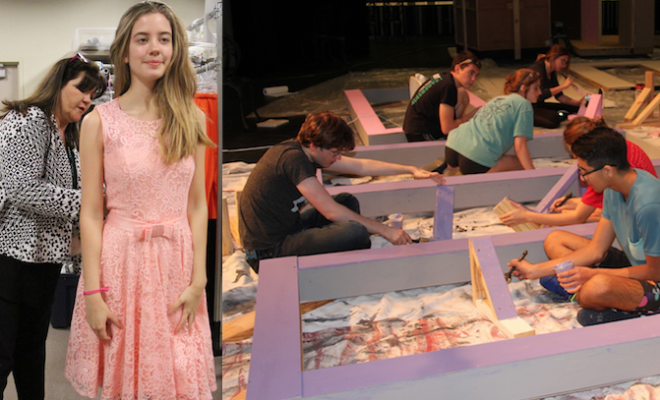 Art & Culture
'Legally Blonde' Production Offers High Energy Show With Positive Message
By |
THE WOODLANDS – Sometimes looks can be deceiving. Such is the case with the upcoming John Cooper School production of Legally Blonde, The Musical.
What may at first seem simply to be a light and humorous storyline actually has a much deeper message, according to Performing Arts Department Chair Mary Rotella.
"This is a tale of Elle Woods' journey of self discovery, as she follows her ex-boyfriend to Harvard in the hopes of winning him back," Rotella said. "She is a young woman steeped in the belief that her value depends on outward appearance and status, who soon learns that her true value is more than skin-deep."
As Elle tires of being objectified, she begins to embrace her intellect and gains the confidence she needs to discover her full potential. And, of course there is a happy ending to this tale!
With a cast of 33, the show features plenty of energetic music and includes a significant number of scenes with singing throughout. Although a challenge due to the sheer quantity of music to learn, Choir Director Rae Moses says the students are up for the challenge.
A professional level orchestra, due to the talents of Cooper band director Tony Yarbrough and adjunct instructors Mike Mattner and Joe Beam, will back up the vocalists with Moses as its director.
Having just seven guys in the cast offers the opportunity to play dual roles. The show also showcases talents through smaller numbers, such as scenes featuring a Greek chorus, "Delta Nus" and Harvard students.
Athleticism is a requirement for actors who are jumping rope in one scene and the time they have put in to build up stamina is even earning them a P.E. credit.
"It's a really big, fun show, and a true team effort with all actors helping the tech crew by painting and even movement on stage for the 30 scene changes," said Technical Director Marcus Bridgewater.
This year's set is not large or intricate, as in years past, but has required intense design. A tech crew of seven is creating 21 double-sided units on wheels that are used to create many different looks.
There is no permanent set, but what is a hair salon for one scene, is simply turned around to become a dormitory for the next; the inside of a classroom is rotated to become Harvard's outdoor courtyard.
Tech theater management students are involved in all aspects of behind-the-scenes, from scheduling management, to set design, construction and implementation and all have positions to run the show.
Communication has been key to the success of production, especially since timing was affected by losing over a week of school due to Hurricane Harvey. "They are laying the track and running the train," Bridgewater said. "And they are doing a fantastic job."
Legally Blonde, The Musical will be performed on the main stage of the Glenn Performing Arts Center on November 10 and 11 at 7 p.m. and on November 11 and 12 at 2 p.m. Tickets will be on sale at www.coopertickets.org. This production should be considered a PG-13 rating because it contains some mature subject matter and strong language.