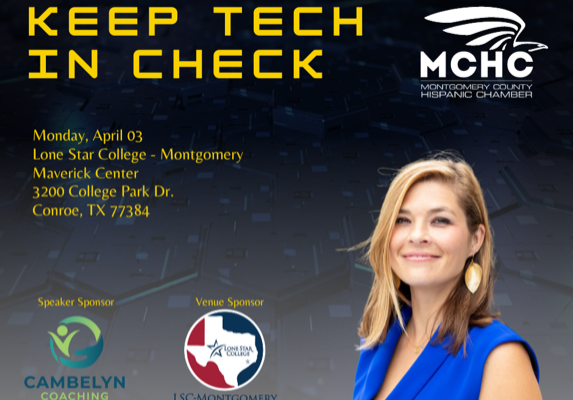 Business
Montgomery County Hispanic Chamber and Cambelyn Coaching present National speaker and Tech expert Titania Jordan
By |
The Montgomery County Hispanic Chamber (MCHC) and Gayle Cheatham, founder of Cambelyn Coaching, present "Keep Tech In Check" with Titania Jordan on April 3, 2023.
In a collaborative effort, the MCHC and Cambelyn Coaching are bringing Titania Jordan to the Lone Star College – Montgomery campus (Maverick Center) for a presentation called "Keep Tech In Check." The event will take place on Monday, April 3 8:30 a.m. – 10:30 a.m. Titiana Jordan is the CMO and Chief Parent Officer of Bark.us, an internet safety solution that helps parents and schools keep children safer across social media, text messaging, and email. She travels the country serving as a tech expert on programs such as TODAY Show, Steve Harvey, The Doctors, CBS This Morning, Good Morning America, Fox News, Sirius XM Radio, and CNBC, speaking at esteemed conferences such as VentureBeat MobileBeat, contributing to Forbes, Huffington Post, Fox Business, Daily Mail, USA Today, and Vogue, and emceeing events like the Atlanta Hawks Agency Shootout.
Cambelyn Coaching founder Gayle Cheatham shared, "As a mother of two kids myself, I understand the challenges of parenting in a technological world and am passionate about supporting others in this journey. Bark has been a valuable resource for my family and clients. I'm thrilled to partner with the Hispanic Chamber and have Titania share her wealth of knowledge with our community on keeping our kids safe online."
This is a free event to attend but due to the limited seating registering is strongly recommended to ensure you have a seat. One can register here.
"The safety of our children is paramount, this includes the cyber world they play and learn in. We are happy to bring Titania Jordan to our community. A heartfelt thank you to both Cambelyn Coaching and Lone Star College-Montgomery for their support of both the chamber and this important event," said Miguel Lopez, President of MCHC.
To find out more you can go to www.mchchamber.org, or you can send email to info@mchchamber.org
The Montgomery County Hispanic Chamber, established in 2003, is a 501c(6) non-profit organization governed by a volunteer board of directors. The purpose of the MCHC is to advance the growth, success, and prosperity of the Hispanic Community.