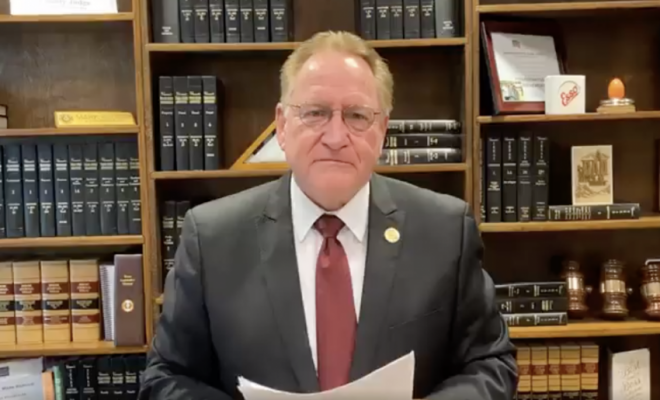 News
Montgomery County Judge states will not issue Stay-at-Home Order
By |
On March 24, 2020, Montgomery County Judge Mark Keough shared the following video where he addressed questions and rumors regarding a "stay-at-home" order in Montgomery County.
Judge Keough referred back to previous orders made in Montgomery County regarding Restaurant guidelines, Food & Drink Establishments, and Occupancy on Premises.
"To add an additional order on top of that, to potential restrict us of more of our freedoms, that's not what we are doing in Montgomery County," said Judge Keough."
Judge Keough reviewed the orders made for Montgomery County over the past week, which include the following:
In the statement Judge Keough stated, "All these orders that we come out with that we have been strong in. We have demonstrated here in Montgomery County that we are able to demonstrate self restraint. We are able to see what needs to be done and we are able to control when we walk up to a place and we see 9 people – well we don't need to go there. Self-regulate. That's who we are. We do the right thing."
"We do not have a shelter-in-place order. I don't have a crystal ball. I don't know what the future holds. But at this time, we are not going to have a stay-at-home order. We are fine right where we are at. You just stay there – do what you think is right and look after your neighbor. Montgomery County is going to be just fine," shared Judge Keough.
Judge Keough's statement was released after the announcement of Harris County's "Stay Home, Work Safe" Order made by Harris County Judge Lina Hidalgo this morning. In the order, residents of Houston and Harris County have been ordered to stay home unless your job is considered essential. Grocery stores and restaurants will remain open (for takeout, delivery) and Daycares that provide support for essential employees will also remain open. The order is effective March 24 at 11:59 p.m. until April 3. Read more here.
On Monday, March 23, Montgomery County District Attorney Brett Ligon also addressed citizen concerns, regarding the rumors of lock down, martial law and shelter in place in the following video statement. District Attorney Ligon stated this will not happen in Montgomery County.
DA Ligon encouraged residents to continue to act as if you can get to your grocery stores and pharmacies and do not look to neighboring counties (Houston, Dallas, etc) as to what may happen in Montgomery County. Ligon stated that County Judge Keough has been consistently adopting procedures recommended by the CDC and will depend on the growth rate. Ligon also reviewed law enforcement activity where officers are still responding and arrests are still being made. The Montgomery County Sheriff is isolating new inmates from the current population in the Montgomery County Jail to prevent any chance of a COVID-19 in the jail.
Source: Montgomery County Judge Keough, Montgomery County Sheriff's Office, MCPR YouTube