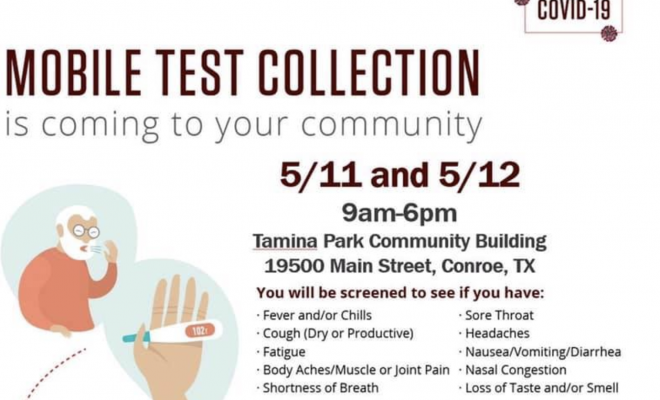 News
Montgomery County Mobile COVID-19 Testing Sites May 11-17
By |
Montgomery County Office of Homeland Security and Emergency Management announced that Montgomery County will have mobile COVID-19 Testing Sites May 11 through May 17.
Today Monday, May 11th and tomorrow Tuesday, May 12th from 9 a.m. to 6 p.m, testing will be conducted at the Tamina Park Community Building located at 19500 Main Street Rd. Conroe, TX 77385. No registration needed just appear to get tested.
Montgomery County will also have a mobile COVID-19 Testing Sites this week that are sponsored by Kroger. On May 12th – 14th from 9 a.m. to 4 p.m. the testing site will be in Commissioner Pct. 2 at 19110 Unity Park Drive Magnolia, Texas 77355. On, May 15th – May 17th from 9AM-4PM the testing site will be at the Bear Branch Sports Field, 5205 Research Forest Dr.The Woodlands, TX 77381. Kroger is providing free testing, however you must be register & be symptomatic, or be a healthcare worker or first responder. To register for testing please visit Kroger Health's free screening tool to determine if testing is appropriate at krogerhealth.com/covidtesting. This screening tool was adapted from CDC recommendations and is intended to identify patients who need testing the most. Screened individuals can schedule and pre-register for a test at a convenient location.
For general information related to COVID-19 call Montgomery County Office of Homeland Security and Emergency Management at (936) 523-3916 Monday – Friday, 8am to 5pm.
For information related to health concerns or questions call Montgomery County Public Health at (936) 523-5040.
Testing Information
People can get tested for COVID-19 at public testing sites and drive-thru locations in certain parts of Texas. Here are some things to consider:
Call ahead or visit the testing site website for information, as screening criteria and operating hours may change.
If you need help finding a doctor or accessing medical care, call 2-1-1 and they can direct you to low- or no-cost providers in your area.
There are two types of tests available for COVID-19 that can detect whether a person had it in the past, or whether they have it in the present. See explanations of the two types of tests here.
For test results, please contact the telephone number or online lab information provided on your drive-thru testing receipt.
To register visit TXCOVIDTEST.ORG or call (512) 833-2400
Visit the Montgomery County Coronavirus Response Hub at https://coronavirus-response-moco.hub.arcgis.com/
Source: Montgomery County Office of Homeland Security and Emergency Management