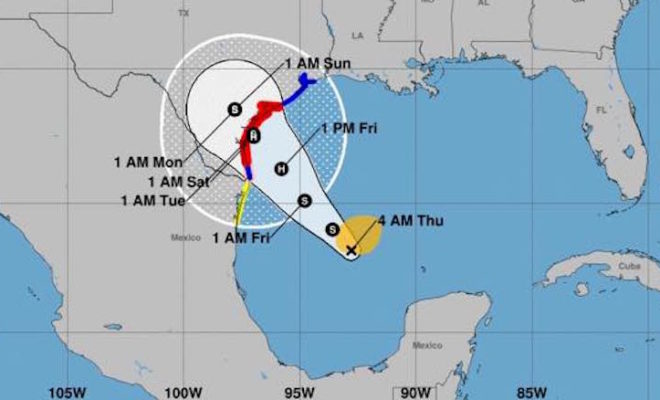 Hurricane Harvey
Montgomery County Safety for Tropical Storm Harvey
By |
For immediate Release – August 24, 2017
Harvey is now a tropical storm. The National Hurricane Center and National Weather Service has forecast Harvey to become a hurricane prior to landfall. Landfall is still expected for Friday. Once landfall is made the system is projected to slow down and move slowly.
The slow movement of Harvey means heavy rainfall totaling between 10 to 15 inches for Montgomery County could be possible. We could also experience tropical-storm force winds with possible tornadoes.
Use today to finalize emergency preparations.
– Top off your gas tank
– Make sure you have enough food and water for everyone in your household including pets for a minimum of 3 days
– Rid ditches of debris that could cause flooding
– Tie down and store patio and garden items that could become hazardous projectiles
– If you intend to use a generator, make sure you have fuel to run it and are aware of all safety measures
– Check your flashlights, weather radio, and any other electronics you might need, make sure they are in working order or that you have enough batteries
– If you live in a flood prone area now is the time to make preparations, you might want to think about staying with friends or family
– For help and information to prepare for disasters, download our new preparedness app ReadyMCTX to your mobile device.
Tropical Storm Watch in effect from Matagorda to High Island.
Hurricane Warning in effect from Port Mansfield to Matagorda.
The Office of Homeland Security and Emergency Management, elected officials and our partners will continue to monitor the conditions of Harvey and update when necessary.
To receive emergency alerts to your phone or email from Montgomery County Office of Emergency Management, register at https://www.smart911.com/. When you are creating your profile, you must check the box next to Share my Smart911 Profile with TX-Montgomery-County-911 to support emergency preparedness.
Stay informed and monitor conditions for Montgomery County and the surrounding area on the Office of Homeland Security and Emergency Management website www.mctxoem.org.
Source: Montgomery County Office of Homeland Security and Emergency Management