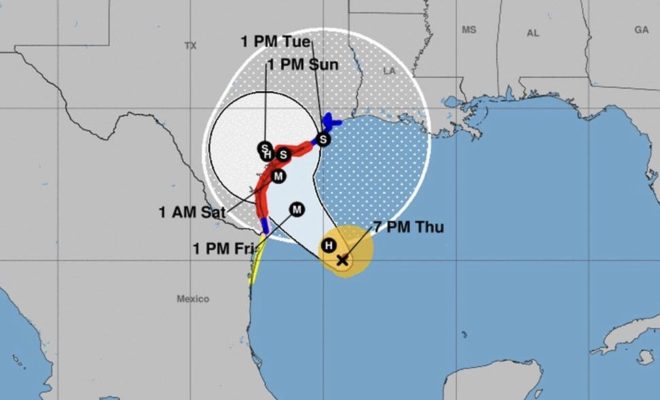 Photo by US National Weather Service Houston-Galveston Texas
Hurricane Harvey
Breaking News on Harvey
By |
On Wednesday, August 23 Governor Abbott declared a State of Disaster for 30 Texas Counties in anticipation of (then) Tropical Depression Harvey making landfall. Read more here.
Thursday, August 24 Updates:
Currently a slow moving storm, Tropical Storm Harvey is headed north and expected to make landfall near Corpus Christi.
Light showers are expected on Friday across the Houston area with heavily rains on Saturday evening through Sunday. It was reported as of Thursday, August 24 at 5:30 a.m. that some parts could receive up to 20 inches of rain from Harvey through the weekend and into early next week.
As of Thursday at 5:30 a.m., a Hurricane Warning is in effect for Port Mansfield to Matagorda and a Tropical Storm Warning from Matagorda to High Island as well as a Storm Surge Warnings and Watch.
6:15 a.m. Update: Tropical Storm Harvey is gradually strengthening as it moves northwest towards the Texas Coast, and is expected to strengthen into a hurricane on Friday before landfall.
Flash Flood Watch in effect Friday morning through Sunday morning for Colorado, Jackson, Matagorda, and Wharton counties.
Be sure to have supplies in preparation for the storm and potential hurricane including water, gas, medication, canned goods, batteries, flashlights, candles, and other important items listed here.
Hello Woodlands shared LIVE coverage on our Facebook page at 9:30 a.m. on Thursday morning from Commissioner James Noack on how Montgomery County can prepare for the potential significant weather event. Watch here: https://www.facebook.com/HelloWoodlands/videos/823155281197165/
10 a.m. CDT update from National Hurricane Center: Tropical Storm Harvey now forecasted to become a major hurricane before landfall.
12 p.m. Harvey is officially a Hurricane with winds now 80 mph, expected to make landfall late Friday night or early Saturday morning along the south-central Texas coast, possibly as a Category 3 storm with winds upwards of 115 mph.
Note: U.S. has not had a major hurricane (category 3 or higher) since Wilma in 2005 and Texas has not had a hurricane make landfall since 2008.
5 p.m. Update: Evacuations
The following is a list of current Harvey evacuations.
Please heed all advice given by local emergency officials. If you are told to evacuate, leave immediately. Additional evacuation orders are possible. For the latest information regarding evacuations, please stay tuned to local news/weather bulletins, and visit www.drivetexas.org for the latest road conditions.
Mandatory Evacuation: Brazoria County (Gulf of Mexico to the Intracoastal Canal)
Mandatory Evacuation: all Calhoun County (effective immediately)
Mandatory Evacuation: Matagorda County (South of FM 521 and FM 2611 in Sargent), all areas S of FM 521 in Matagorda County, all areas south of Business 35 W of Palacios. All persons under age of 18 must leave the evacuation area
Port Aransas/Aransas Pass: Mandatory evacuation (effective immediately)
Mandatory Evacuation: all San Patricio County (effective at noon today)
Mandatory Evacuation: City of Ingleside (effective immediately)
Mandatory Evacuation: All Refugio County (effective immediately)
Voluntary Evacuation: all Jackson County (effective immediately)
Voluntary Evacuation: western Nueces County
Voluntary Evacuation: all Victoria County
Voluntary Evacuation: all Bolivar Peninsula
Voluntary Evacuation: City of Corpus Christi (effective at noon today)
5:15 p.m. Updated Flash Flood Watch info for Harvey: life threatening rainfall and flooding expected Friday night through Tuesday. Read more here.
6 p.m. Extreme rainfall from Harvey forecasted with widespread 15 to 25″ of rain, potentially leading to catastrophic flooding. Harvey expected to make landfall in the middle Texas coast on Friday night.
7 p.m. Update: Hurricane Harvey was moving toward the northwest, expected to approach the middle Texas coast and make landfall Friday night/early Saturday.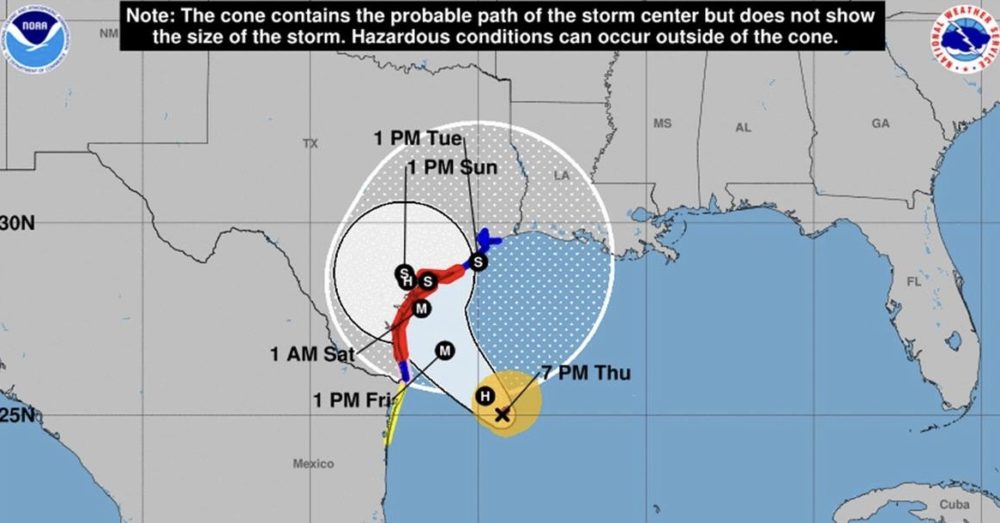 9 a.m. Update: Conroe ISD and Tomball ISD will be closed on Friday, August 25.
Friday, August 25 Updates
6 a.m. Update: Schools close and Hurricane Harvey upgrades to a Category 2 Hurricane. View full update here.
A Flash Flood Watch is in effect from Friday 4 a.m. CDT until through Monday morning, and may be extended. Remember: Turn around don't drown!
Hurricane Harvey will make landfall on the middle Texas coast Friday night or early Saturday. Harvey continues to strengthen and is still forecast to be a category 3 hurricane at landfall.
10 a.m. Montgomery County will start seeing rainfall beginning today and winds could increase as the day progresses. Rainfall predictions between Friday and Wednesday are between 15 and 25 inches for our area and to the south.
1 p.m. Update: During the onset of a hurricane Montgomery County will not call for mandatory evacuations, instead residents will be asked to shelter in place. As of 1 p.m., Harvey is a Category 2 hurricane with a central pressure of 945 mb and max sustained winds of 110 mph. View full update here.
1:45 p.m. Update: Governor Greg Abbott today sent a letter to President Donald J. Trump requesting a Presidential Disaster Declaration as Hurricane Harvey is set to make landfall. Learn more
2:15 p.m. Harvey is a now a Category 3 hurricane. Data from an Air Force Reserve Hurricane Hunter aircraft indicate that the maximum sustained winds have increased to near 120 mph (195 km/h) with higher gusts – a Category 3 hurricane on the Saffir-Simpson Hurricane Wind Scale. The latest minimum central pressure reported by the aircraft is 943 mb (27.85 inches).
6:15 p.m. Harvey is now a Category 4 hurricane with maximum sustained winds of 130 mph.
10:15 p.m. Hurricane Harvey has just made landfall on the Texas coast over the northern end of San Jose Island about 4 miles east of Rockport.
Saturday, August 26
8:30 a.m. UPDATE: The National Weather Service has issued a Flash Flood Warning until 11:30 a.m. and Tornado warning until 9:30 a.m. for Montgomery County..
More Harvey Updates: bit.ly/Harvey2017
Stay tuned and check back HERE at HelloWoodlands.com and on social media for more updates and breaking news coverage on Harvey!
Follow us on…
Facebook at https://facebook.com/hellowoodlands
Twitter at https://twitter.com/hellowoodlands
Instagram at https://instagram.com/hellowoodlands