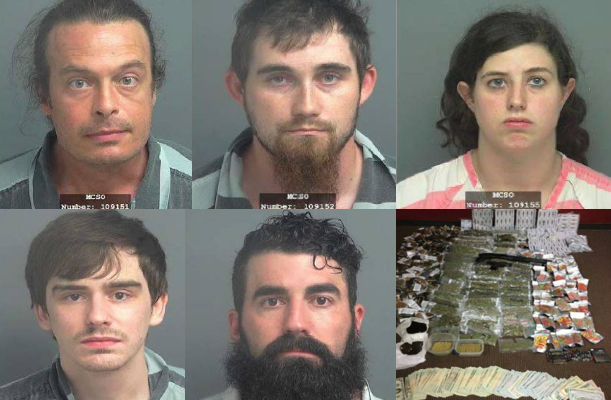 News
Multiple Arrested on Drug and Money Laundering Charges
By |
In March of 2017, information was developed in reference to the ongoing sale and distribution of marijuana, marijuana wax, and marijuana infused edibles in the Montgomery County area. On March 27, 2017, at 8:30 pm, members of the Montgomery County Narcotics Enforcement Team (MOCONET) and Conroe Police Department Narcotics Detectives executed a Narcotics Search Warrant in the 19000 block of FM 1314 in Conroe, Texas.
As a result of the search warrant, approximately 10.6 pounds of hydroponic grown marijuana, 14 kilograms of marijuana infused edibles, 11 ounces of marijuana wax, 302 marijuana infused Vape pens, $11,639 in U.S. Currency, and 2 firearms were seized.
As Detectives were conducting their investigation and performing a search of the premises, multiple vehicles arrived on location throughout the night, driven by individuals coming to purchase narcotics from the occupants of the residence.
As a result of this investigation, five individuals were taken into custody. Daniel Marquardt, Shannan Moore, and Cody Pittman were all placed in custody for Manufacture/Delivery of a Controlled Substance (First Degree Felony) and Money Laundering (State Jail Felony). Donald Sullivan was taken into custody for Possession of a Controlled Substance (Third Degree Felony), and Walter Cordaro was taken into custody for Possession of Marijuana (Misdemeanor B).
MOCONET is a cooperative, multi-agency task force which consists of law enforcement agencies from the Montgomery County Sheriffs Office, ·walker County Sheriffs Office, Montgomery County Precinct 4 Constables Offices, Texas Department of Public Safety-CID, Montgomery County District Attorney's Office, Walker County District Attorney's Office, Customs and Border Protection Houston Air and Marine Operations, and Homeland Security Investigations. Participating agencies recognize that a special collaborative effort is necessary to more effectively combat the drug distribution and collection of drug proceeds throughout the area.
The Montgomery County Sheriffs Office encourages those who have knowledge of illegal narcotics use or sales to please contact Montgomery County Crime Stoppers at 1-800-392- STOP (7867) or you c.an repo1t tips anonymously at www.Stopdurgsmontgomerycounty.org