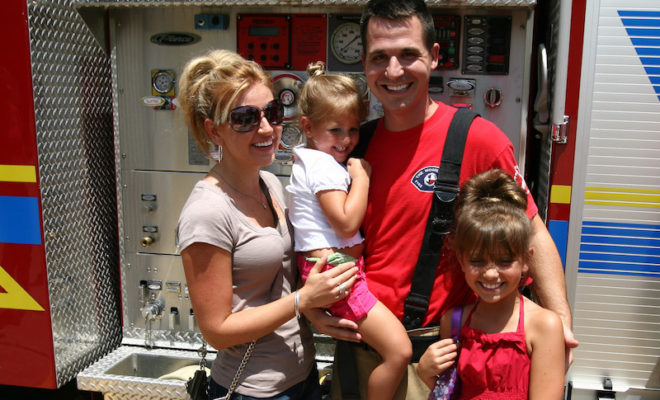 Photo courtesy of The Woodlands Children''s Museum
Calendar
Museum to honor National Fire Prevention Week with Fire Department
By |
THE WOODLANDS, Texas –-– For nearly 150 years, the Great Chicago Fire has been one of the most famous fires in U.S. history. The conflagration lasted for two days in October 1871 and when it was over one-third of Chicago was destroyed.
Since 1925, the United States has commemorated the disaster by holding National Fire Prevention Week in October.
This educational program has become a tradition at The Woodlands Children''s Museum, too, which devotes a day every October to teaching children how they and their families can help prevent fires.
This year, the museum at 4775 W. Panther Creek Drive, Suite 280, will honor National Fire Prevention Week 10 a.m. to 5 p.m. on Tuesday, Octobter 10.
""We incorporate fun into our activities when we recognize Fire Prevention Week, but we're also addressing a critical topic,"" said Angela Colton, executive director of the museum. ""We want to give children knowledge that will help keep them safe.""
The October 10 activities at the museum will include a visit by firefighters from The Woodlands Fire Department, who will be at the museum with one of their trucks from 10:30 a.m. to 12:30 p.m.
Children also will have a chance to work on special art projects throughout the day and they can gain fire safety skills during the museum's "Boogie Bash" class at 11 a.m.
""The legend behind the Chicago Fire of 1871, that it was started when a cow kicked over a lantern in a barn, has worked its way into popular culture and even became the subject of a song,"" Colton said. ""It''s a fun story for children, but it also opens the door to teaching them about fire prevention.""
The Woodlands Children''s Museum is recommended for ages 7 and under. Children must be accompanied by an adult at all times.
Fire Prevention Week activities are included in the museum's $6 admission for children ages 1 and older. For more information, visit woodlandschildrensmuseum.org or call 281-465-0955.
Source: The Woodlands Children''s Museum