News
National Wear Red Day is Friday, February 3
By |
National Wear Red Day is Friday, February 3, 2023. Together, we can wear red and be the BIG difference for a better life for women everywhere.
National Wear Red Day® is the icon day of the American Heart Association's Go Red for Women®. Each year on the first Friday in February, our nation comes together to raise awareness about our No. 1 killer of both women and men- cardiovascular disease – by wearing red and spreading lifesaving information. This year, we're inviting people to Be the Beat by keeping their healthy rhythm going and learning Hands-Only CPR. Why? Because about 70% or nearly 3 in 4 cardiac arrests that happen outside of the hospital happen in homes. If you are called on to perform CPR, it will likely be for someone you love.
What to do on National Wear Red Day:
Wear RED
Take a photo and share it on social media using #WearRedDay and #WearRedandGive and tag the American Heart Association
Donate at WearRedDay.org
Get a free heart health screening at any CVS Pharmacy MinuteClinic
There is SO much happening on National Wear Red Day®:
Anchors and buildings Go Red
The third year of the Big Lots Foundation making their matching gift up of donations made online up to $333,333!
Local division activations and events
Remember we want to see how your city went red. Save photos and videos here for consideration for the National Wear Red Day® sizzle reel.
Show Montgomery County how to GO RED!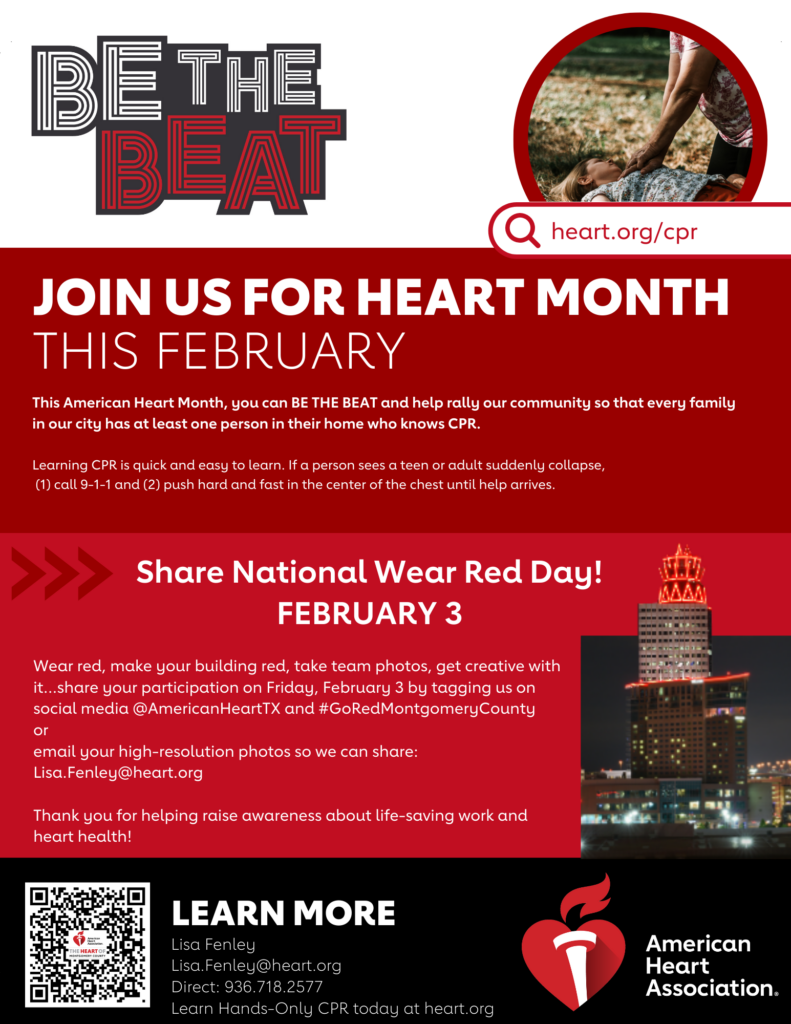 Find Resources at WearRedDay.org. 
Source: American Heart Association