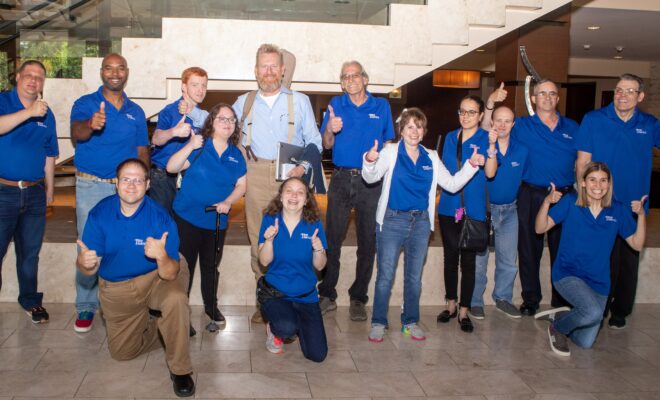 Events
New Danville's Spring Thing Full of Laughter, Tears and Surprises
By |
"One of the things I love most about our Spring Thing event," said President and CEO Eva Aguirre, "is the humanity of it. There is such a wide range of emotions, true connections between attendees, interactions with our special needs adults clients (Wranglers), and simpatico with our keynote speaker, Rory Feek. I can't say enough good things about the results, thanks to co-chairs Odette D'Agostino, Kelly Hully and Karyn Grace, and dozens of volunteers. The financial boost was significant, in many ways, as was the inspirational value of our speaker and honorees, as well as the fun of shopping in the Marketplace."
The Lynne and Steve Charbonneau family, of Charbonneau Industries, were honored for their ongoing commitment to New Danville. The company initiated its "Pallets to Partners" program in which New Danville clients hold jobs assembling pallets for company use; the family donated the Charbonneau Family Building that was constructed at New Danville to house the pallet production operation.
The event's keynote speaker was Rory Feek, a musician, storyteller, songwriter, author and much more, though his most important role is that of father to daughter Indiana who has Down syndrome. He spent a couple of hours at New Danville on Thursday, meeting Wranglers, learning about the organization's programs, and sharing a few songs. His presentation of faith, optimism, love and music moved the attendees between joy and sorrow, laughter and tears, as he shared about his wife's battle with cancer when Indiana was very young. She and Rory were Joey+Rory, the Grammy-award winning duo; she passed away when their daughter was two.
"While it looks like we netted more than $245,000 from the event, we have been told additional gifts will be coming in, so we expect the total to increase further," according to Aguirre. "We were blessed to have a new angel sponsor this year, significantly impacting the positive outcome of the event. Part of that donor's support created a new scholarship fund, for which we are forever grateful. And, of course, there was the announcement made by our board chair that caused quite a stir!"
Brittany Sloan serves as the board chair for New Danville. After Development Director Dion McInnis completed the presentation of the Vision 2025 video and delivered the invocation, Sloan took to the microphone to announce that she had been advised by the Woodforest Charitable Foundation that they had committed $350,000 to New Danville's Growing…for Living campaign for Vision 2025. Her announcement received a hearty round of applause, as did the video.
The event was made possible by a number of key sponsors, including: Tricia and Jack Futcher, Richie Ray, Waste Connections, Fracht Fwo Inc, Mary Ann and Marty Young, D'Agostino Companies, Kelly and Brady Hull, Lynne and Steve Charbonneau, Carol and Ralph Schroeder, Memorial Hermann—The Woodlands Hospital, Methodist Hospital of The Woodlands, Woodforest National Bank, Bayway Cadillac of The Woodlands, Two Men and a Truck—Spring, Vogt Engineering, Fidium, Mindy and Wayne Mack, Cyndy and Mel Oller, Kristi and George Lindahl, Chicago Title—Houston, The Paur Family, Woodlands Pool Services, Kathy Jones/Karen Fletcher, Women of The Woodlands, Howard Hughes Corporation.
New Danville is a rural, nonprofit community in Willis, TX for special needs adults and those who need similar services, offering day program and independent living options.