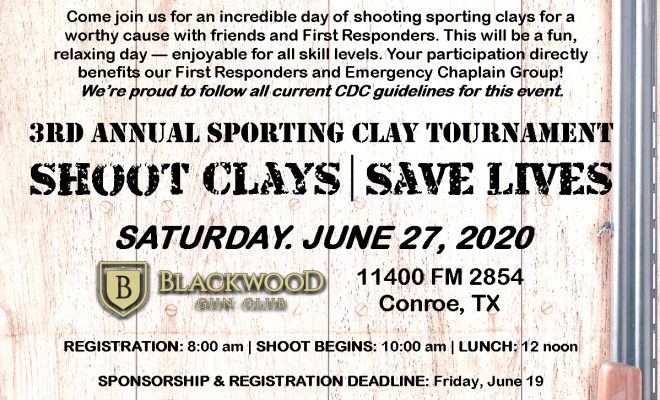 Events
New Date Set for Emergency Chaplain Group's "Shoot Clays Save Lives"
By |
MONTGOMERY COUNTY, TX – Emergency Chaplain Group, a nonprofit organization that provides counseling services for First Responders, today announced that its annual clay shooting fundraising tournament – Shoot Clays Save Lives – has a new date: Saturday, June 27 at Blackwood Gun Club, 1400 FM 2854 in Conroe. The event will raise funds for Emergency Chaplain Group's services – which have never ceased even during the global pandemic – of helping First Responders in need. The event is open to the public and is sponsored by Siddons-Martin.
Teams of four can sign up for a morning's worth of clay shooting, fine dining, and other entertainment. Individuals can also sign up and be placed in teams already registered. The event starts with registration at 8:00 am and runs through lunchtime. Individuals, organizations, and businesses that wish to sign up can register at www.emchap.org or by calling 855-4-EM-CHAP (855-436-2427) or emailing info@emchap.org.
Every day, men and women in the fields of law enforcement, firefighting, dispatch, medical, and other emergency services are subjected to countless and untold tragedies. While they're on the job, they maintain their professionalism and expertise to help those in need. But when their shifts end and they go home, the traumas they encountered throughout the day stay with them.
"Unfortunately, the everyday traumas that are the norm for these heroes can severely affect them on and off the job, resulting in alcoholism, drug dependency, relationship issues, and even suicide," said Paul A. Tabor, Managing Director and Senior Chaplain of Emergency Chaplain Group. "This event is one of our annual opportunities to raise funds to take care of them while they take care of the rest of us."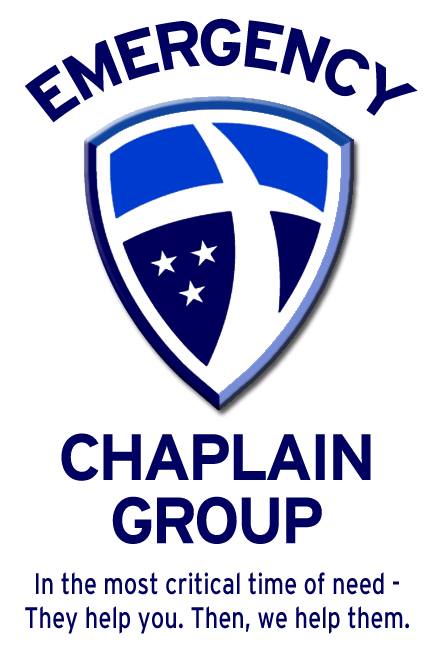 Emergency Ministries ("EM"), a non-profit organization, is a specialized chaplaincy program resolved to provide healing and support to our everyday heroes. Emergency Chaplain Group is the arm of Emergency Ministries that provides chaplaincy services to EMS, Fire, Law Enforcement and Dispatch agencies – both on-scene and "behind scene," with an emphasis on critical incident stress assistance. For more information, visit emergencychaplain.org.