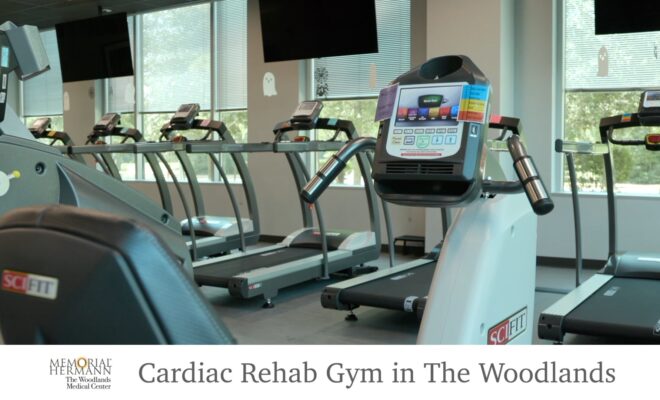 Health
New Expanded Cardiac Rehabilitation Gym at Memorial Hermann The Woodlands Medical Center
By |
Memorial Hermann The Woodlands Medical Center recently expanded and opened its Cardiac Rehabilitation Gym in a new 4,000 sq. ft. facility with advanced monitoring technology and exercise equipment.
In our video interview below, meet Clinical Wellness Services Coordinator Dana Clark, Cardiac Rehab Patient Gypsy H., and Cardiovascular Disease Specialist Dr. Giridhar Vedala MD to learn more about the new gym and Cardiac Rehabilitation program at Memorial Hermann The Woodlands Medical Center.
Video produced by Rod Prado and Jennifer Bruse, Hello Woodlands
In The Interview
Dana Clark, Clinical Wellness Services Coordinator
Gypsy H., Cardiac Rehabilitation Patient
Dr. Giridhar Vedala, M.D. is a board certified Noninvasive Cardiologist treating patients ages 13 and older. Dr. Vedala offers care for a broad scope of cardiovascular issues, including atherosclerotic vascular disease, heart attacks, heart failure, venous disease and abnormal heart rhythms such as atrial fibrillation or tachycardias. He strives to provide high quality care, and his clinical interests include advanced heart imaging utilizing ultrasound, nuclear studies, heart MRI and heart PET scans, as well as adults with congenital heart diseases. Learn more
Learn more about the Memorial Hermann Medical Group The Woodlands Cardiology located at 9180 Pinecroft Dr. Suite 400, The Woodlands, TX 77380 call (713) 897-7221 or visit https://mhmg.memorialhermann.org/locations/mhmg-cardiology-the-woodlands/
What is Cardiac Rehabilitation?
Cardiac rehabilitation is a medically supervised program that has been shown to reduce the risk of re-hospitalization, lessen the need for cardiac medications and encourage a return to work following a heart-related illness.
Memorial Hermann's goal is to help people with heart disease participate actively and confidently in their own recovery as they return, as much as possible, to the activities they enjoy. The doctors and staff work toward that goal by teaching participants how to reduce their risk factors. Through individualized exercise programs, participants develop strength, flexibility and cardiovascular endurance to help prevent the progression of heart disease.
People who participate in a cardiac rehab program following heart surgery or a diagnosis of heart disease generally have better outcomes and improved quality of life. Other benefits may include:
Lower blood pressure
Less need for medications
Decreased risk of heart attack
A quicker return to work or normal daily living
More physical strength and improved condition
Slowing or reversal of hardening of the arteries
Reduce fear and anxiety
Weight loss over time
Learn more about Cardiac Rehabilitation at Memorial Hermann The Woodlands Medical Center at http://heart.memorialhermann.org/cardiac-rehab/
Source: Memorial Hermann