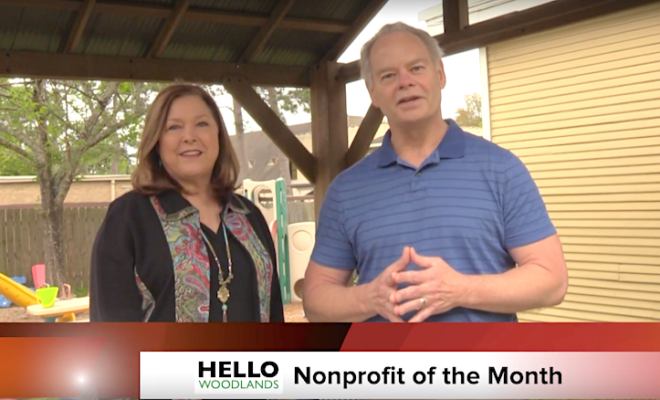 People
Nonprofit of the Month: Family Promise
By |
Randy Lovelace of Paragon Independent Insurance Agencies introduces the Hello Woodlands Nonprofit of the Month, Family Promise, and talks with Marilyn Kasmiersky, Executive Director of Family Promise, at their location in Conroe.
Watch our video interview below!
About Family Promise
Family Promise's mission is to serve homeless families with children by uniting faith communities in a cooperative effort to provide shelter, meals, transportation, and compassionate assistance leading to independence.
Their vision is to alleviate homelessness for families with children in Montgomery County, Texas. They believe strong families build strong communities and our goal is to strengthen families and enable them to become self-sufficient and stable.
Family Promise's programs and services include a 90 Day Home-to-Home Shelter program, Kar-Go Program, Education Program, Aftercare and Outreach, and much more.
Family Promise of Montgomery County is a volunteer-driven organization where volunteers are the heart of all of the services provided. Learn how to get involved, volunteer and/or make a donation at https://www.familypromiseofmc.org/get-involved/
Learn more about Family Promise by visiting their website at https://www.familypromiseofmc.org/ and their Facebook page at https://www.facebook.com/FPMCT/.
About Randy Lovelace
To learn more about Randy Lovelace, his "Referral for a Cause" program to help local nonprofit organizations, and of Paragon Independent Insurance Agencies, please call (281) 298-0440, email rlovelace@paragoninsagencies or visit www.paragoninsagencies.com/woodlands.
Advertisement