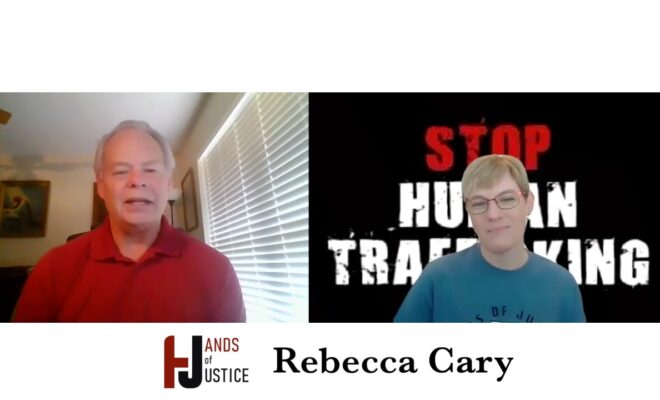 People
Nonprofit of the Month: Hands of Justice
By |
Randy Lovelace of Paragon Independent Insurance Agencies introduces the Hello Woodlands Nonprofit of the Month, Hands of Justice, and interviews Founder, Rebecca Cary.
Watch our video interview below!
About Hands of Justice
Hands of Justice's mission is to provide Economic Empowerment for Human Trafficking Survivors through awareness, outreach, Survivor scholarships, and Survivor led support groups.
Awareness: Hands of Justice educates the community on Human Trafficking via seminars, events and awareness programs. Hands of Justice will educate and train small groups, churches, schools, social clubs and agencies.
Outreach: Hands of Justice provides 85+ "Freedom Bags" per month to Survivors of Human Trafficking and homeless individuals. Each bag contains essential items to help make life easier. You can help by donating items by clicking and buying a few items via their Needs List on Amazon here.
Scholarships: Hands of Justice provides Survivors of Human Trafficking scholarships that help with their education. Each scholarship helps with obtaining a GED, or attending a Certification program or College and ranges from $100 to $1500 per Survivor, per semester, depending on the need.
Sponsor a Survivor: Hands of Justice is currently looking for individuals, families, or small groups to Sponsor a Survivor in their continuing education by donating once or monthly toward their scholarship.
Support Groups: Hands of Justice is currently hosting two closed support groups in Montgomery and Harris County and are looking to start an open group for Survivors soon. In the meantime, Hands of Justice has a private online support group for any Survivor that needs continued support.
Learn more about human trafficking, signs to look for, who is vulnerable, and more at https://handsofjustice.org/info/
Rebecca Cary is the founder of Hands of Justice as well as a survivor of human trafficking. She recently graduated from Sam Houston State University with a major in Psychology and a minor in Human Services. She has attended training by the State of Texas on CSE-IT (Child Sexual Exploitation Identification tool) program. Rebecca also completed five weeks in Pattaya, Thailand where she was accepted into the Thrive Rescue School of Justice. There she learned about intervention, rescue, restoration, and release concerning human trafficking. She worked with young survivors doing outreach and will be heading the support groups that are offered to survivors. Rebecca is certified in Global Injustice Response Training. Rebecca now holds the survivor position on the board for Montgomery County Coalition Against Human Trafficking and is also a member of the Survivor Expert Advisory Committee (SEAC) with the Houston Rescue and Restore Coalition.
To learn more about Hands of Justice, get involved, or make a donation, visit their website at handsofjustice.org.
About Randy Lovelace
To learn more about Randy Lovelace, his "Referral for a Cause" program to help local nonprofit organizations, and of Paragon Independent Insurance Agencies, please call (281) 298-0440, email rlovelace@paragoninsagencies.com or visit www.paragoninsagencies.com/woodlands.
Advertisement