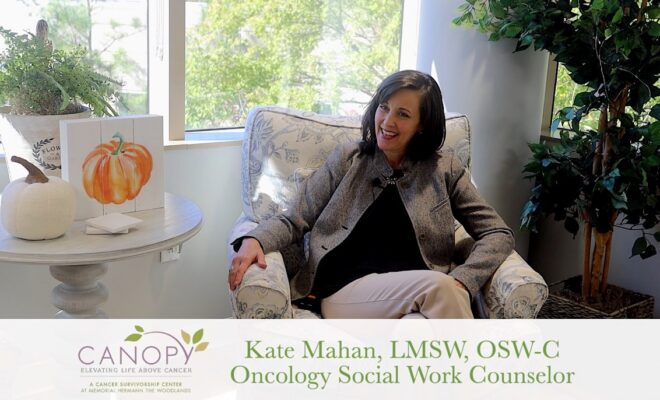 People
Counseling at Canopy Cancer Survivorship Center and COVID Resources
By |
Meet Kate Mahan, Oncology Social Work Counselor at Canopy Cancer Survivorship Center at Memorial Hermann The Woodlands Medical Center. In our video interview, learn more about free counseling and programs available at Canopy, resources during COVID, and the importance of mental health.
Watch the video interview below:
About Kate Mahan
A healthcare social worker for 19 years, Kate Mahan has served as an oncology social worker for Memorial Hermann since 2011.
Mahan, who is oncology certified through the Board of Oncology Social Work, provides psychosocial support and education talks, and facilitates the caregiver support group at Canopy, a unique survivorship center at Memorial Hermann The Woodlands Medical Center dedicated to shifting the conversation from experiencing cancer to living and celebrating life at every stage of cancer treatment.
A psychology graduate of the University of Houston, Mahan went on to receive her master's degree in social work at The University of Texas at Austin. She completed a clinical internship at the National Institutes of Health, where she worked with the National Cancer Institute and the National Institute of Allergies and Infectious Diseases. A native of Wilmington, Del., she joined Memorial Hermann after working with HIV/AIDS patients for nine years at the Montrose Clinic, now Legacy Community Health.
Advertisement
About Canopy Cancer Survivorship Center
Canopy is a cancer survivorship on the campus of Memorial Hermann The Woodlands Medical Center located at 1120 Medical Plaza Dr #250, Shenandoah, TX 77380. Canopy is open to men and women, no matter where you were treated, and for any kind of cancer. If your life has been impacted, whether you were the patient or the caregiver, you have a safe haven at Canopy.
As a caring community of hope, healing and empowerment, Canopy enhances the quality of life for individuals affected by cancer and for those who support them during their journeys. At Canopy, there are a wide variety of programs and services addressing the emotional, physical and social needs of those touched by cancer.
Canopy offers a range of psychosocial and wellness services to anyone affected by cancer (patients, family, and loved ones). All services are completely free of charge, provided in a beautiful setting, and are available to all regardless of where they have received treatment.
Canopy also provides gentle movement classes, cooking/tasting classes, varied peer support groups for emotional support and socialization, community education, brief solution-focused counseling and psychosocial resources, nurse navigation, post-mastectomy breast prosthesis and bra fitting, and wig fitting and donation services.
Call Canopy to make an appointment or learn more about programs and classes at (713) 897-5939.
Visit the website to learn more and make a donation to help support the programs and services at Canopy at cancer.memorialhermann.org/canopy.
Advertisement
COVID Resources with Community Partners
Kate Mahan connected with Canopy's community partners, Interfaith of The Woodlands, United Way of Montgomery County and Community Assistance Center in a video interview to provide COVID resources for members of the community in need and oncology patients and survivors. Watch the video at https://memorialhermann.wistia.com/medias/wqe7vjavzx
Source: Memorial Hermann The Woodlands Medical Center