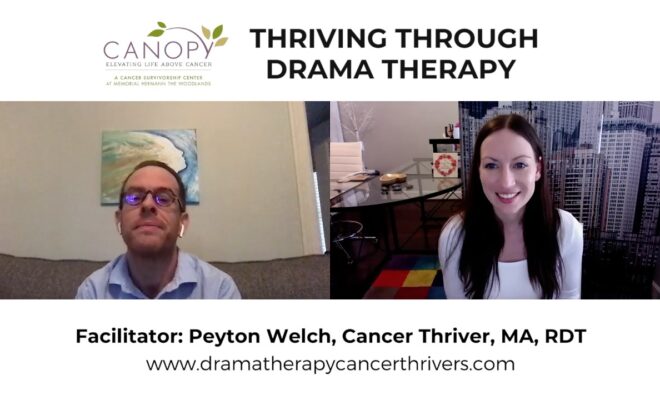 People
Drama Therapy with Peyton Welch at Canopy Cancer Survivorship Center
By |
Meet Peyton Welch – Cancer Thriver, MA and Registered Drama Therapist – who is leading the "Thriving Through Drama Therapy" class at Canopy Cancer Survivorship Center on Thursday, November 19 at 1 p.m. in the video interview below with Jennifer Bruse, President and CEO of Hello Woodlands.
Full interview with Peyton Welch:
Learn about the Drama Therapy Class at Canopy:

About Peyton Welch:
With a mission to learn to accept life's challenges and values by embracing
hope, creativity and personal worth, Peyton Welch shares that he is a Cancer Thriver who was diagnosed with brain cancer in October 2019. The rare brain tumor was removed followed by thirty sessions of radiation and MRI's now every four months. Prior to the brain surgery, Welch was diagnosed with epilepsy in 2004. After many procedures and a Vagus Nerve Stimulator implanted in 2013, the seizures decreased but still occur, although not as often.
Why does Welch consider himself a Cancer Thriver? Peyton Welch shared, "I continue moving forward even when I have fears, doubts, anxiety, 'what if questions and the list continues. I focus on the present moment. I pray. I count my blessings. I am thankful for all of the love and support I have from family (especially my wife!), friends and doctors. I try to be honest when I am scared. I run on a regular basis. I attend two cancer support groups. I am learning that life is a journey. I don't know when it will rain…or snow…or be cloudy…or sunny… or what animals I may see…but it's still a journey. My goal is to accept where I am on this journey and trust my Guide as He leads me."
As for Welch's drama therapy experience, he started researching how he could use his theater training (BA in Film and Theatre from Southern Methodist University) in a healing and therapeutic way. After attending an Applied Theatre workshop, Psychodrama workshop, and the 2014 North American Drama Therapy Association Conference, Welch chose to enroll in the Master of Arts program in Drama Therapy at Kansas State University and graduated in August 2017 and became a Registered Drama Therapist (RDT) in 2019.
How does Welch describe Drama Therapy? "Drama Therapy is an expressive and action-oriented therapy that focuses on the here-and-now. It
combines theatre techniques with therapeutic principals, providing a hands-on opportunity for change and personal growth," Peyton Welch shared.
To learn more about Peyton Welch, Cancer Thriver, MA, RDT, and Drama Therapy workshops visit www.dramatherapycancerthrivers.com.
About Drama Therapy:
Drama therapy applies techniques from theatre to the process of psychotherapeutic healing. The focus in drama therapy is helping individuals grow and heal by taking on and practicing new roles, by creating new stories through action, and by rehearsing new behaviors which can later be implemented in real life. Drama and psychology are both the study of human behavior. Just as psychotherapy uses talking to treat clients who have difficulties with their thoughts, emotions, and behavior, drama therapy uses informal drama processes (games, improvisation, storytelling, role play) and formal drama processes (puppets, masks, plays/performances) to help clients understand their thoughts and emotions better or to improve their behavior.
About Canopy Cancer Survivorship Center:
Canopy is a cancer survivorship on the campus of Memorial Hermann The Woodlands Medical Center. Canopy is open to men and women, no matter where you were treated, and for any kind of cancer. If your life has been impacted, whether you were the patient or the caregiver, you have a safe haven at Canopy.
As a caring community of hope, healing and empowerment, Canopy enhances the quality of life for individuals affected by cancer and for those who support them during their journeys. At Canopy, there are a wide variety of programs and services addressing the emotional, physical and social needs of those touched by cancer.
Join Canopy Cancer Survivorship Center for "Thriving Through Drama Therapy" on November 19 from 1 to 2:30 p.m. Canopy Cancer Survivorship Center is located at Memorial Hermann The Woodlands Medical Plaza 1 at 1120 Medical Plaza Dr #250, Shenandoah, TX 77380. For safety purposes, the following is required at the class: Masks, Social Distancing, Temperature Screening, and Hand Sanitizer.
To R.S.V.P. for the Drama Therapy class Call Canopy at (713)897-5939 and for more information about Canopy visit cancer.memorialhermann.org/canopy.
Advertisement