People
Canopy Cancer Survivorship Center: A Center of Hope and Support
By |
In light of Giving Tuesday, we are highlighting Canopy Cancer Survivorship Center, located on the campus of Memorial Hermann The Woodlands Medical Center, that is open to men and women, no matter where you were treated, and for any kind of cancer. If your life has been impacted by cancer, whether you were the patient or the caregiver, you have a safe haven at Canopy. At Canopy, there are a wide variety of programs and services addressing the emotional, physical and social needs of those touched by cancer – all free to guests, cancer patients and survivors, their families, and caregivers – because of generous donors and individuals like you.
Learn more about Canopy Cancer Survivorship Center in our interview below with Teresa Jarbor, a guest of Canopy during her battle with cancer and now as a cancer survivor.
When Teresa Jarbor was diagnosed with Breast Cancer, her doctor advised her to "find something for you – something to put your mind somewhere else, to relax." Soon after her diagnosis, she discovered Canopy Cancer Survivorship Center located in the Memorial Hermann The Woodlands Medical Center.
When Teresa found Canopy's calendar of events, she was thrilled to discover all of the activities and programs available to cancer patients like her for free. Teresa talked with Kate Mahan, the Oncology Social Work Counselor at Canopy and Memorial Hermann Health System, about the classes at Canopy like yoga, tai chi, meditation, massage and much more. Due to distance, family loss, and cancer treatment schedule, Teresa was not able to attend all of the activities that she wanted, but to she was able to participate and enjoy many of the classes that are available no matter if you are a patient, survivor, family member or caregiver.
"I always made sure I had time for yoga at Canopy," Teresa said. "I loved the yoga class and the instructor was wonderful. That's where I wanted to be on Mondays. I love Canopy. I took advantage of so much – the mediation, the massage, the yoga, the healing art. I love to tell everyone about it. We need Canopy everywhere."
Canopy offers a wide variety of services addressing the emotional, physical and social needs of those touched by cancer, including:
Oncology Nurse Navigator
A cooking demonstration/teaching kitchen for nutritional education and counseling
A large support group room for caregiver support sessions, yoga classes, tai chi, music, art and dance therapy, "Ask the Doctor" sessions, and so much more
A small support group room for private counseling, small group counseling sessions, smoking cessation classes, meetings with our social worker or dietician, and Look Good Feel Better sessions
A consultation room for one-on-one counseling and other sensitive discussions
An onsite resource library and electronic resources
A massage therapy room for individualized massage treatment
A private dressing room area for breast prosthesis and bra fittings
A wig salon for individuals coping with hair loss
Again – all services, programs and resources at Canopy are at no cost to guests.
"For someone who struggled without having a job, who lost a job, and then six months later was diagnosed with cancer, this helped me because I didn't have to pay for anything out of my pocket. And I think that's the one thing when people say 'oh is it free?' I say 'yes, it's all because of donations – people donate to make this happen'."
Canopy is made possible by Memorial Hermann The Woodlands Medical Center Hospital and by philanthropic support through Memorial Hermann Foundation, Memorial Hermann In the Pink of Health, and by donors just like you. Make a donation today at https://www.memorialhermann.org/canopy/
"Canopy is a fabulous place to go. You can go get your wig there, get fittings there, and scarves. When I first went there, Kate gave me a bag full of books and information. There was so much information in there and I think in my mind that's what saved me is that – here's all this information and I am not alone. It is just saying we are here, we care about you. I am so grateful for Canopy. If you are a survivor or going through therapy, you need to check out Canopy. I felt like I could just move over there – I just loved going and being there. I wanted to be a part of everything. It's the place to go. The building and space is beautiful. Go! Check it out! Go to some of the classes. Did I mention it's free?"
Counseling services are also available by appointment with Kate Mahan, the Oncology Social Work Counselor, at Canopy three days a week. Learn more about counseling services here.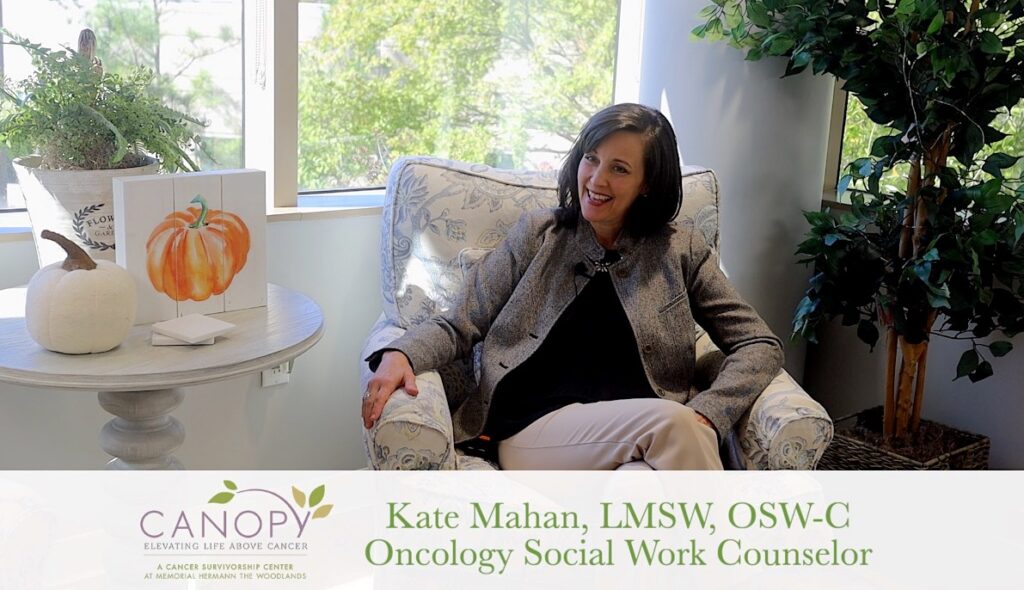 Teresa spoke of her experience and said, "I'm so thankful for Canopy. At the beginning after my cancer diagnosis, I just broke down and cried and cried. Then, Kate would come and talk to me and she'd offer her counseling services, but I just kind of rejected her at first. I had kind of the 'leave me alone, I can get through this alone by myself, I don't need all you people' attitude – that's the way I felt in the very beginning. But, as time progressed and I got to know people and started hanging out – things changed. Ms. Kate makes you feel awesome. She will always be a friend."
Canopy offers not only programs and classes, but resources as well.
"Canopy had a lot of resources for me in looking for a job and find programs and workshops. If they don't have it, they will find it for you," Teresa said.
Amanda Poole, Canopy Manager, leads a team of volunteers that work at the front desk, assist and talk with guests, plan and help run events and activities, and help make the programs possible at Canopy.
Teresa shared, "At Canopy, they make you feel at home. They are dressed so beautifully, so professional, and so helpful. I love talking to the volunteers, Amanda, and Ms. Kate. These ladies are volunteers and so caring. They really do care. They take time out of their schedule for free. I don't know what to say – they are just fabulous! Just being about to go someplace and get a cup of tea and a snack, knit, or just sit and relax. There are times that I just sat in Canopy if I was having a bad day because of the way Canopy felt – it's a safe space and you are not alone in your journey. These women know exactly what you are going through and share their story. And they are still there for us even after we are cancer free."
"It doesn't matter how you look, they make you feel beautiful. They let you know you are not alone. When you lose your hair, which I was really mad and I before absolutely long beautiful hair. I wanted a wig, but then was able to embrace my baldness. And I loved the makeup class! The instructor made us feel so good about ourselves. It was so much fun hanging out with the other women. The experience made me feel so beautiful. The makeup brought some things out in me and I was able to do the things I did before cancer. They helped me, they made me feel like a woman again. Every woman needs that class, something to make them feel good."
Canopy is not only a place, but a caring community of hope, healing and empowerment that enhances the quality of life for individuals affected by cancer and for those who support them during their journeys. Community open to men and women, no matter where you were treated, and for any kind of cancer. If your life has been impacted, whether you were the patient or the caregiver, you have a safe haven at Canopy.
"This year because of COVID, I am disappointed that we will not be able to get together and have a Christmas party. I would have taken off work and be there at Canopy for the holidays. During the holidays, it's the chance to get together with people that understand how you feel and celebrating another year. I got to meet so many people during this process. This year will be hard since we will not be able to have events and I lost my mother and brother. Christmas will look a little different, but we are able to drive through and pick up an ornament from Canopy. I'm going to miss the festivities and getting together during the holidays. It was the support of being around survivors that have survived, that's what gave me so encouragement – some of these women are twenty-year survivors. I knew I was not alone, that's what I love about gathering together at Canopy. We are all survivors and fighters, together."
Learn more about Canopy Cancer Survivorship Center and make a donation to help make programs, classes, support and community available to guests and cancer patients like Teresa by visiting cancer.memorialhermann.org/canopy or call (713) 897-5939.