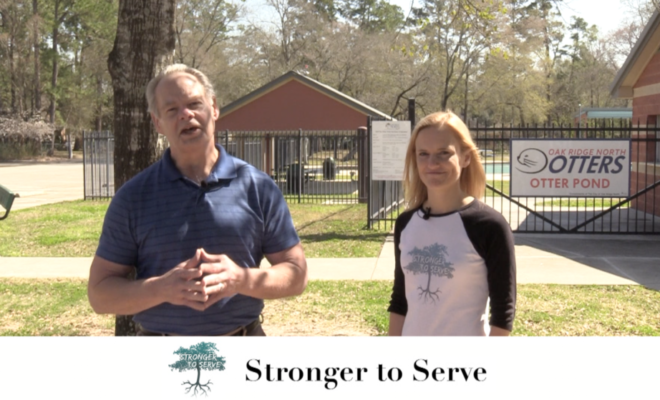 People
Nonprofit of the Month: Stronger to Serve
By |
Randy Lovelace of Paragon Independent Insurance Agencies introduces the first Hello Woodlands Nonprofit of the Month, Stronger to Serve, and talks with Teri Schmidt about the Amazing Kindness Race on Saturday, March 23.
Watch our video interview below!

Stronger to Serve's mission is to inspire kids to develop into strong, healthy, compassionate and connected leaders by pairing fun fitness with meaningful service.
Stronger to Serve is a 501(c)3 nonprofit that combines fitness & service in everything they do because they believe:
Strong, inspired kids can change the world

Adding fitness to volunteering makes it even more fun

Learning about community needs and fitness goal-setting early develops the empathy and perseverance kids will need to succeed

Life is short…why strengthen just one part of yourself when you can strengthen your body, mind, and heart?
The Amazing Kindness Race will be held on Saturday, March 23 starting at 8 a.m. The event is a one-of-a-kind team race through 10 fitness and service challenges held at two locations in The Woodlands and Oak Ridge North. Teams of 4-6 will compete to win the title of Amazing Kindness Race Champion. The community is also invited to the celebration starting at 10 a.m. at Marilyn Edgar Park in Oak Ridge North. Learn more and sign up at https://www.strongertoserve.org/amazing-kindness-race
Learn more about Stronger to Serve and get involved at StrongertoServe.org
To learn more about Randy Lovelace, his "Referral for a Cause" program to help local nonprofit organizations, and of Paragon Independent Insurance Agencies, please call (281) 298-0440, email rlovelace@paragoninsagencies or visit www.paragoninsagencies.com/woodlands.
Advertisement