Photo Credit: Jennifer Bruse
Art & Culture
"Noun: People, Places, Things" Art Exhibition now on display at Ardest Gallery in The Woodlands
By |
On Saturday, September 9, Ardest Gallery held the opening reception for their newest art exhibition, "Noun: People, Places, Things," featuring works by Texas artists and juried by Sheng Kuan Chung.
"Noun: People, Places, Things" is a juried art show that features works by 32 Texas artists, which includes all genres and styles that encompass the show's theme, and both 2D and 3D artworks. The show will be open until October 7.
View photos from the event on the Hello Woodlands Facebook page:
Juror Dr. Sheng Kuan Chung graduated from the School of Art and Design at the University of Illinois, Urbana-Champaign. He has actively exhibited his artwork and has published over 50 academic articles in art education. Recently, he has received two national prestigious awards respectively from National Art Education Association and United States Society for Education through Art for his scholarship in art education. Additionally, he has served as an art judge for many Houston-based school art competitions, Texas Commission on the Arts, Fulbright Scholar Program, and Houston Arts Alliance, and on the editorial board for the Journal of the National Art Education Association and many other academic journals.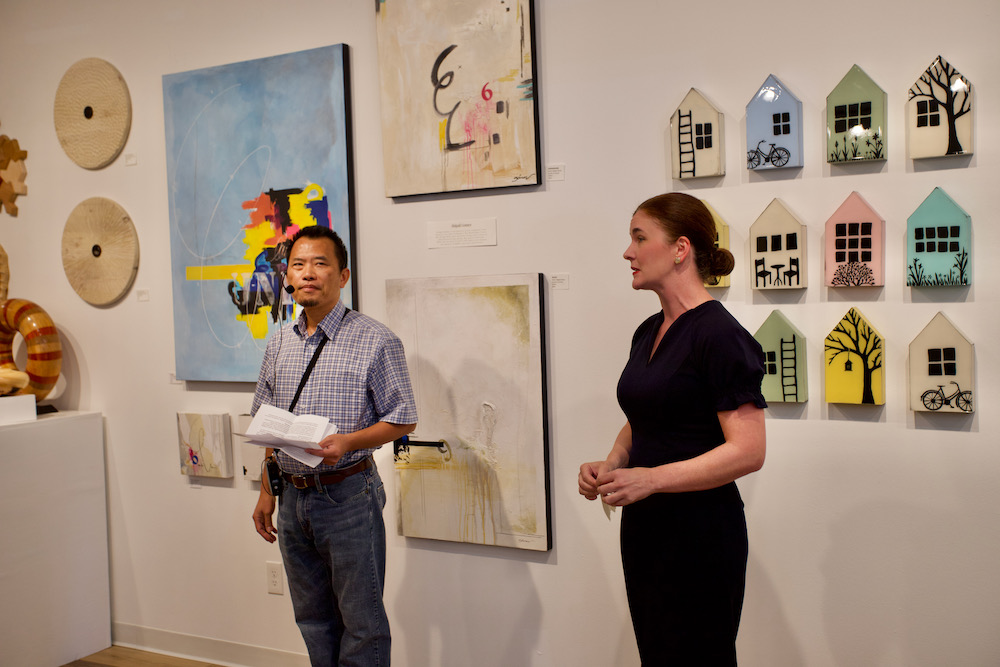 After attendees had the opportunity to view the selection of juried art, Dr. Sheng Kuan Chung shared his specific process of the selecting the pieces and how creativity, originality, craftsmanship, emotional and intellectual resonance, innovation, exploration, and other factors impacted his choice of the art show winners.
The following awards were given to the following pieces of artwork and artists:
Honorable Mention: "I Can Buy My Own Flowers" by Stephanie Larsen
2nd Honorable Mention: "The One That Got Away" by Stacey Gresell
3rd Place: "We Belong" by Angel Robinson
2nd Place: "Women of Strength" by Mary Barton
1st Place: "I See You" by Marcia Baptista
Ardest Gallery, a new local fine arts gallery curated by Gallery Director Julie Verville, represents nearly 40, top Texas 2D and 3D visual artists. In addition to its core artists, the gallery hosts ongoing events such as monthly group art shows, Coffee Talk with an Artist, Art to Lunch in partnership with local restaurants, poetry readings, musical performances, and art classes/workshops for all ages and skill levels.
Ardest Gallery is located at at 25200 Grogan's Park Drive, The Woodlands, TX 77380. Learn more about the gallery and view upcoming events at ardestgallery.com.