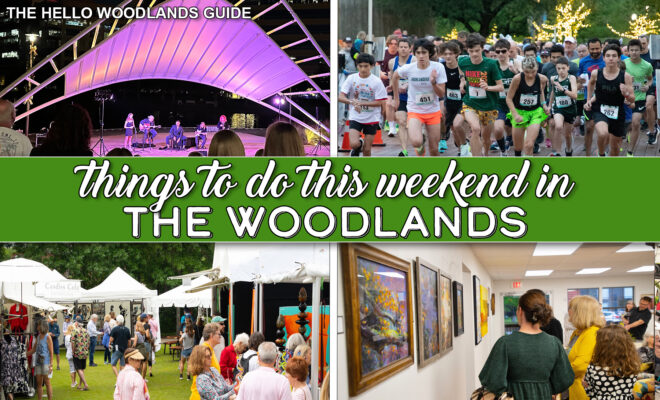 entertainment
Things to Do in The Woodlands Area This Weekend, Sept. 15-17
By |
Discover things to do in The Woodlands area this weekend, September 15-17, including the Montgomery County Home and Outdoor Living Show, The Woodforest Bank Charity Run, a carnival, a music festival, a runway-style fashion show, Shootout Hunger benefitting the Montgomery County Food Bank, the In the Pink of Health luncheon, a free microchip event, and more!
Friday, September 15, 2023
In the Pink of Health Luncheon
In the Pink of Health changes lives by raising funds to reduce the incidence of breast and ovarian cancer. The 23rd Memorial Hermann In the Pink of Health Luncheon keynote speaker is Elin Hilderbrand, the New York Times' bestselling author of twenty-eight novels, including The Hotel Nantucket. The luncheon will be held at The Woodlands Waterway Marriott Hotel & Convention Center beginning at 10:00 am. Learn More
Montgomery County Home and Outdoor Living Show (Sept. 16-17)
The 5th Annual Fall Montgomery County Home and Outdoor Living Show features special guest appearances and over 100 exhibitors with the latest in-home products and services on the market at the Lone Star Convention Center, 9055 Airport Road in Conroe. Home improvement experts share information for any project of your home from walls to roofs, bathrooms, kitchens, closets, ac/heating, windows, and outdoor living. Early Bird Pricing: $7 entry tickets if purchased before Sept 1, 2023. Purchase Tickets

Coffee & Support
Canopy is a cancer survivorship center on the campus of Memorial Hermann The Woodlands Medical Center. Canopy is open to men and women, no matter where you were treated, and for any kind of cancer. If your life has been impacted, whether you were the patient or the caregiver, you have a safe haven at Canopy. Join Canopy every Friday at 10:00 am for Coffee and Support. Learn More
Experience Shoal (Ongoing)
Shoal is an ongoing, experiential artwork featuring a choreographed, interactive light show. Located on Restaurant Row in Hughes Landing, this is the latest addition to one of the largest outdoor collections in the country. Shoal features 750 individual orbs of light suspended in air and programmed to seamlessly flow in mesmerizing movement to sound. Learn more at www.TheWoodlands.com/Shoal.
Shootout Hunger
Shootout Hunger is an annual sporting clays tournament benefiting Montgomery County Food Bank. Each year, Shootout Hunger aims to raise awareness and funds to help provide food for hungry children, families, and seniors in Montgomery County. Gather your colleagues, friends, and family members for a fun morning of shooting clays at Blackwood Sporting Co. in Conroe, Texas. The tournament is open to participants of all experience levels. Learn More
Crystal Gayle
Dosey Doe – The Big Barn presents Crystal Gayle live onstage at 8:30 pm. Doors open at 6:30 pm. Three course meal included in ticket price. Learn More
Live on the Lawn
Enjoy live music on the lawn at Central Park in Market Street with Sarah Kelly Music School from 6:30 – 8:00 pm on Friday nights. Blankets and lawn chairs welcome. Learn More
Saturday, September 16, 2023
The Park at Pine Market Grand Opening Carnival
The Park at Pine Market will debut with a Grand Opening Carnival where eventgoers will enjoy rides, carnival games and themed inflatables. Juggling jesters — including one on stilts — along with a DJ will be part of the entertainment. Face painters and balloon artists will add to the fun, and Pine Market businesses will have information booths and offer giveaways. The carnival will be held from 5:00-8:00 pm at Pine Market in Woodforest, 885 Pine Market Avenue, Montgomery, Texas. Learn More
Woodforest Bank Charity Run
The 13th Annual Woodforest Bank Charity Run, benefiting the Woodforest Charitable Foundation, will include a 10K run/walk, a 5K run/walk, and a kids race. After the race, participants, spectators, and volunteers will enjoy a family-friendly post race party with music, food and beverages, fun jumps, snow cones, and an awards ceremony. The race will be held at Heritage Place Park in downtown Conroe. Learn More
Rain Barrel Optimization Workshop
The Woodlands Township Environmental Services Department presents Rain Barrel Optimization, a workshop with everything you need to know for optimizing use of your rain barrel and taking it to the next level! Basics will be discussed and you may purchasing a rain barrel onsite to capture rainwater and move it efficiently from the barrel to your plants. The workshop is FREE but registration is required and space is limited. The workshop will be held from 8:30 to 11:30 am at the Multipurpose Room of the Aquatics Building at 8203 Millennium Forest Drive, 77381 (Next to The Woodlands High School). Learn More
FREE Pet Microchip Event
Who Rescued Who will be partnering with Pet Supplies Plus – North Woodlands, TX for a FREE microchipping event for the first 30 dogs and cats in attendance. Studies show one in three pets will become lost at some point during their lifetime. Microchipping your pet increases the likelihood of a pet returning home by offering secure, reliable, and permanent identification. Bring your pet from noon to 3:00pm to Pet Supplies Plus – North Woodlands, 4130 FM 1488 Suite 110, Conroe, TX 77384. Learn More
Conroe ISD District Art Show
Celebrating an outstanding culture for the arts in our community, Conroe Independent School District has a tradition of displaying exceptional student art. Come view the art in the Sadler Administration Building, 3205 W. Davis, Conroe, TX 77304, from 9:00 am – 3:00 pm. Learn More
Montgomery Music in the Park
Montgomery Music in the Park welcomes music enthusiasts of all ages with engaging performers, a kid zone, and food & drinks. Enjoy the family friendly event from 2:00 to 10:00 pm at West Montgomery County Park, 16716 FM 149, Montgomery, TX 77356. Learn More
MoCo Fall/Winter Fashion Show
The 2023 MoCo Fall/Winter Fashion Show will feature runway models showing off clothing from local boutiques, with a chance to browse the curated pop-up shops offering unique pieces at an unforgettable evening of local fashion, community spirit, and a touch of Renaissance charm. From cozy sweaters to chic outerwear, this is your chance to explore the finest seasonal fashion. There will also be dining options available and a full bar. Characters from the Renaissance Festival will grace the event, adding a dash of historical flair to the modern runway. Free admission opens at 5:00 pm and the excitement continues until 10:00 pm at The Shout House, 1355 N Loop 336 E, Conroe, TX 77301. Learn More
Scuderia Exotic Car Show
Come out to enjoy the Scuderia Exotic Car Show at Market Street on the third Saturday of every month from 8:00 – 10:00 am. Learn More
Denim & Diamonds Gala
The annual Denim & Diamonds Gala benefits Inspiration Ranch, a place of hope where dedicated staff and volunteers work to help children overcome physical, cognitive, and emotional challenges and reach new goals by using one of God's remarkable gifts, the horse. The gala begins at 5:30 pm at The Woodlands Waterway Marriott Hotel & Convention Center. Learn More
Sunday, September 17, 2023
Concert in the Park
Concert in the Park is a popular family tradition of music and fun for all ages, held from 5:30 - 7:30 pm at at Northshore Park on Sundays. Concert in the Park features local bands playing a variety of favorites from pop and rock to country. Coolers, picnic baskets, blankets and lawn chairs are permitted. Glass is prohibited. All entertainment is weather-dependent and subject to change. Snow cones available for purchase at all concerts. Learn More
Pints for a Purpose
Margaritaville Lake Resort Lake Conroe | Houston and the 5 o'Clock Phlock Parrot Head Club of Montgomery County will host Pints for A Purpose benefiting the local Walk to End Alzheimer's Disease. Guests who purchase one pint of beer will receive one refill in souvenir Margaritaville Alzheimer's mugs. Margaritaville Lake Resort will donate $8 for each $25 mug sold to the Alzheimer's Association of N. Harris/Montgomery County. The Parrot Head Club will provide a live DJ and games for all ages. Games are $5, with entry fees donated to the Alzheimer's Association. Pints for a Purpose will be held from 2 to 5 pm the resort's LandShark Bar & Grill. Learn More
Plan Ahead: Upcoming Events
"Inspired by Nature: Watercolor and Paper Weaving" Opening Reception (Sept. 21)
Join us on Thursday, September 21, 2023 from 5:00 to 8:00pm for the Opening Reception of the "Inspired by Nature: Watercolor and Paper Weaving" Art Show, featuring art by Cynthia Reid and members of The Woodlands Art League, at The Woodlands Art Gallery & Studios located at 208 Nursery Rd. The Woodlands, TX 77380. Learn more at woodlandsartandstudios.com.
Arts in the Park featuring The Woodlands Renaissance Faire (Sept. 23)
Enjoy a day out with family and friends at Rob Fleming Park! Grab a bite to eat at the food trucks and take a stroll back to Renaissance times while enjoying musical performances at The Woodlands Renaissance Faire. Activities include children's arts and crafts, face painting, local vendors, strolling entertainment, Renaissance themed youth and adult costume contests and much more! Then on September 30, head back to Rob Fleming Park for Arts in the Park featuring Shakespeare in the Park! Learn More
Boots vs. Badges Softball Game (Sept. 23)
Come enjoy a night of fun watching the Montgomery County Sheriff's Office play against The Woodlands Fire Department! Concessions will be sold. Admission is FREE! The game starts at 7:00 pm at McCullough Jr High Baseball Field, 3800 S Panther Creek Dr. Learn More
Gold Star Mother's and Family Day Sunrise Service & Ceremony (Sept. 24)
All are welcome to join the Spring Creek Area TX18 Blue Star Mothers of America for the Gold Star Mother's and Family Day Sunrise Service & Ceremony at Margaritaville Lake Resort, Lake Conroe from 7:00-8:30am. Refreshments and social will follow the program. Learn More
Spark Media Ignite Conference (Sept. 28-30)
The 2023 Spark Media Ignite Conference is the premier Christian podcast and communicators conference where creators, innovators, and enthusiasts unite to explore the limitless potential of the collaboration and growth. The conference will be held on September 28-30, 2023 at the Houston CityPlace Marriott at Springwoods Village located at 1200 Lake Plaza Drive, Spring, Texas, USA, 77389. This year's event promises a star-studded lineup of industry experts, including former MTV VJ Adam Curry, Worship with Shane & Shane & Kezia Alford, exclusive networking opportunities, and hands-on workshops designed to elevate your podcast to new heights. Learn More
YMCA Dragon Boat Team Challenge (Sept. 28-30)
For the 23rd year, teams will race colorful, dragon-headed boats across Lake Woodlands, participate in games and enjoy friendly competition in support of the community-strengthening programs provided by The Woodlands Family YMCA. Free for spectators! Learn More
The John Cooper School Athletic Preview (Sept. 29)
You are invited to The John Cooper School Athletic Preview on Friday, September 29 from 5:30 – 6:30 pm at One John Cooper Drive, The Woodlands, TX 77381. All ages are welcome! Join The John Cooper School for their Homecoming Football Game after meeting with coaches and learning about the variety of top-notch athletic programs. The John Cooper School is a PK-12 independent, college preparatory day school that has been serving The Woodlands and greater Houston area since 1988. Learn More
The Woodlands Area Chamber of Commerce Meeting and Awards Luncheon (Sept. 29)
At the Annual Meeting and Awards Luncheon, The Woodlands Area Chamber of Commerce recognizes loyal members, board members, and team leaders, as well as the recipients of the Community Citizen of the Year, Chamber Volunteer of the Year, Diplomat of the Year, Top Influencer Under 40 and Chairman's Award. The presentation of the awards follows The Chamber's annual report while guests enjoy a seated lunch. The luncheon is from 11:00 am – 1:30 pm at The Woodlands Country Club, 100 Grand Fairway Dr., The Woodlands, TX 77381. Learn More
Woodlands Landscaping Solutions (Sept. 30)
Come learn how to tap into nature at this FREE garden event! Learn tips and techniques from experts that will make your landscape a water-wise and earth-friendly oasis. Bring questions, leave inspired! The event will be held at Recreation Center at Rob Fleming Park, 6464 Creekside Forest Drive from 9:00 am - noon. Learn More
Check back on Hello Woodlands' Calendar Page and the monthly 31 Things to Do list for more events as they come up!
Have an event coming up or want to highlight your business? You can sponsor one of these popular weekend guides! By sponsoring a guide, your company name (organization or event) and logo will be included on the featured photo of the article published on the Hello Woodlands website. Your company name will also be included within the article along with a paragraph sharing more about your business with your logo and a link to your website. Email info@hellowoodlands.com for more information.
UPDATED: September 13, 2023 at 3:02 pm