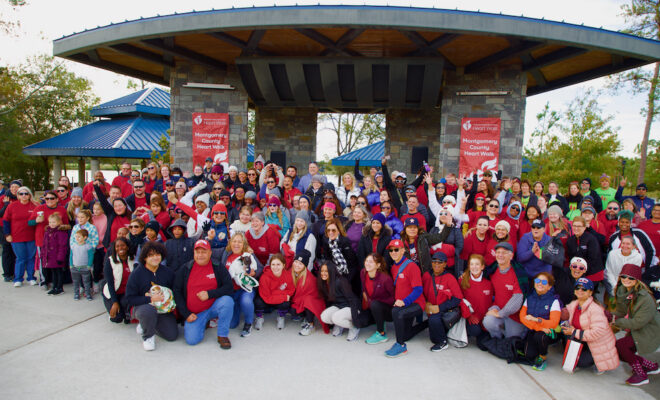 Photo Credit: Rod Prado, Hello Woodlands
Events
Over 1000 participate in Montgomery County Heart Walk to support American Heart Association
By |
The American Heart Association's Montgomery County Heart Walk 2022 was held on Saturday, November 12, 2022 at Northshore Park and had over 1000 participants who boosted physical and mental health through healthy habits while supporting the lifesaving mission.
View photos from the event on the Hello Woodlands Facebook page and on Instagram:
The Montgomery County Heart Walk is the signature event of the local American Heart Association's Heart Challenge program which is designed to help companies positively impact employee overall health and well-being. The program is anchored in a series of customizable workplace events that inspires employees to be more engaged, reconnect with colleagues, get in their physical activity, support a great cause, and have fun doing it.
The Montgomery County Heart Walk Expo opened at 8 a.m. with hands-on CPR classes (CPR for both humans and pets!), selfie stations, red superhero capes for kids, "VIP" section for survivors, a farmers' market with heart-healthy produce sponsored by Black Pearl Technology, and tips on healthy living & eating.
Adorable pets had the opportunity to strut their stuff at the Costume Contest sponsored by Waste Connections followed by a heartfelt program with a featured survivor story. The walk kicked off with a Kids' Dash, sponsored by the Kiewit Corporation, that circled around Northshore Park and then heart and stroke survivors led the way at the Start Line.
Ben Bentley, Montgomery County Heart Chair and Executive Vice President of Kiewit, shared, "Kiewit has been involved with [the Heart Walk] for many many years, but for me personally my father suffered from heart disease so it's kind of a personal thing for me to help support the great cause here. It's an honor to be chair to help represent this great cause and I would give tons and tons of credit to the American Heart Association for really doing the heavy lifting to support this. Thanks for being here!"
Top Fundraising Walker, Edmund Lee of Memorial Herman, raised over $30,000 and Memorial Hermann also won Top Fundraising Company, raising over $47,000. Lee shared, "I'm a survivor. It's been 4 years on October 12th. I had a bypass and without knowing that it's all based on genetics. I went for a normal physical and found my EKG was a little bit abnormal. As a result, my PCP sent me to a cardiologist and that's where they found one blockage. And then went to Cath Lab and found out there were three blockages. So within 24 hours, from Cath Lab to the OR, had a 97% blockage on my widow-maker, had a 75% blockage on my RCA. That being said – this is a huge event, this is awesome. I want to promote and make sure to encourage all readers, all walkers to see their PCPs every year religiously, but more importantly also have them monitor your heart. I had no symptoms before. I'm an advocate in running. I swam a lot before, and now I continue to do that. Also, I had a stroke after my surgery so I survived that and that's why I'm a huge supporter of Montgomery County Heart Walk."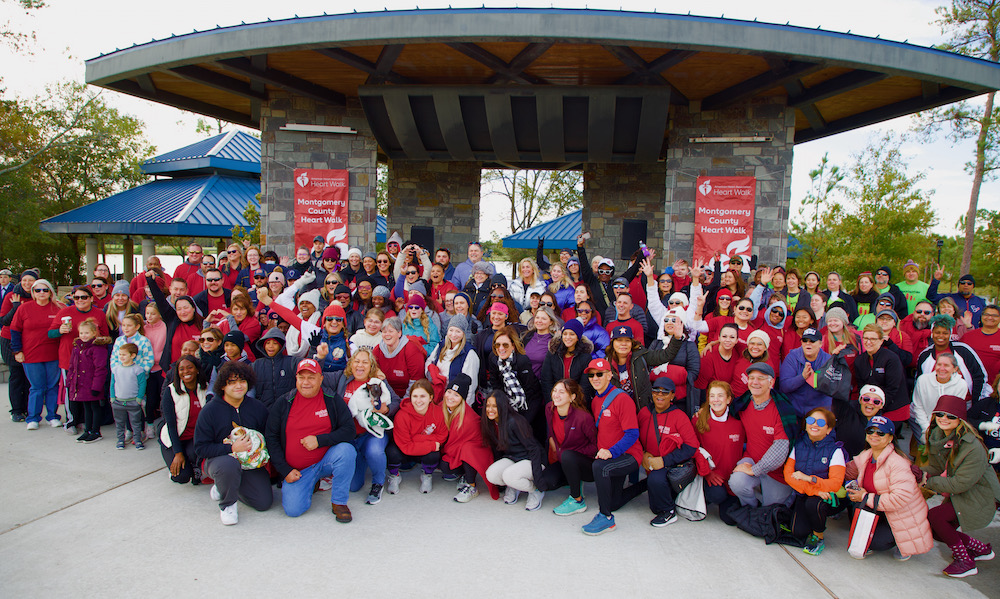 Teams and individuals from across the county gathered at Northshore park to support survivors, honor lost loved ones, and raise funds and awareness for the American Heart Association. Team "We Got Mike!" honored the beloved Woodlands-area fitness trainer, mentor, and Army veteran Mike Smith, who passed away suddenly this past August. Mike held a free boot camp at Conroe High School for the last 15 years and his catch phrase was "Got Mike?"
The funds raised from the Montgomery County Heart Walk go towards research, advocacy, CPR training and to promote better health in support of the Association's 2024 Health Equity Impact Goal, reducing barriers to health care access and quality. Visit www2.heart.org to learn more.