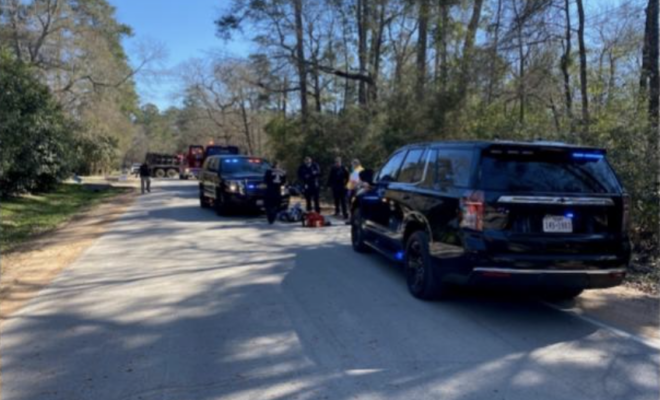 Photo Credit: Montgomery County Pct 5 Constables
News
Pct. 5 Constables Department Motorcycle Pursuit with Teen Driver
By |
On February 7, 2022, Deputies with the Montgomery County Precinct 5 Constable's Department were on patrol in the North zone of Precinct 5 when they observed a motorcycle commit traffic violations. Deputies attempted to conduct a traffic stop on the driver. The driver disregarded Deputy's emergency lights and sirens taking several Montgomery County Law Enforcement units on an 18 mile pursuit reaching speeds in excess of 100 MPH on FM 2978, Loop 336 and back to the Rabon Chapel area where he lost control of the motorcycle and slid into a stationary patrol unit where the pursuit ended. Emergency medical personnel quickly arrived to the scene and addressed the driver's severe injuries.
The driver of the vehicle was identified as a student that attends a local Montgomery ISD High School. Due to the drivers injuries sustained upon striking the patrol vehicle, he was transported to the hospital where he is receiving medical treatment.
During this evading incident, two Precinct 5 patrol vehicles were damaged resulting in a cost to Montgomery County that will be in excess of $5,000.00.

This case is being referred to the Montgomery County District Attorney's Office where charges will be pursued for Evading Arrest or Detention in a Motor Vehicle, a State Jail Felony in the state of Texas.
Constable Chris Jones commented, "The driver of this motorcycle put the lives of my deputies at risk along with many citizens that were traveling the roadways that day. Evading the police is a serious offense that often times results in serious injury or death. Precinct 5 will continue to proactively patrol our community and do our part to help ensure safe travel of our roadways."
If you are aware of any illegal activity please contact the Precinct 5 Constables Office at 281-259-6493 or visit our website CONSTABLE5.ORG to provide an anonymous tip.
Source: Chief Chad Walling, Montgomery County Precinct 5 Constables Office