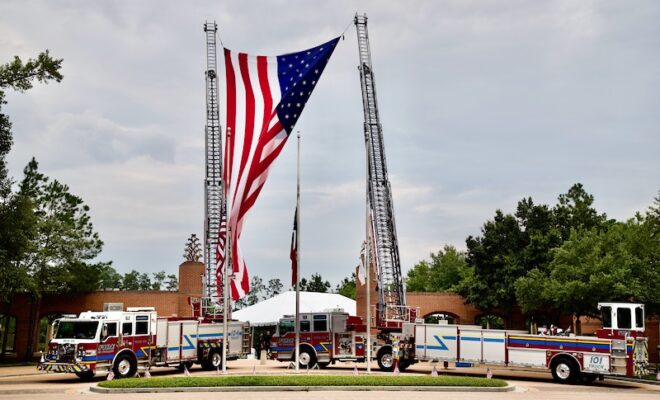 Photography by Rod Prado, Hello Woodlands
News
PHOTOS: First Responders Day in The Woodlands
By |
On Friday, September 11, 2020 at 5:30 p.m., The Woodlands Township hosted the First Responders Day event in Town Green Park.
Chairman Gordy Bunch welcomed the crowd and introduced the Montgomery County Sheriff's Office (MCSO) Honor Guard for the Posting of the Colors. The invocation was offered by Sergeant Mike Evans of MCSO, followed by the National Anthem by Lauren Erato.
View photos from the event taken by Rod Prado on the Hello Woodlands Facebook page.
Watch the video from the live event:
The ceremony included guest speakers Fire Chief Palmer Buck; MCSO Captain Tim Holifield; District Chief Spencer Hall of Montgomery County Hospital District; Captain Jonathon Zitzmann of Harris County Constable's Office; and Mallory Lyon, Director of District Operations for Congressman Kevin Brady. The ceremony also included musical performances by trumpeter Tyler McGee and bagpiper Patrick Salmon.
During the ceremony, Chairman Bunch said, "Today, we gather to honor and give thanks to all first responders that serve our great hometown. The Woodlands residents and businesses are so fortunate to have the best fire department in the country, exceptional EMT's and EMS services and a Sheriff and Constable Office that go above and beyond for us. We salute all of the agencies that serve The Woodlands, which are all represented and here with us today. These individuals work around the clock to ensure the safety of our residents 24 hours a day, 7 days a week, 365 days a year."
Source: The Woodlands Township