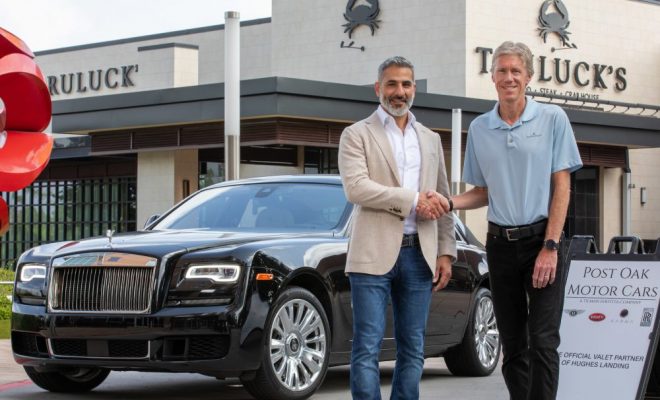 Lifestyle
Post Oak Motor Cars Announced as Hughes Landing Exclusive Valet
By |
THE WOODLANDS, TX – The Howard Hughes Corporation announced that Post Oak Motor Cars, a Tilman Fertitta company, is the new, exclusive valet and luxury automotive partner of Hughes Landing, the 79-acre award-winning, mixed-use development on Lake Woodlands.
Post Oak Motor Cars will display luxury vehicles along Restaurant Row in Hughes Landing, offering valet service at Restaurant Row. In addition, complimentary valet parking will be available for vehicle owners who have purchased their vehicle at Post Oak Motor Cars.
"We are pleased to collaborate with Post Oak Motor Cars as the new valet service on Restaurant Row in Hughes Landing. The attention to detail and customer service which Post Oak Motor Cars provides its clients complements the premier lifestyle destination found in Hughes Landing," said Jim Carman, Senior Vice President, Commercial Development for The Howard Hughes Corporation. "We want to provide our guests an excellent customer experience from valet parking to a diverse collection of retailers and restaurants, multifamily living, Class A office space, entertainment and hotel accommodations."
Located in the Uptown/Galleria area of Houston, Post Oak Motor Cars is Texas' only Bugatti and Karma dealership; Houston's only authorized Bentley franchise; and the Gulf Coast largest authorized Rolls Royce dealership. Post Oak Motor Cars offer both new and pre-owned luxury vehicles.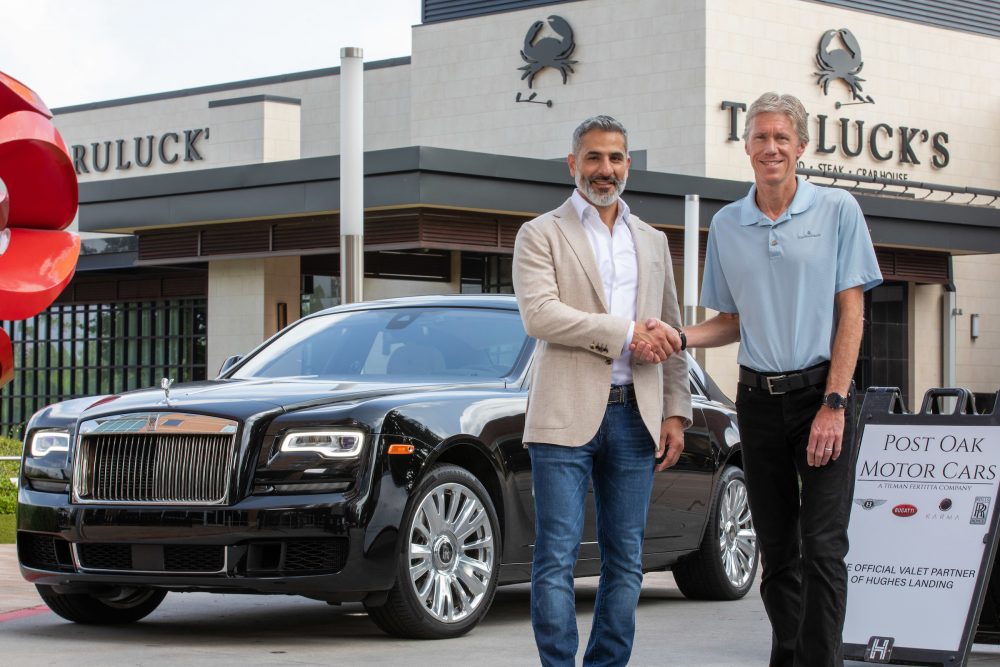 "We're thrilled to bring the luxury of our unmatched concierge service to The Woodlands," General Manager Lonny Soza said. "We understand the unique needs of the most elite clientele in the world, and Post Oak Motors is able to provide unparalleled service at a client's doorstep. Anything they want, anything they need, we deliver."
Along with providing valet parking, Post Oak Motor Cars will showcase three of their luxury vehicles at Restaurant Row. During special events, vehicle specialists will be onsite and offer test drives to Hughes Landing patrons.
Hughes Landing's commercial component includes Whole Foods Market as its anchor; multiple dining options at Restaurant Row; luxury apartment living at One Lakes Edge with Two Lakes Edge, a second multifamily development, underway; Embassy Suites by Hilton, Lakes Edge Boat House, outdoor art sculptures and entertainment at the band shell, complete with Class A office space.
The Woodlands is a 28,000-acre master planned community located 27 miles north of downtown Houston. Throughout its 45-year history, The Woodlands has led the way among master planned communities that practice environmental preservation. It is home to over 117,000 people, and nearly 68,000 people work in the community. The Woodlands is one of the top-selling master planned communities in Texas and the nation. The Woodlands was named "Trailblazer of the Year" in 2018 by the Greater Houston Builders Association. The community was also consecutively named "Humanitarian of the Year" in 2017 and 2016 and "Master Planned Community of the Year" in 2015 by the Greater Houston Builders Association. For more information, visit www.TheWoodlands.com. For additional details, find us on Facebook, Twitter, Instagram and LinkedIn.
The Howard Hughes Corporation owns, manages and develops commercial, residential and mixed-use real estate throughout the U.S. Its award-winning assets include the country's preeminent portfolio of master planned communities, as well as operating properties and development opportunities including: the Seaport District in New York; Columbia, Maryland; The Woodlands, The Woodlands Hills, and Bridgeland in the Greater Houston, Texas area; Summerlin, Las Vegas; and Ward Village in Honolulu, Hawaiʻi. The Howard Hughes Corporation's portfolio is strategically positioned to meet and accelerate development based on market demand, resulting in one of the strongest real estate platforms in the country. Dedicated to innovative placemaking, the company is recognized for its ongoing commitment to design excellence and to the cultural life of its communities. The Howard Hughes Corporation is traded on the New York Stock Exchange as HHC. For additional information visit www.HowardHughes.com.