News
Precinct 3 Makes Safety Improvements at Research Forest-Grogan's Mill Intersection
By |
THE WOODLANDS, TX – Contrary to assertions by The Woodlands Township Board Chairman Gordy Bunch and media reports, there are no plans to revisit a recently completed study regarding the Research Forest Drive-Grogan's Mill Road and Lake Woodlands Drive-Grogan's Mill Road intersections.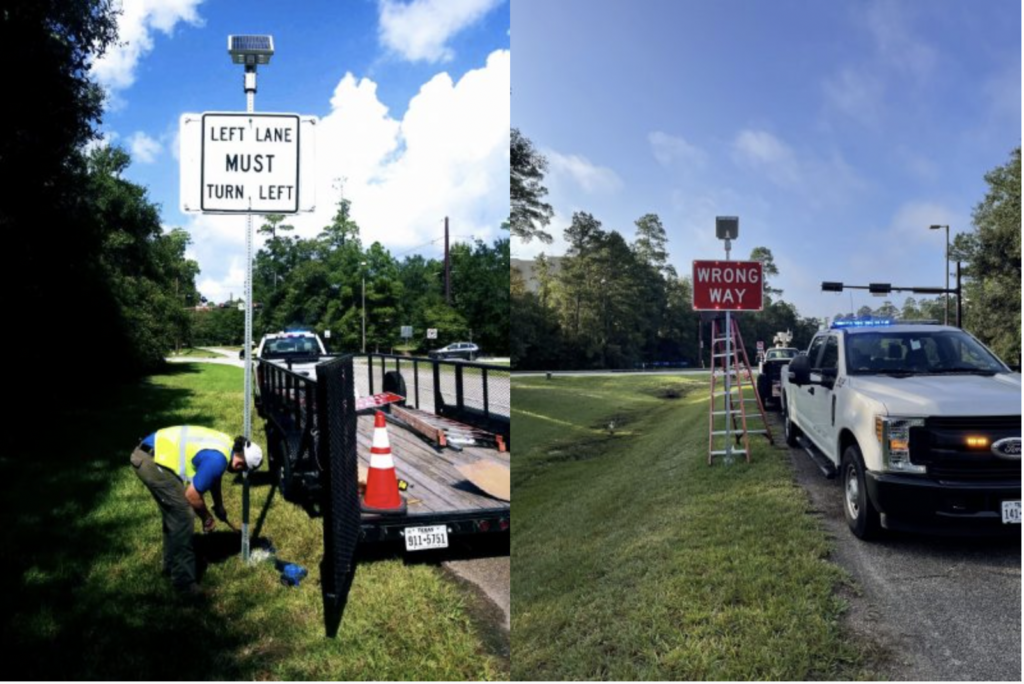 In addition, there are no construction plans or funding to move forward with an overpass or underpass at this time – or in the near future.
The final improvement analysis report of the intersections, as well as other smaller intersections in that study area, was recently completed. In full transparency and to ensure the updated report is available to all interested residents and governmental entities, all study documents, including the final analysis, are posted at www.precinct3.org/research-forest-at-grogans-mill-intersection-study-documents.
The recently completed study, conducted by engineering firm Strand Associates Inc., was started in 2019 and jointly funded by the offices of Precinct 2 Commissioner Charlie Riley and Precinct 3 Commissioner James Noack.
The two commissioners, Chairman Bunch, and Shenandoah Mayor Ritch Wheeler agreed to the independent study, which included updated traffic projections, after The Woodlands Township board refused to support a proposed underpass at the Research Forest Drive-Grogan's Mill Road intersection. The goal was to provide an independent study that would consider all options concerning mobility and safety upgrades that would meet the projected level of vehicle traffic at those two major intersections as well as surrounding minor intersections for decades to come.
Due to the COVID pandemic and associated shutdowns, including travel, all aspects of the study, communications and final report were not completed until 2021. In April, prior to Strand submitting the final report, the engineering firm presented its findings during a joint meeting with all interested parties present, including Noack, Riley, Bunch and Wheeler.
In years past, recommendations called for a Research Forest Drive-Grogan's Mill Road overpass, which was opposed by the City of Shenandoah. In 2018, a study conducted by engineering firm BGE recommended the underpass. After the township board and some local residents expressed opposition to the underpass, Montgomery County opted not to submit the project to the Houston-Galveston Area Council for funding, which could have saved local taxpayers millions of dollars in construction costs.
Bleyl Engineering recently released another study addressing an at-grade proposal at the Research Forest-Grogan's Mill intersection. That information also will be posted to the site with the Strand study.
So far, however, Precinct 3 is not confident that any of the proposals meet the desired goals of not only moving more vehicles through – but doing it in a safe manner – at an intersection that consistently logs some of the highest numbers of motor-vehicle accidents in The Woodlands-Shenandoah area, according to the Montgomery County Sheriff's Office.
With no imminent plans to move forward with major construction at the Research Forest Drive-Grogan's Mill Road intersection, Precinct 3 Commissioner Noack's Office has worked with Strand Associates and the Montgomery County Traffic Operations Department to implement measures intended to improve safety at the intersection in the meantime.
Those recent improvements include:
Installing signal heads for each lane
Adding yellow reflective borders to signal heads
Installing flashing "Wrong Way" signs
Installing supplemental "Do Not Enter" signs
Installing "One Way" signage
Adding supplemental lane designation signage
Placing additional pavement markings for lane designation
Updating signal timing
Trimming back vegetation for better visibility
In keeping with representing the will of the majority of residents, Commissioner Noack reiterated that there are no plans to construct a grade separation of any kind at either of the two major intersections in question without residents' approval. Furthermore, Commissioner Noack will not move forward with any major modifications that don't improve both safety and mobility.