Events
Premium Sips and Savors in Store August 11 at the Platinum Wine Vault Luxury Tasting Event
By |
THE WOODLANDS, TX – Get ready for an award-winning selection of fine wines from all over the world paired with amazing award-winning chef-inspired culinary dishes at The Platinum Wine Vault Luxury Tasting on Friday, August 11th from 6:30 p.m. – 9:00 p.m. at Bayway Cadillac of The Woodlands.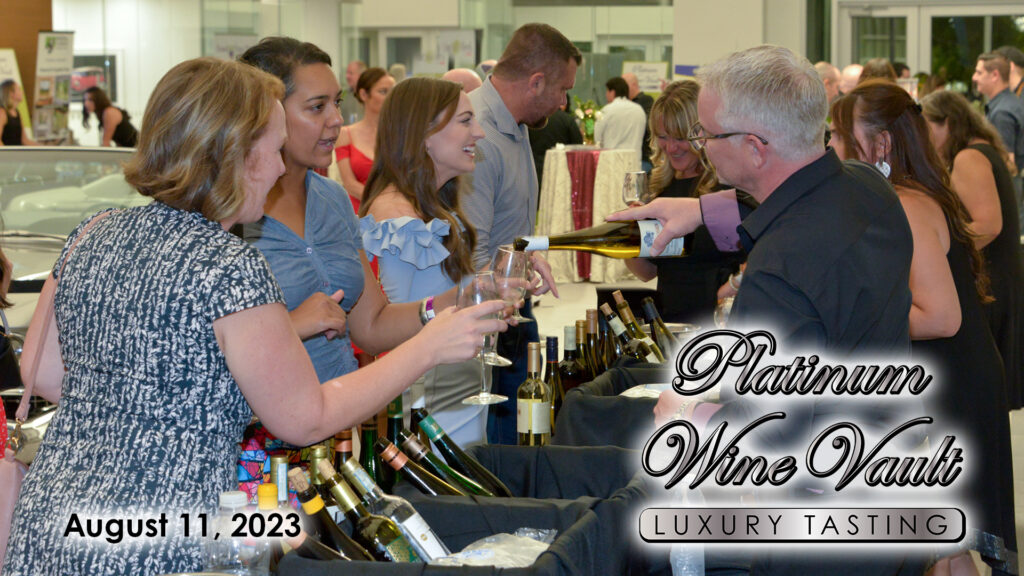 Constance McDerby, founder of Wine & Food Week says, "even the most avid collector does not have 100 premium bottles open all at one time. For the serious enthusiast, The Platinum Wine Vault Luxury Tasting is an oasis filled with crème de la crème wine selections served in 'the big glass.' Enjoy a welcome pour of refreshing and palate-cleansing bubbly plus taste an extraordinary selection of boutique, allocated, and powerhouse wines."
Wines are organized by varietals and paired with savory and sweet dishes from restaurants like Alchemy Bake Lab, Back Table Kitchen + Bar, The Woodlands Country Club, North Italia, GOYA Foods, H-E-B's spectacular grazing selections and more. Themed curated wine stations include:
Pop the Cork (Bubbles Baby!)
Oh, So Fresh (selection of white varietals)
I Am Blushing (Rose')
Old World / New World Chardonnay
O' So Delicate (Pinot Noir)
Mixing it Up (Red Blends)
Try Me (Interesting new finds)
Love My Silky Cabs (Cabernet Sauvignon Lounge)
International Treasures (Italian, Chile, Argentina, etc.)
Kady Miller, owner of Alchemy Bake Lab, is doing a dessert bar featuring Millionaire Shortbread Bites Blackberry Jam Mini Tarts and Edible Vanilla Bean Glitter Cake Pops. "We hope that guests will experience elevated nostalgic desserts that deliver a flavor explosion! A 20-year-old tawny port will make a beautiful companion to any of our whimsical creations," remarked Miller.
What will Chef Fernando Desa, International Executive Chef for GOYA Foods serve? How about Octopus Carpaccio over Aji Mash Potato served with Cilantro Chimichurri. Pair it with the Torres 'Pazo de Bruxas' Albarino, Rias Baixas ES or the El Coto Rioja Bianco, Rioja ES from the International Treasures selections.
Chef Ivan Rodriguez from Back Table Kitchen + Bar is dishing up Smoked Lamb Shank, Heirloom Polenta Ancho Chile Reduction, and Herbs. This tasty bite can be enjoyed with the wide selection of Silky Cabernets in the Cabernet Lounge.
If your taste buds have been properly teased, get your tickets now for The Platinum Wine Vault Luxury Tasting Friday, August 11th. Tickets are online at www.wineandfoodweek.com/events/2023/platinum-wine-vault-2023