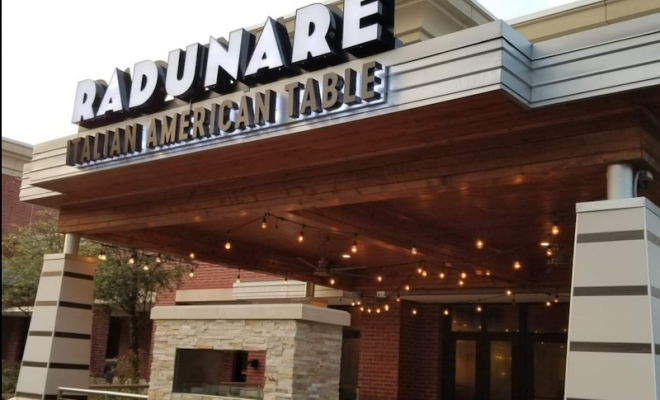 Photo by Nick Rama
Food & Drink
Radunare Italian-American Table in The Woodlands
By |
Radunare Italian-American Table is The Woodlands latest fast casual restaurant and a place where families can gather and eat authentic, homemade foods. Radunare, pronounced "rah-due-nar-a," means to gather or rally. Radunare is open all day for breakfast, lunch, cocktails, dinner and to-go, and the eatery caters to today's always-on-the-go guests. Starting mid November Radunare move to a full service restaurant model.
Update 11/12/19 12:36pm: "Radunare is no longer open for breakfast or brunch, just lunch and dinner every day."
Founder Dr. Frank Morello's family tree reaches back to Sicily, so much of the menu is from family recipes handed down over generations. Authentic, homemade Italian-American food just like the family meals that Frank grew up eating. Along with his Chef Teresa Palermo, Frank believes in using the highest quality, fresh ingredients.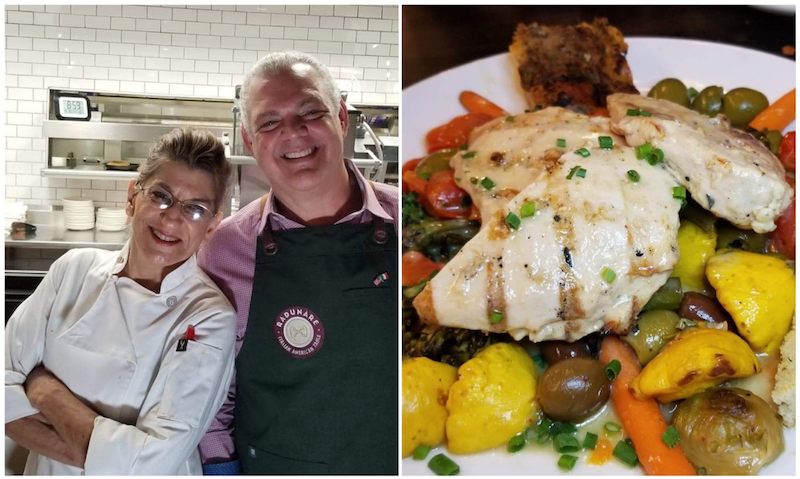 Frank wanted to open a place where friends, neighbors and families could enjoy a meal in a relaxed atmosphere. Frank shared, "My hope is that everyone feels Radunare is a place to gather with family and meet up with friends for coffee, late-afternoon snacks, drinks and dinner, or pick up a spaghetti supper, pizzas and salads to be enjoyed at home. I invite you to become honorary members of my large and boisterous family that cherishes togetherness and enjoys the privilege of sharing food."
One will notice that the interior of the restaurant includes exposed brick, wooden beams and stone. Look closely at the wallpaper features Morello family photos gathered around tables with home cooked meals.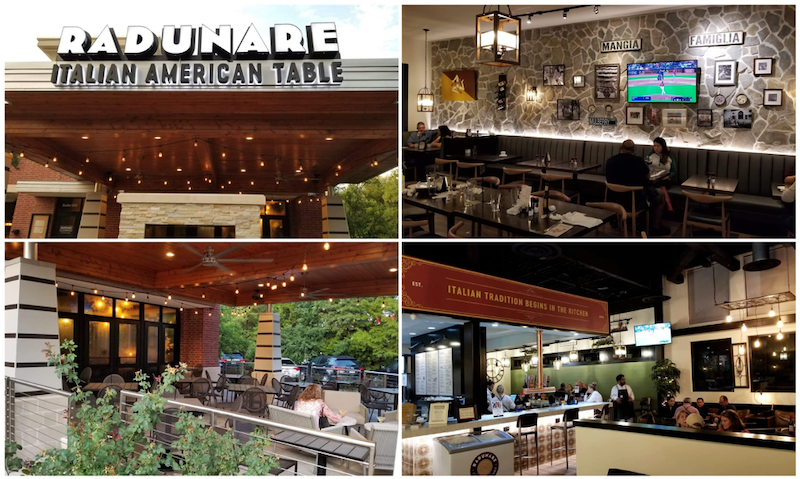 Radunare is open for breakfast and espresso, which can be enjoyed in-house or on the go. Breakfast dishes include the Morning Panini featuring scrambled eggs, white cheddar, bacon, scallions and breakfast potatoes; the Italian Sausage and Spinach Scramble with cherry tomato, baby spinach, basil, parmesan and breakfast potatoes; the Prosciutto Crostini with fig jam, basil and stracciatella; and for a sweeter take, Ricotta and Berry Pancakes with mascarpone vanilla whipped cream, berries and warm syrup. This is definitely a well thought out menu, and a little different from what other breakfast places in the area serve.
The all-day menu starts with small plates perfect that are perfect to share, including the Bruschetta Board with four cheese and mushrooms, eggplant and bell pepper Caponata and ricotta, and warm tomato & mozzarella. Mussels with white wine, butter, garlic, cherry tomatoes and house marinara; savory stuffed Sicilian Artichoke and Morello's Market Meatballs with house marinara, mozzarella and basil are two more favorites.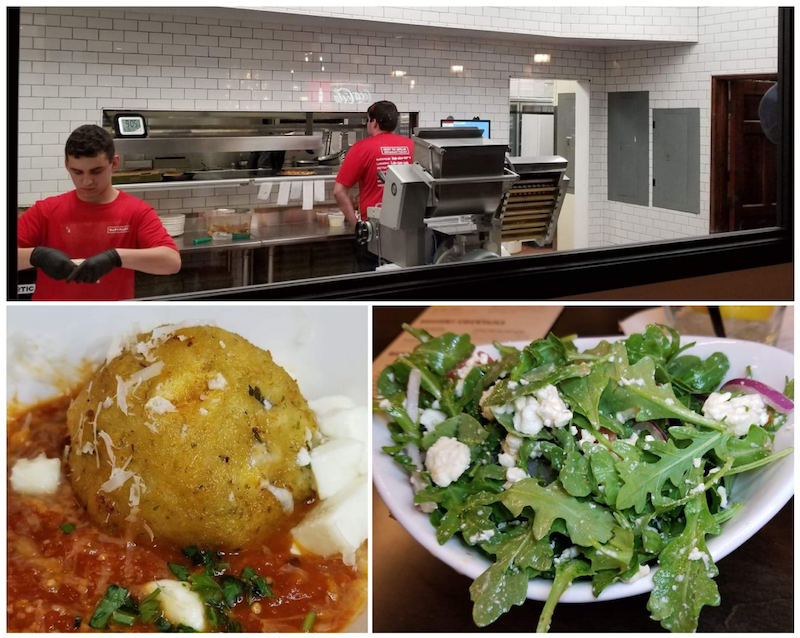 Soups and salads include a classic Pasta e Faggioli, Watermelon Arugula Salad and a Farmers Salad – fresh greens, artichokes, roasted peppers, olives, sunflower seeds, truffle oil and parmesan.
Panini and sandwiches include the Chicken Caprese with grilled chicken breast, provolone, fresh mozzarella, roasted cherry tomato, basil and baby spinach; and a Grilled Cheese Panini topped with Granny Smith apple, provolone, fontina and bacon.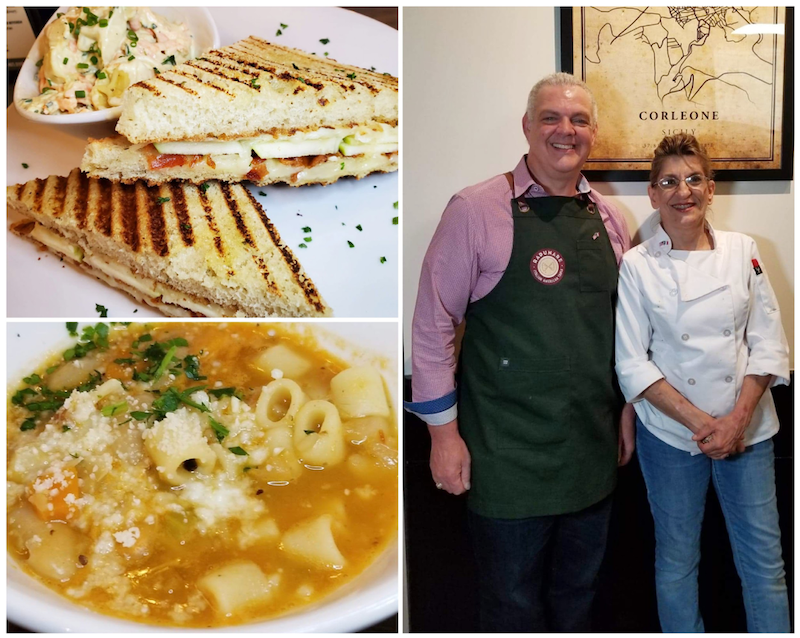 Pasta highlights are the Penne Arrabbiata featuring grilled sausage in the family marinara sauce; Lasagna di Radunare; Spaghetti Carbonara of bacon, butter, cream and parmesan; and Seafood Linguine with clams, mussels and shrimp.
Pizzas range from traditional Margherita and Prosciutto and Arugula, to a Scampi Marinara option with garlic shrimp, red onion, fresh basil, San Marzano tomato sauce and fresh Mozzarella. Specials include Morello's well-guarded family recipe for Eggplant Parmesan, a vegetarian option. Fresh from the sea will be Pesto Salmon with roasted garden vegetables and basil pesto.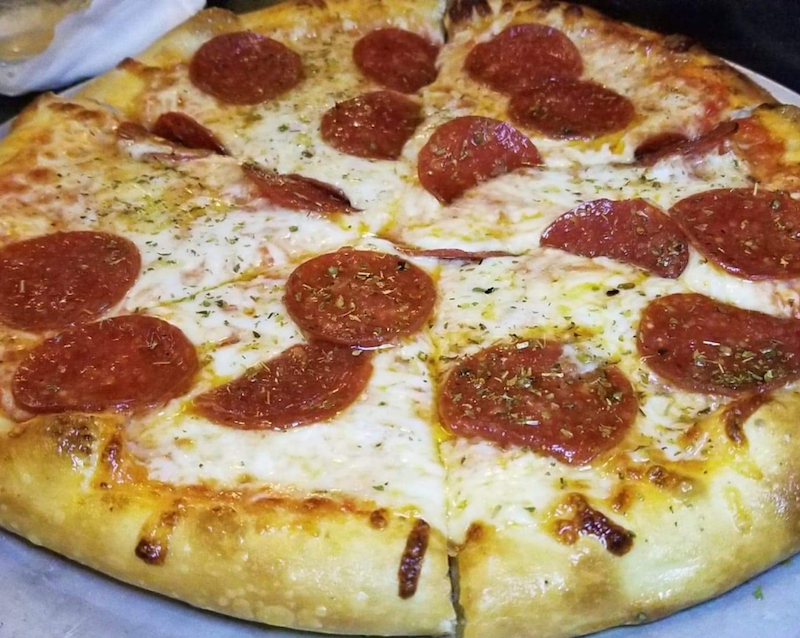 To end on a sweet note, the Sfingi di Radunare with lemon pastry cream are the restaurant's signature dessert.
Radunare features a full bar with signature cocktails, along with beer and wine that has Italian influence. The wine list is highlighted by selections and is priced by the glass and by the bottle.
Interview with Radunare Italian American Table
What made you open a restaurant in The Woodlands?
"The desire to share my Italian American heritage through food and family in a community setting. I wanted to be unique in the food and experience, creating an inviting atmosphere and with Italian food that is different than other Italian restaurants."
What makes it Italian American Cuisine?
"It's different than the cuisine in Italy. It's really what Americans know as Italian food. It's a tribute to how my great grandparents and grandparents adapted their way of cooking and eating from Sicily when they came to America. It's still very rich in Italian tradition, just repackaged with an American influence. Radunare is trying to repackage that again with today's influences to keep Italian food strong for more generations."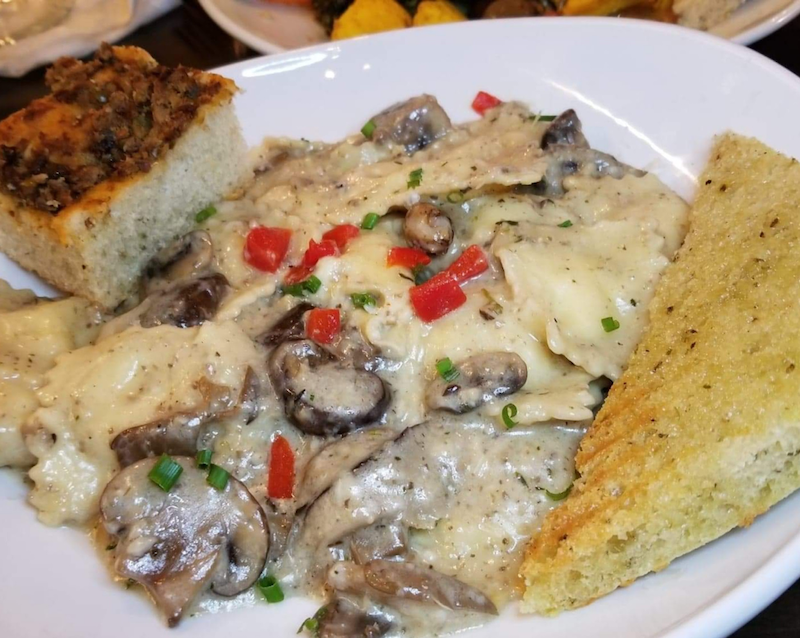 What was your inspiration for the menu?
"Growing up in my Italian family. The food is a tribute to my grandmothers who always cooked for us. There are items on this menu that are prepared in a way that takes people back to the way it was when they were growing up. I have had many people both with Italian roots and those who were associated with Italians, tell me that this food reminds them of how someone in their past used to make it. I think we hit the mark on that goal we set out to have for Radunare."
What qualities made Chef Teresa Palermo the perfect fit for your restaurant and what was the inspiration for your menu?
"She is an extension of me in the kitchen. She was similarly raised in an Italian family and has a passion for the Italian food. The restaurant business is not easy. We want to make the perfect dish for every customer and want them to rave about it. Unfortunately, we don't get perfection all the time. Sometimes a dish is not right, not warm enough or late. When customers are not happy about these, both Chef and I take that very emotionally. I think that passion to produce a perfect dish and experience is the key ingredient to restaurant success. The execution is the tough part. The emotional passion that goes along with both the success and occasional failure of that is the secret sauce to keep it going. Chef has that secret sauce."
What makes your breakfast/brunch menu special?
"You may not think of brunch when you think of an Italian restaurant. Why not? Italians put in a little of their heritage when making brunch too. I wanted to have something different for brunch, with an Italian flair. Italian sausage instead of traditional breakfast sausage. Polenta instead of grits. Ricotta in the pancakes. Where else can you get a breakfast pizza with a fried egg on top in The Woodlands? I hope that my Italian-inspired brunch items will tempt people to try something just a bit different for weekend brunch and make Radunare one of the most popular weekend brunch spots in The Woodlands. We appreciate you asking this question and allowing us to talk about our Weekend Brunch. Please come give us a try!"
What would be your perfect meal from start to finish here at Radunare?
"Italian trio appetizer with fried eggplant, arancini and zucchini-ricotta polpette. A stuffed artichoke for the table to share. Then the chicken parmesan. Coffee and a couple of our Italian cookies for dessert. That's Italian!"
How about guest favorite signature cocktails?
"People love the Frozen Bellini, Songbird, and Little Italy. The Woodlands also has a ton of wine enthusiasts. The majority of our wines are moderately priced, Italian wines. We have received many compliments on our wine list, and are almost done perfecting it, based on our sales and the feedback we are getting in our first couple months of operations."
How family friendly is Radunare?
"This is at the heart of what Radunare is all about. We started out having a few child specific menu items and adjusting portion sizes for other items. We have found that an expanded "Kid's Menu" is the way to go and we are focusing on initiating that in the coming weeks. The wallpaper in the hallway next to the kitchen is a scrapbook of my family's journey from the boats they came to America on to my own children in their everyday lives. Family is synonymous with Italian-American."
What are some of Radunare's best selling desserts?
"We wanted people to save enough room for a little taste of dessert. The Italian cookies we serve are very traditional and my grandmothers would only make them on Holidays and special religious feast days. Because we make them in house from scratch and offer them daily, it keeps their legacy and memory alive for me. They are loved by all comers and all ages."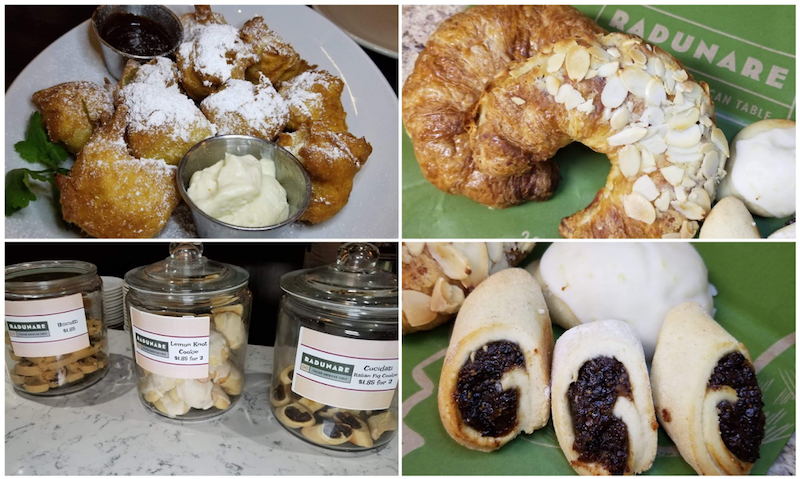 5 Words to describe Radunare Italian American Table?
Welcoming. Cultural. Tradition. Fresh. Housemade.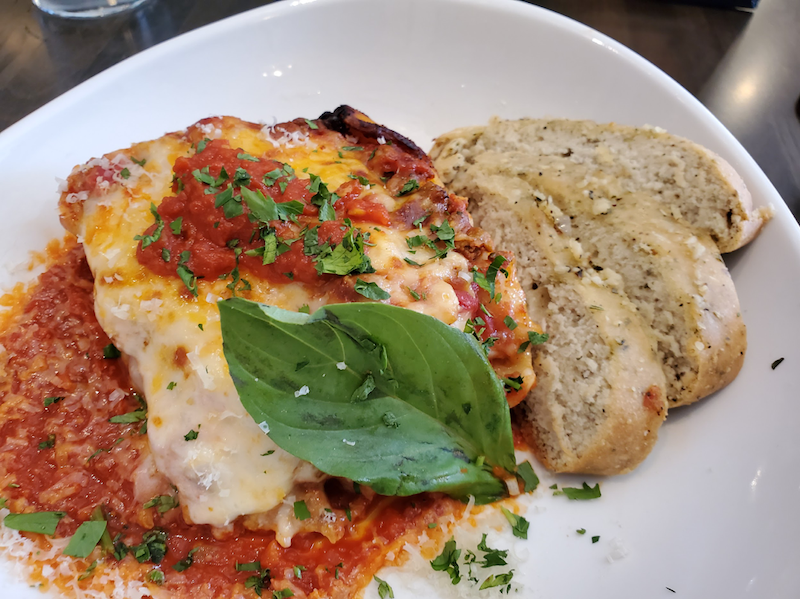 Radunare is located at 2520 Research Forest Drive, Suite 500 in The Woodlands, Texas and is open Sunday – Thursday 7 a.m. to 9 p.m. and Friday – Saturday 7 a.m. to 10 p.m. Learn more about Radunare by visiting the website at https://www.radunare.com/ and Facebook page at https://www.facebook.com/radunareitalianamericantable/
Nick Rama is a food writer, contributor of Hello Woodlands, and shares his restaurant experiences on Nick's Local Eats at NicksLocalEats.com and the TX BBQ, Burgers and Brew Facebook page. Nick enjoys helping the small business owner, supporting his community with fundraising for food banks, and plans tasting events with locally owned mom and pop restaurants.