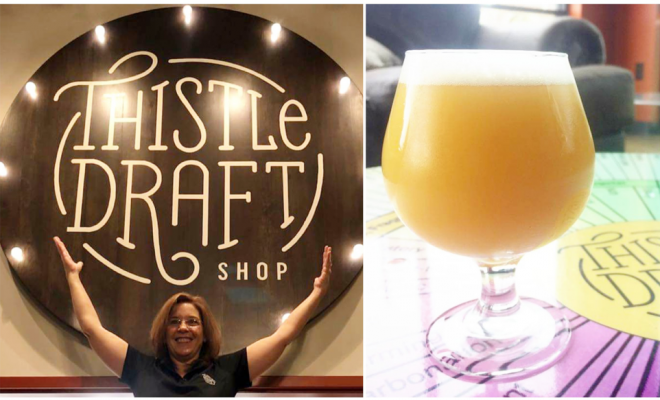 Photo by Nick Rama
Food & Drink
Thistle Draftshop – Spring Elevated Gastropub and craft beer shop is here!
By |
Thistle Draftshop is a craft beer bar and bottle shop with 60 beers on tap and a great selection of wine, cider, mead, and beer to-go. Opened in late December of 2016, they do a great job of supporting all of the amazing breweries around the country and all of Texas. The full menu was created by Chef Ernesto Villareal who put his personal spin on modern fare, going way beyond what you would think of getting served at a beer bar. Just this year Thistle Draftshop, located at 5210 FM 2920 #100 in Spring, was ranked the best beer bar in Texas and one of the 50 best in the U.S. in a new ranking from CraftBeer.com., which was based on over 7,000 surveys on atmosphere, staff, beer selection and extraordinary events were used as factors to rank each bar.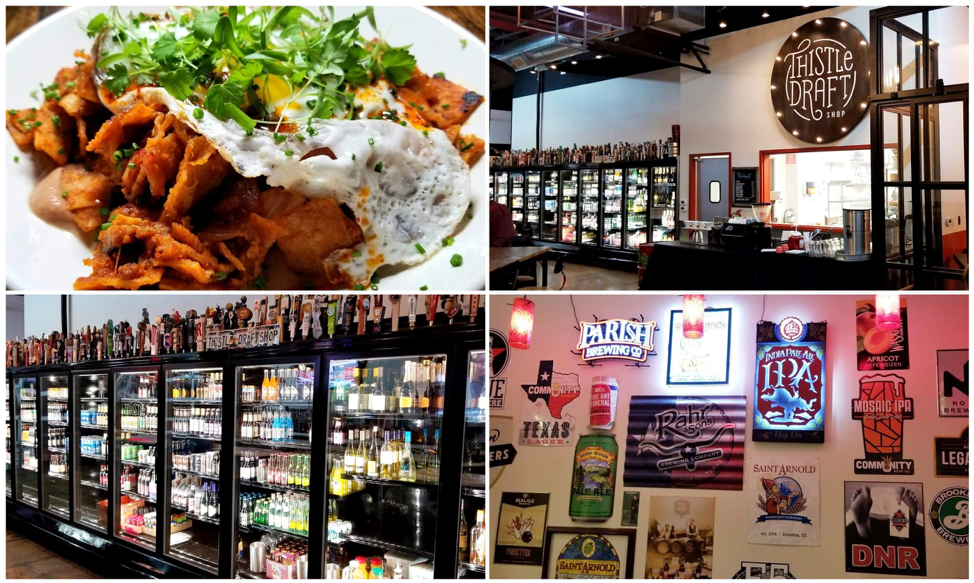 Owner Mary Thorn got her start working at Houston's own Saint Arnold Brewing Company, where she learned the business and became fascinated with the craft beer industry. Mary wanted to bring some of Houston's downtown culture out to the suburbs in Spring, TX, so the idea for Thistle Draftshop was born. Thistle is a family affair because her husband Jon and son Jake are also involved in the business. Mainly supporting small, independent and traditional breweries, like-minded craft beer nerds, found a place to gather with so many options with beers brewed with innovative ingredients and brewing techniques.The space gives a laid back neighborhood experience for all ages.
The menu by Chef Ernesto can be enjoyed for lunch, dinner, shareable appetizers and even brunch on the weekends. The food is described by Mary as "elevated gastropub fare"; she did not want to be known for the typical fried bar food and wanted to showcase her Chef's talent. Chef Ernesto has always surrounded himself with a diverse culture, people and food. Chef graduated from Le Cordon Bleu in Austin and his last job before Thistle was as the Executive Sous Chef at The Grove in Houston. Chef took all of his experiences and created a menu with crispy Vietnamese wings dosed in fish sauce and topped with scallions, fried oyster po-bao and cured pork belly tacos with citrus salsa. Definitely not your average beer bar food.
Highlights from the menu include…
Beginnings:
Dancin' Brussel Sprouts – pomegranate, sesame seeds, fish sauce vinaigrette, bonito flakes
Fancy Ass Truffle Fries – parmesan, thyme, white truffle oil and garlic aioli
Octopus Campechana – chipotle campechana sauce, avocado, pico de galllo, sesame crackers and homemade chips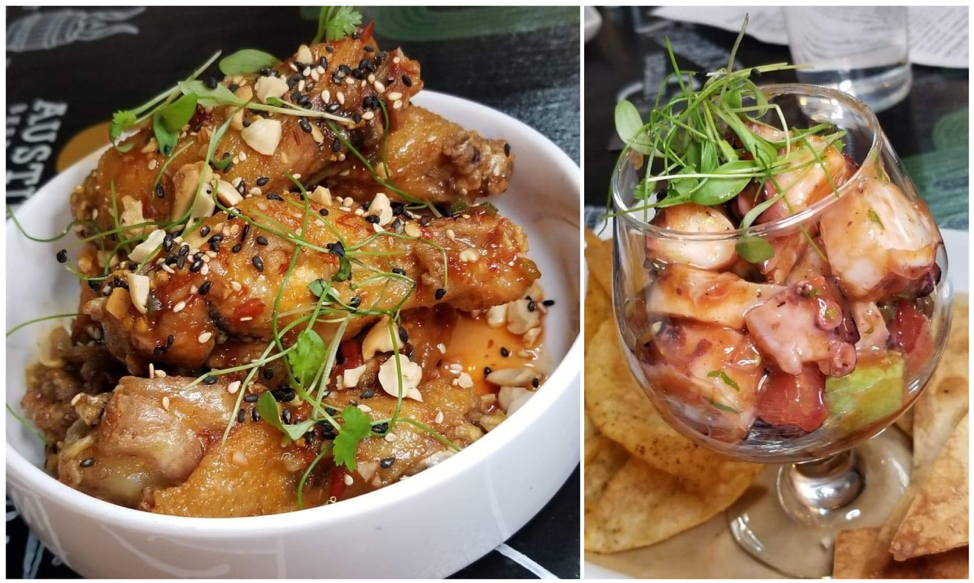 Don't Stop There!
Big E Wings – house fermented buffalo sauce, blue cheese crumbles, roasted garlic, cotija
Classic Burger – sweet lettuce, tomatoes, onions, pickles, mustard, cheddar, special sauce, sesame seed bun
Kimchi Braut – beer braised braut kimchi, gochujang mayo, green onion, sesame
Bacon Grilled Cheese – habanero bacon, goat cheese, provolone, green tomato, creamy tomato soup, tagarahi croutons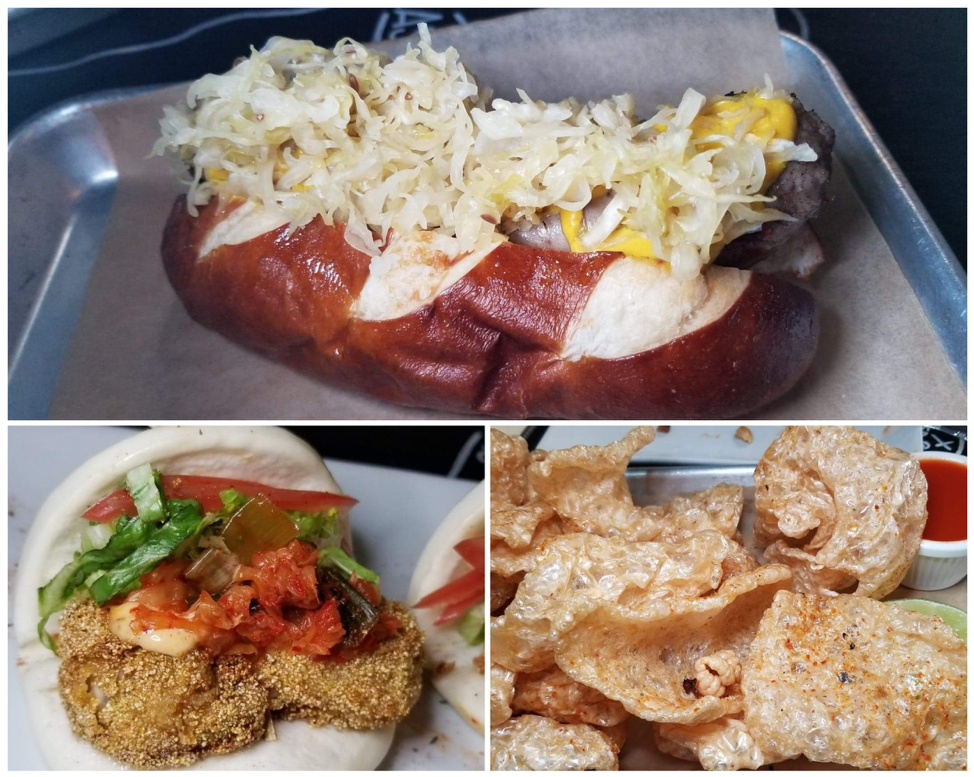 Brunch:
Crawfish Benedict – shaves tasso ham, spinach, French Baguette, Cajun hollandaise, eggs, chives
Pork Belly Chuiliqiules – fried egg, tomato chipotle salsa, queso fresco, onions, refried borracho beans
Banana Nut Pancakes – banana, toasted pecans, brown sugar cinnamon butter
Thistle Draftshop's beer menu is cleverly separated into five main categories:
Jedi's Choice – Join The Light side with pilsners, cream ales, blonde ales, hefeweizens
Malt Forward– Started at the bottom now we are slightly above the bottom, with scotch ales, amber/red/dark lagers, brown ales, bocks
Hop Head HQ – Something to get hoppy about – ipa's, pale ales
Big and Heavy – Dark, Strong and Handsome, with Stouts (milk/sweet, oatmeal, american/Russian imperial/double milk/ pastry), barleywine, Belgian Quadrupel, Belgian Tripel
Wild Ales & Sour – Pucker up, with Sours, Sour – gose,sour – fruited, american wild ales
The expansive list of beers can be found anytime on the UNTAPPD – Drink Socially app/website.
The cooler will have everything else and then some, including limited edition, seasonal and ciders among more craft and collectable beers of all styles.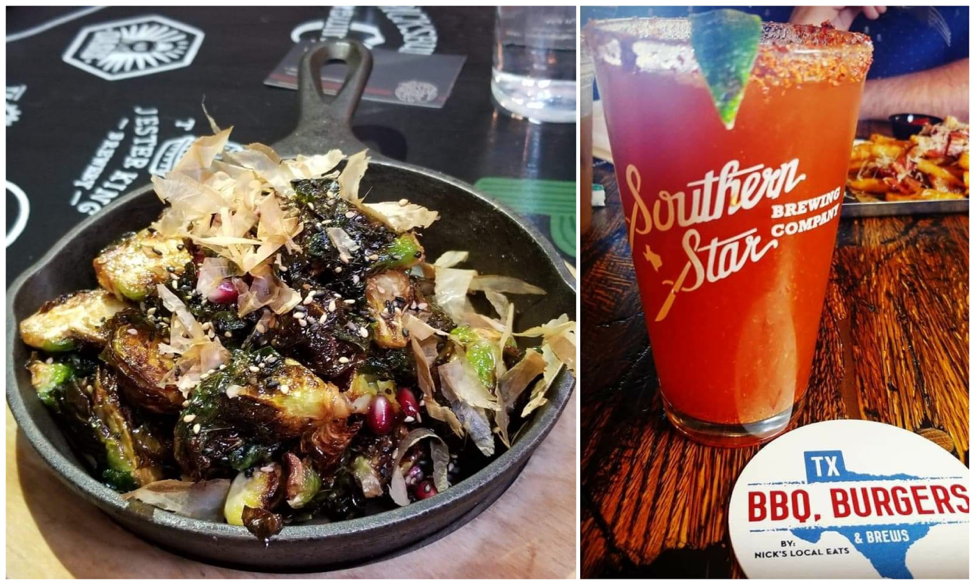 Thistle Draftshop Interview
Where did the name and concept for Thistle Draftshop come from?
Mary: "This space used to be an auto shop and part of the business concept has a bottleshop. When we were working with our branding company, Primer Grey, we embraced Draftshop. Thistle took a bit more time. Primer Grey researched "Thorn", our last name. They found that thistle could tie the name and the beer industry together. A thistle is the the designated flower of Scotland, Scottish ale is served in a Thistle glass AND Primer Grey created a fabulous Thistle Draftshop logo. Four garage style bay doors, a big open space with a large racetrack style bar, a small lounge area and even a private glassed in space for beer dinners, private parties, and beer/wine tasting events."
What was the inspiration for the menu?
Ernesto: "When I met with Mary we spoke about her idea of doing something different out here in Spring and how there really wasn't anything like this. We wanted to bring some different and unique flavors that would separate ourselves from other craft beer bar/restaurants in this area. When it comes to the food on the menu we never decided on focusing on a specific cuisine, I just started creating dishes that would bring flavors from many different types of cuisines and cultures that would pair well with different types of beers and keep the guest excited about unique flavors being brought to this part of town."
60 Beers on draft plus more cans in the bottles in the cooler, how do you choose which beers to bring in?
Mary: "There are a couple ways to acquire beer, through a distributor or through a brewery directly. We are fortunate in that we have great relationships with both. Each week we meet with the distributors and the brewery reps where we get to learn about new and available products. We are mindful of seasonality, trends and opportunities for events. Our selections are well balanced in styles, region and favorites. Seems easy, right?"
What made you decide to do a brunch menu at a beer bar?
Ernesto: "I love brunch food and everything about it. Finding a place that you can gather with a group of friends that always has great food, an awesome selection of beer and wine, good music and a unique setup like we have is hard to find. We felt that a good brunch would do really well here."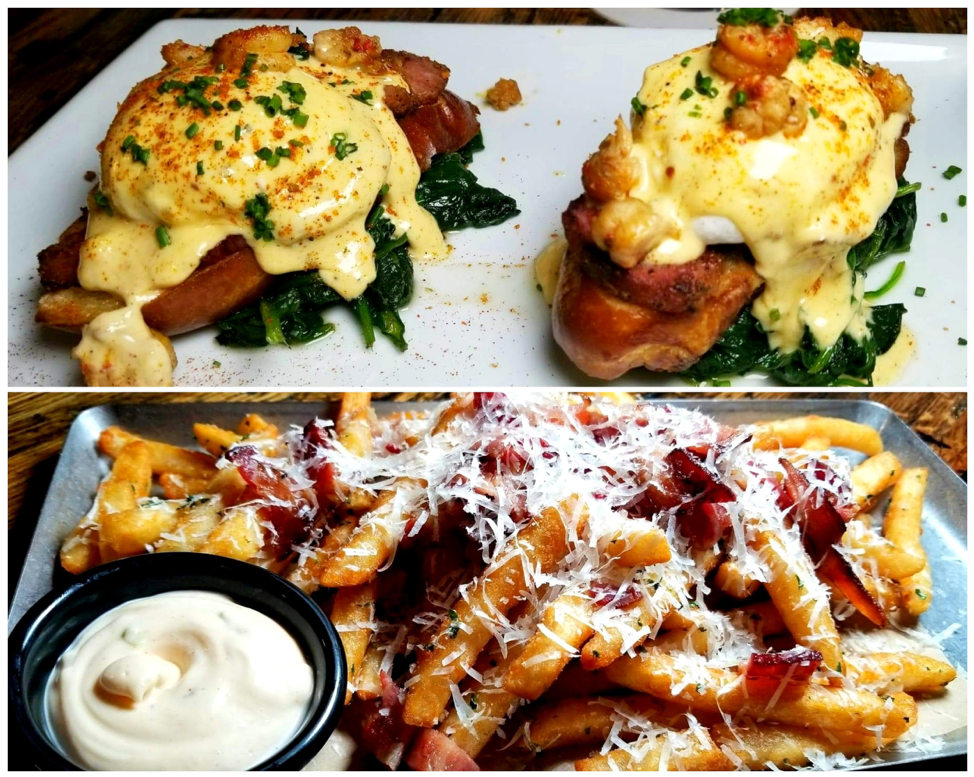 What differentiates Thistle Draftshop from other places that serves larger craft beer menus?
Mary: "So many ways. When I was searching for the right spot, I knew it needed to be a place to gather with friends, families, colleagues and clients. What makes this location different is the four bay doors previously used in the automotive shop. It gives us the greatest advantage to having an Indoor out space. When the weather it advantageous, all the doors are open which creates this wonderful flow of air. The large bar is set in the center of the space. Everyone can enjoy watching sports on the big screen or t.v.'s, get to know their bar mates and make new friends. That's our definition of community. We are pleased at the number of special friendships that have been created here."
"Thistle Draftshop was created to support the Independent Craft Beer industry. It developed into this wonderful place where we have craft beer, craft food, craft coffee, creative art and more."
Appetizers are a big part of pubs, and beer bars …what are your top sellers?
Ernesto: "Our top sellers are oyster po baos, chicharrónes and octopus campechana, we just added a fried pork shank that is a shareable dish, it comes with a small steamer full of baos and accompaniments of herbs and pickled vegetables that you can assemble how you please that has been a real big hit lately."
What are some of your popular specials or events?
Mary: "Taco and Trivia Tuesdays is our most popular weekly event, followed by our Steak Night Wednesdays. Each Tuesday Chef creates three new tacos to try and we host a different brewery who bring prizes and give-a-ways. These are great nights to get to know the breweries and their beers."
"Steak Night Wednesdays you can expect a delicious teres major cut with uniquely created sides that differ from the previous week."
"Brunch has been a nice treat in our area. Our brunch menu is clever and unique. Order a Crawfish Benedict, Chilaquilles, Bleu Burger or Truffle Fries. And that's just to start."
"Our most popular large events have been our For The Love of Craft! Beer Festival. We invite 30 plus breweries out to showcase their favorite beers. In addition there are artist, music and food. October 2020 is our next planned festival."
"Up next, is our first city wide fundraiser. We have partnered up with Drink of Ages Pub and breweries in and around the Houston to raise funds for Texas Equusearch."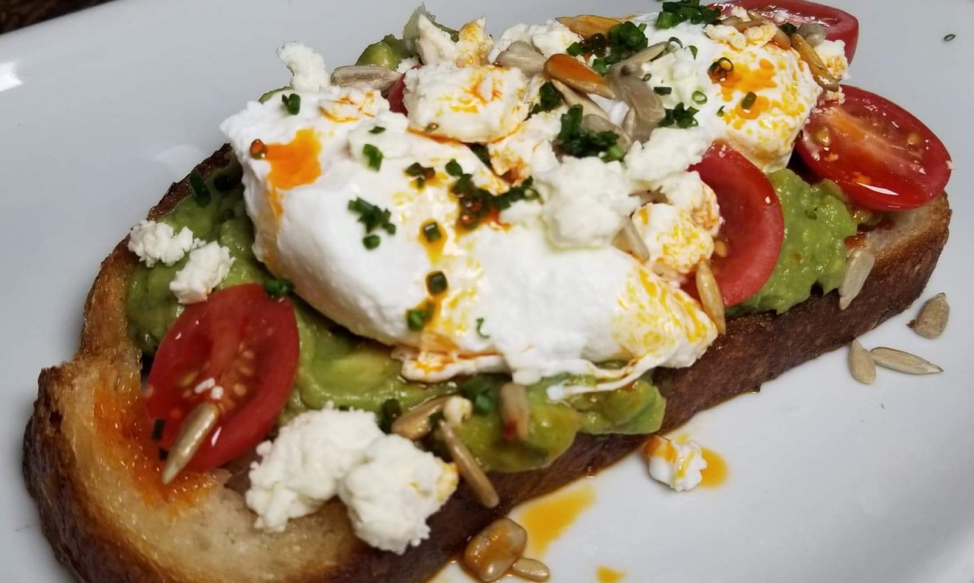 What is entailed in putting on a beer pairing dinner?
Ernesto: "Well obviously finding a brewery to partner up with is most important but that comes really easy for us since both Mary and Jake carry such great relationships with a lot of local breweries and our distributors who provide us with our product. When we have a the brewery set up they will send us a variety of beers that they have available or have coming up seasonally and the brewery representative, Mary, Jake and myself sit down and have a tasting where we take notes on flavor profiles from the beer and begin tossing around ideas for dishes we fill would pair well. Having a theme like cuisine, region or season always helps us lay out the menu and is one of the reasons why I think our guests get really excited about the dinner and the dishes paired one from one brewery dinner to the next. It's never the same and we always challenge ourselves to never repeat a dish."
How do you rent out your glassed-in private room for events, parties or meetings?
Mary: "The private event space has been used in multiple ways, corporate meetings, baby/bridal showers, birthdays, rehearsal dinners, wakes, public meetings, ball game viewings and even a wedding. The rates can vary depending on the type of event. We offer food catering. As a side note, we host a Beer Dinner each month with a selected brewery. Here is a quick list of the breweries we have done in the past: Firestone Walker – Nov 2019, Saint Arnold Brewing Company, Southern Star, Eureka, 11 Below, Spindletap, DogFish Head, Back Pew, Brooklyn Brewery, Celis, Lone Pint, Stone Brewery, and more."
What is your perfect meal here from start to finish?
Ernesto: "Well it would definitely start by selecting a cold crisp beer out and then ordering a couple small appetizers like the Brussel sprouts and octopus campechana. I then would get another 2-3 items hopefully with someone to share them with like the Kimchi brat and possibly the crispy pata which should more than definitely fill you up, & last but not least a big bold Stout as my dessert to finish it off."
You all have a coffee program too, what made you decide to sell craft coffee on the weekends?
Mary: "Craft Coffee was an easy decision. Our space is large and accommodating as a work space and social gatherings. Our hours have just expanded. We are open for coffee six days a week with breakfast options starting at 8am and soon we will be open 7am seven days a week with breakfast options."
What are your crowd favorites on the menu?
Ernesto: "I would say the fried oyster po bao is a really big hit and our newest item the crispy pata have been big hits."
5 words to describe Thistle Draftshop?
Mary: "Independent, Craft, Community, Unique, Comfortable."
Thistle Draftshop is located at 5210 FM 2920 #100 in Spring, Texas and open Monday – Wednesday 11am to 11pm and Thursday – Sunday 11am to midnight. Learn more by calling (832) 823-0194 and visit their website at thistledraftshop.com and Facebook page at https://www.facebook.com/thistledraftshop/
Nick Rama is a food writer, contributor of Hello Woodlands, and shares his restaurant experiences on Nick's Local Eats at NicksLocalEats.com and the TX BBQ, Burgers and Brew Facebook page. Nick enjoys helping the small business owner, supporting his community with fundraising for food banks, and plans tasting events with locally owned mom and pop restaurants.