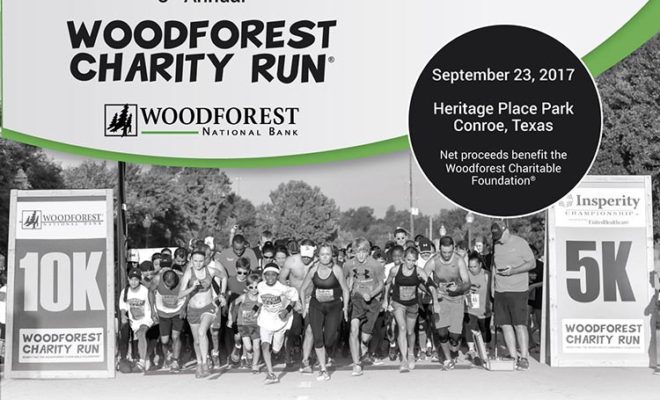 Calendar
Registration Open for 8th Annual Woodforest Charity Run on September 23
By |
Montgomery County, TX  – Woodforest National Bank and the City of Conroe will host the 8th Annual Woodforest Charity Run scheduled on Saturday, September 23 at Heritage Place Park in downtown Conroe.
Net proceeds from the run will benefit The Woodforest Charitable Foundation which supports local charities in the area like the Montgomery County Food Bank, Montgomery County Youth Services, the Friendship Center and the Montgomery County Women's Center to name just a few.
The Woodforest Charity Run is made up of two certified runs sanctioned by the USA Track and Field. The Panoptic Insurance 10K starts at 7:40 a.m. and the Insperity Invitational 5K starts at 8:00 a.m.
The Conroe's Incredible Pizza Barkley Shoe Dash for children ages 5-7 and 8-12 will begin at 9:00 a.m. This kid-friendly event, will be held on Simonton Street in front of Heritage Place Park. Young runners begin their race with one shoe, dash 50 yards to retrieve and put on their other shoe from a pile of competing runners shoes, then dash 50 yards back across the finish line.
Additionally, all participants, volunteers, and spectators are invited to enjoy food, music and family friendly activities at the Woodforest Post Race Party held in the park.
"We are so thankful to see our charity run continue to grow in size and community support year after year. With the generous support of our sponsors and volunteers we look forward to another successful run that will help so many in our community," said Patricia Brown, Conroe Regional President of Woodforest National Bank.
Paul Virgadamo, Jr., City of Conroe Administrator, added, "The City is pleased to continue our support of The Woodforest Charity Run in downtown Conroe. We have seen first-hand how the success of this run has generously given back to our community and pleased to support its efforts for the eighth consecutive year."
Online registration can be completed by going to www.woodforest.com.
Sponsors, to date, include:  Insperity Invitational, Panoptic Insurance, Conroe's Incredible Pizza, M. Daigle Custom Homes, South Texas Maintenance Service, Gullo Auto Group, Newmark Homes, Houston Royal Purple Raceway, I-45 Signs, Conroe Comprehensive Dental Center, Rodgers Stein Chiropractic Center, Bowdoin Construction, LEQ Transport dba D-Star Transport, The Republic Grille, Crust Pizza, Fleet Feet, Hughes & Cozad Orthodontics, Lowrance Machine, Monroy Pro Auto Service, Signs Etc., Spectrum, Derrick Bryant Photography, Trophy House, and Costco Wholesale.