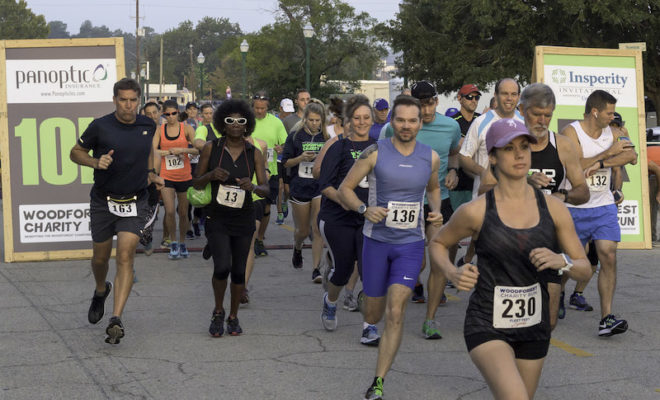 Events
Registration Opens for 9th Annual Woodforest Charity Run
By |
Montgomery County, TX– Woodforest National Bank and the City of Conroe announce registration is open for the 9th Annual Woodforest Charity Run scheduled for Saturday, September 22 at Heritage Place Park in downtown Conroe. The Woodforest Charity Run is made up of two certified runs sanctioned by the USA Track and Field. The Insperity Invitational 10K starts at 7:40 a.m. and the Smith Hamilton 5K starts at 8:00 a.m.
Returning by popular demand, the Barkley Shoe Dash for children ages 5-7 and 8-12 will begin at 9:00 a.m. This kid-friendly event will be held on Simonton Street in front of Heritage Place Park. Young runners begin their race with one shoe, dash 50 yards to retrieve and put on their other shoe from a pile of competing runners' shoes, then dash 50 yards back across the finish line.
Additionally, all participants, volunteers, and spectators are invited to enjoy food, music and family-friendly activities at the Woodforest Post Race Party held in the park.
"We are pleased to bring this family-friendly sanctioned run to Conroe and sincerely appreciate the support of the City," said Patricia Brown, Conroe Regional President of Woodforest National Bank. "We are grateful to our sponsors and the many Woodforest volunteers it takes to produce such a successful run where the proceeds go directly back to serve other families in this community."

Paul Virgadamo, Jr., City of Conroe Administrator, added, "The City is pleased to continue our support of The Woodforest Charity Run and we invite the community to come downtown to Heritage Place Park Saturday, September 22. The route through downtown Conroe is beautiful and an enjoyable way to promote health and fitness while raising funds for a great cause."
Online registration can be completed by going to www.woodforest.com.
Net proceeds from the run will benefit The Woodforest Charitable Foundation which supports local charities in the area like the Montgomery County Food Bank, Montgomery County Youth Services, the Friendship Center and the Montgomery County Women's Center to name just a few.
The Woodforest Charitable Foundation is a 501(c)(3) charitable organization founded in 2005 through a generous donation from Woodforest National Bank. The Foundation is committed to making a positive impact on communities that are served by the bank and the lives of their citizens by contributing time, resources, and money to many worthy charitable organizations.
For more information about the Woodforest Charitable Foundation, visit www.woodforestcharitablefoundation.org. For more information about Woodforest National Bank, visit www.woodforest.com.