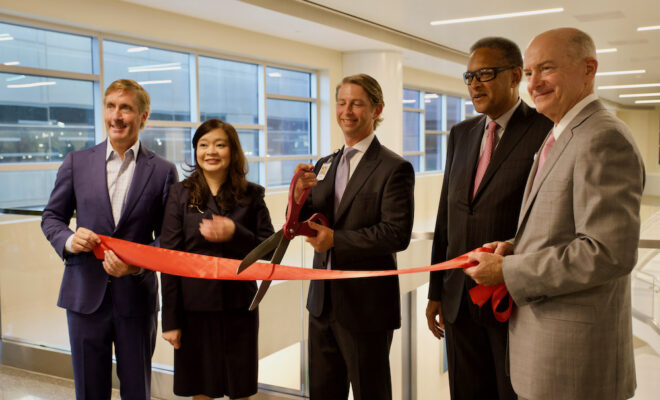 Photo Credit: Rod Prado, Hello Woodlands
Health
Ribbon Cutting of New South Tower at Memorial Hermann The Woodlands Medical Center
By |
On Thursday, May 12, Memorial Hermann The Woodlands Medical Center had its ribbon cutting and gave tours of the new South Tower that is scheduled to open early June 2022.
View photos from the event on the Hello Woodlands Facebook page:
Since 1985, Memorial Hermann The Woodlands Medical Center continues to grow and invest to better serve and meet the healthcare needs of The Woodlands and its surrounding communities. The centerpiece of the current $250.6 million major campus expansion is the South Tower, the campus' third patient tower and new main, hospital entrance off Medical Plaza Drive. The South Tower is 351,636 square feet, 8 stories tall, includes a enclosed skywalk to the parking garage, and has 3,412 campus parking spaces.
The South Tower features
500+ Hospital Beds – Additional beds covering: observation, heart and vascular care, surgical services, and the interventional lab
Leading Surgical Services – Welcoming, modern registration complemented by comfortable family waiting areas through. Expanded pre- and post-surgical holding areas. 25 operating rooms. 4 Endoscopy suites.
At the Heart of it – Floors Aligned around service lines for maximum care efficiency. 4th Floor features 7+ Interventional labs for heart, neuro, trauma, and oncology care. 5th Floor features dedicated inpatient floor with cardiovascular ICU and IMU. 6th Floor features a Cardiopulmonary Unit.
Economic Impact – Memorial Hermann is proud to be the largest workforce in The Woodlands and is hiring more. 3,150 employees and #1 largest healthcare employer in Montgomery County (#2 overall).
A Generous Community – Gifts to the Memorial Hermann Foundation support third floor features for patients, community, and staff. The Howard Hughes Corporation Conference Center includes 9 rooms for educational seminars and meetings. The Woodforest Bank Community Terrace is a 4,270 square-foot outdoor space with seating and overhead covering.
Room to Grow – An additional 137, 952 square-feet of space reserved for renovations after the South Tower opens. Plus, shell space throughout for future growth in: endoscopy, interventional labs, patient care, diagnostics, and more.
Learn more about the Memorial Hermann The Woodlands Medical Center's South Tower and recent expansion at https://memorialhermann.org/locations/woodlands/campus-expansion.
Source: Memorial Hermann
Advertisement