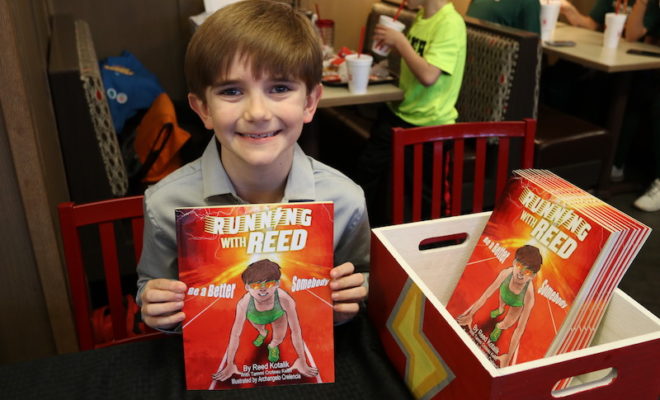 Photography by Jennifer Bruse, Hello Woodlands
News
Running with Reed: Young Runner inspires others to "Be a Better Somebody"
Meet Reed Kotalik, an 8-year-old runner who won't let Cerebral Palsy stop him from giving his all to being the best athlete, brother, and friend he can be.
Reed Kotalik was born with laryngomalacia and, after much testing, was diagnosed with Cerebral Palsy. After going through significant rehabilitation to strengthen and condition muscles, Reed has stepped up to 33 national podiums across the country and won 9 national championships in running and field events.
Not only is Reed a competitive runner, but also just published a children's book on January 2, 2018 titled Running with Reed: Be a Better Somebody. The book is more than a book and more than a young runner who has Cerebral Palsy. It is a story about using each opportunity to become a better somebody.
Reed held his first book signing on February 2 in the community that he loves – in The Woodlands at the Chick-fil-A in Alden Bridge. Reed's family, friends, fellow athletes, fans and the community came out to support Reed in kicking off the book signing before he goes on a national book tour, beginning in Boston, Massachusetts and ending in Virginia for Spring Nationals.
Reed's running has not only has brought awareness to Cerebral Palsy, but also helped raise awareness for CASA for foster kids, Batten Disease, Head for the Cure, and Juvenile Diabetes. Reed was named as the national ambassador for the Make Lemon Aide for Cerebral Palsy Foundation.  In February of 2017, AAU Track and Field named Reed as its' national spotlight athlete.  In August 2017, he challenged friends to join him to do 21 Random Acts of Kindness in one day to honor friend, Grant Milton.  Reed makes public appearances to benefit literacy causes, has hosted drives to gather books for hospitalized children, and provided school supplies and toys for those in foster care.
At the February 2nd book signing, Reed signed and shared his new book with the community, but also gave local children the opportunity to make cards and bracelets for senior citizens plus paying to "spin the wheel" and placing Chick-fil-A orders to raise funds for Make Lemon Aide. The kickoff illustrated Reed's deepest desire to see people coming together for a great cause and it perfectly embodied the message of his book to "be a better somebody" by helping others.
Running with Reed: Be a Better Somebody is now available at www.runningwithreed.com along with a companion coloring and activity book as well as a large print edition.
View photos from the event on the Hello Woodlands Facebook page!