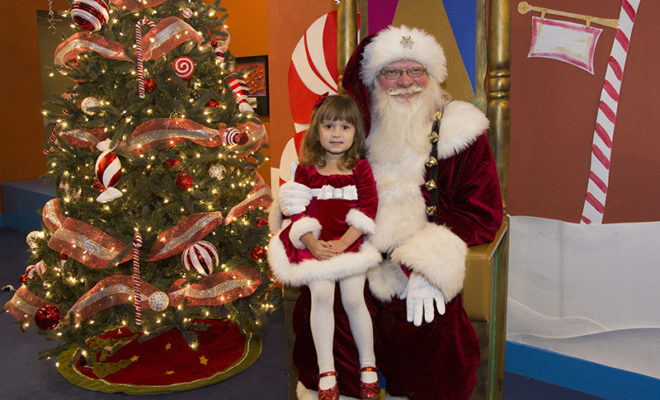 entertainment
Santa Social at The Woodlands Children''s Museum set for December 8
THE WOODLANDS, TX – -– Children can take an imaginary journey to the North Pole on Saturday, December 8, when The Woodlands Children''s Museum presents a Santa Social with a Peppermint Twist, a morning packed with entertainment, special activities, a light breakfast and, of course, time with St. Nick. Space is limited for this event. Admission is $30 for children and $15 for adults. Ticket pre-sales are available for museum members only from November 1-5, and the public can begin purchasing tickets November 6 by calling 281-465-0955.
Throughout this special celebration, set for 8:00 -11:00 a.m., Santa will be available to chat with museum visitors and pose for photos.
Families can enjoy a light breakfast in the Elf Breakfast Corner, build a gingerbread house in Mrs. Claus'' bakery and frolic through the museum to uncover special surprises during a scavenger hunt with Santa''s elves.
At 9:00 a.m. and 10:00 a.m., children can delight in Le Theatre de Marionette''s enchanting performance of Peppermint Twist, while Elsa from the Disney movie Frozen strolls through the museum all morning with special individual photo times from 8:20 – 8:40 a.m. and 10:40 – 11:00 a.m.
Children can experience additional activities including snow play and Christmas sensory play activities, writing a letter to Santa, creating assorted Christmas art projects, posing for a silhouette artist for an additional fee, singing along with Christmas carolers and choosing special treats from the museum's candy bar.
""Children and their families will have opportunities to create memories that they will cherish for a lifetime,"" said Angela Colton, Executive Director of the Museum. ""Christmas is magical, and this is just another great moment for the Museum to remind families and their children about the magic.""
The performance by Le Theatre de Marionette is being made possible by a grant from Arts Respond Performance Support (ARPS), a Texas Commission on the Arts program. ARPS helps organizations host artists from the Texas Touring Roster in their communities. The Woodlands Children''s Museum is one of 107 organizations in 70 Texas cities selected to receive an ARPS grant this year.
The Woodlands Children''s Museum is recommended for ages 7 and younger. Children must be accompanied by an adult at all times. For more information, visit woodlandschildrensmuseum.org or call 281-465-0955.
The Woodlands Children''s Museum, a 501(c)3 nonprofit organization, was founded out of a desire to meet the community''s proven need for a positive environment where children and their families can learn, play and make special memories throughout the year. At the museum, fun and learning go hand in hand, whether children are creating art, singing along to a musical performance or conducting a science experiment. The museum also has made it a priority to bring children multi-ethnic and multicultural experiences that celebrate cultural and global differences and strengthen common bonds. Programs frequently are delivered in partnership with other nonprofit organizations, always with the goal of making a positive difference in the life of a child. For more information, visit woodlandschildrensmuseum.org.