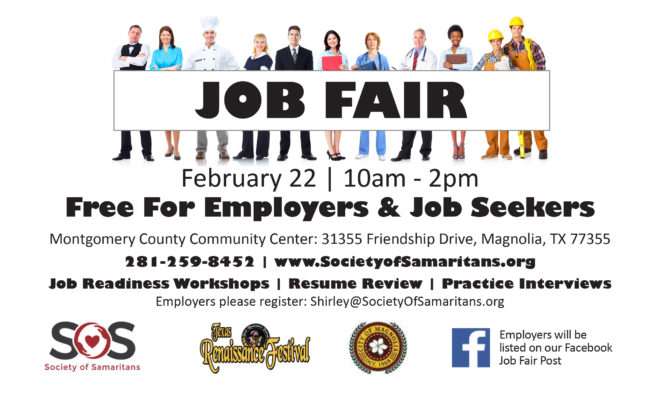 Business
Society of Samaritans to Host Job Fair February 22
By |
MAGNOLIA, TX – Society of Samaritans will host its annual Job Fair on February 22, 2019 from 10:00 a.m. – 2:00 p.m. at West Montgomery County Community Center located at 31355 Friendship Drive in Magnolia. The event, held once a year, connects potential employees with businesses that are hiring in the area.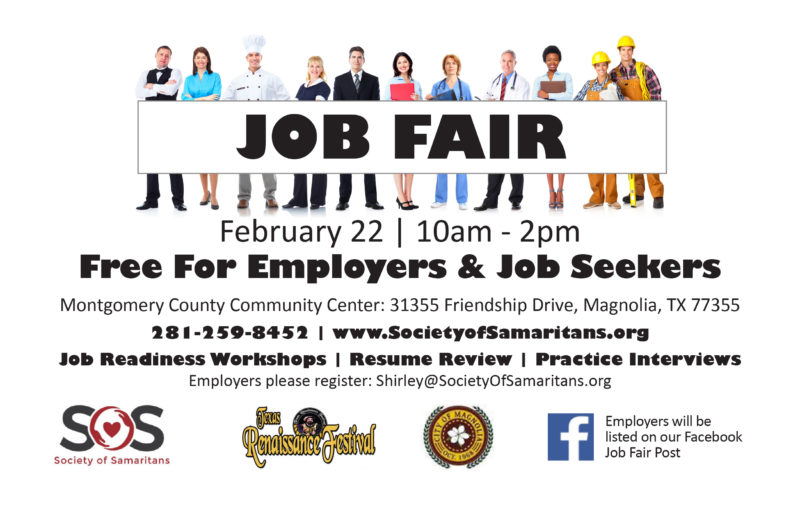 "It gives job seekers and employers an avenue to discuss career opportunities," shared Shirley Jensen, Board Member of Society of Samaritans. "Events like these are critical to strengthen our economy and allow businesses to acquire talented and skilled workers."
Job seekers will discuss careers with 50 employers in education, manufacturing, sales, management, law enforcement, construction, medical, and hospitality fields. Job readiness workshops covering resume and interview tips can be attended every 30 minutes. Practice interviews and resume reviews with a hiring professional from Montgomery County Society for Human Resource Management and community leaders will be available.
Hiring employers are invited to attend at no cost. To register for the job fair, contact Shirley@societyofsamaritans.org, call 281-259-8452, or visit www.societyofsamaritans.org.
Society of Samaritans Inc. has served the Magnolia area since 1986. The organization is a coalition of church and service organizations which act together to operate a non-denominational center to help meet the basic human needs of neighbors in the community. Society of Samaritans is a 501(c)(3) nonprofit organization. Their mission is to communicate the Gospel as they model the love and compassion of Jesus Christ by providing food, clothing, and emergency financial assistance to neighbors in need in the Greater Magnolia area.