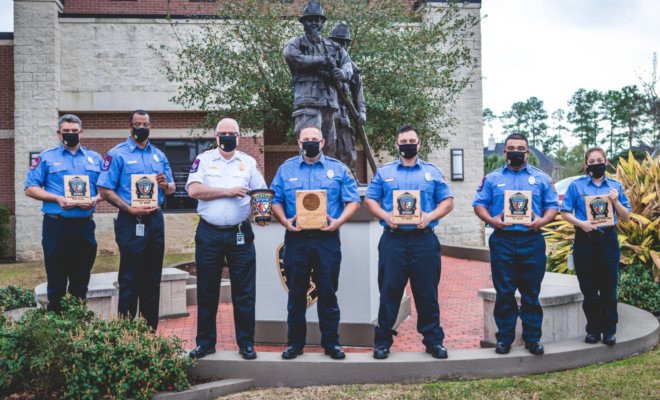 Lifestyle
Spring Firefighters Honored as Firefighter of the Year
By |
SPRING, TX – 2020 was very different year for the Spring Fire Department as your first responders stepped up to answer emergency calls amid a global pandemic. Today we honor those who went far and above to show their dedication to our community.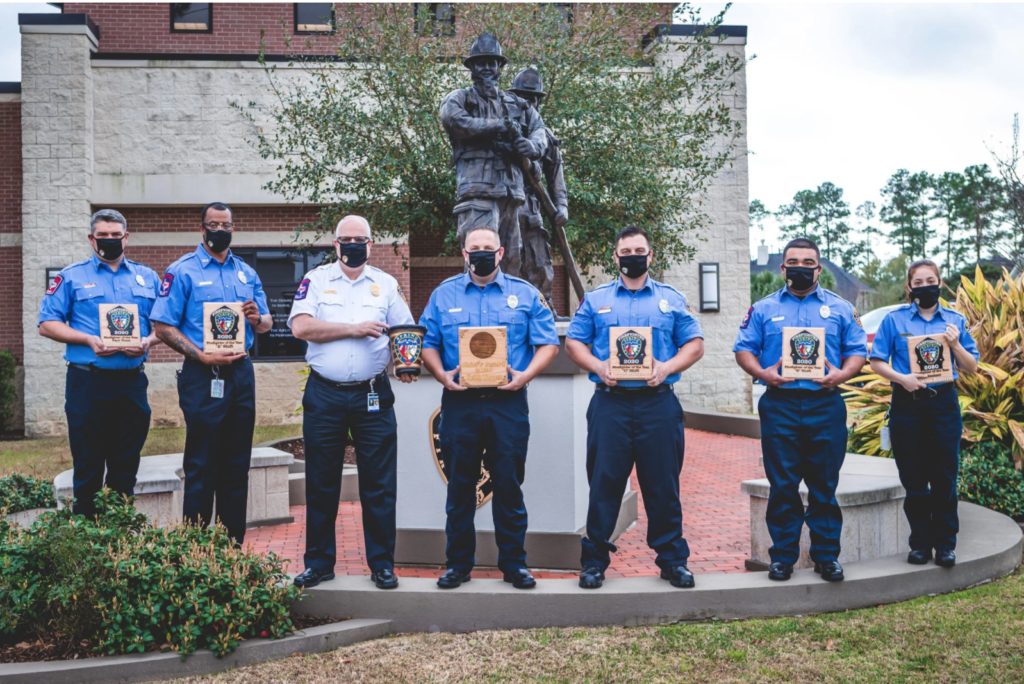 The Spring Fire Department is a combination department made up of 104 full-time, 25 part-time firefighters and dozens of volunteer firefighters. Over three shifts, everyone has an important role to play.
Sterling Davis, 39, is being honored as A Shift's 2020 Firefighter of the Year. After joining Spring Fire less than two years ago, his district chief says he has already "made quite the splash."
"Sterling comes to work each shift with a smile on his face and genuine enthusiasm for the job," effused District Chief Kevin Wiseman who in 2020 asked Sterling to take on the role of acting Captain at Station 78, managing the on-duty crew, while overseeing the maintenance and upkeep of both the fire station and apparatus. "While in the rank of firefighter, Sterling embraced this assignment and all the challenges that have come with it. Sterling's commitment to our organization, the job and our community sets a high bar for others."
Angel Ferretiz, 24, is being honored as B Shift's 2020 Firefighter of the Year. Ferretiz joined Spring Fire in 2018 and has quickly become a firefighter that other firefighters look up to.
"Angel's role on B Shift often places him in a position of leadership that he handles well and with professionalism," said B Shift District Chief Chris vonWiesenthal. "His skill, strength, and thoughtful decision-making process allows him to excel on a daily basis." On his days off from Spring Fire, Angel brings that same professionalism to another area fire department enhancing his skills with every shift.
Lewis Rougeou, 32, is being honored at C Shift's 2020 Firefighter of the Year. After joining Spring Fire as a volunteer in 2016, he made the transition to full-time firefighter in 2018.
"His willingness to learn and eagerness to train has made him an extremely valuable team member," said C Shift District Chief Jimmy Stewart. "Early in 2020, Lewis expressed interest to join the rescue team and put in 168 hours of rescue training that has made him a 'go to' team member for knowledge, skills and reliability. He also lends his skills to the rookie classes."
John Nanninga, 40, is being honored at as Spring Fire's Part-time Firefighter of the Year for 2020.
A long-time resident of Spring, his dedication to this organization spans over a decade. A veteran Houston Fire Department Captain, he brings his skills to bear in his home community. "He is a dedicated and dependable firefighter with a wealth of experience that he very often shares through training classes and events," added vonWiesenthal. "This past year John taught many classes in 'less than ideal' conditions."
"Beginning as a volunteer, then returning years later as a part time employee, John brings enthusiasm, passion, and zest for the job," shared Wiseman. "John's willingness to invest his time with our newer firefighters and driver trainees shortens the learning curve for these members. He brings value on a day-by-day basis that will continue to benefit new and senior members."
Cristina Romero, 21, is being honored as Spring Fire's 2020 Volunteer Firefighter of the Year.
Romero signed on to be a Spring volunteer firefighter in 2018. Prior to 1997, Spring was an all-volunteer department. Cristina proves with every shift that she a credit to all the men and women who came before her.
"A determined firefighter and hard worker, Cristina is an asset to every crew she works with, said vonWiesenthal. "She donates her time very regularly to ride on the apparatus and knows how to do her job."
She is also an active participant in community fire education and risk reduction helping with school career days and other community events. "When someone is needed to help talk about fire education and firefighting, Cristina is one of the first volunteers to offer her assistance," added Spring Fire Chief Scott Seifert. "When we resume community activities after COVID, I expect I will see her even more than I already do."
The Fire Chief's Award is handed out annually to an individual who has done something above and beyond what is expected. This year's recipient is Logistics Technician Keith Topper.
"It goes to someone that impacts our department, its people and the community we serve; someone who takes the initiative to take on tasks without being asked and who is an example of the attributes we want in every individual in our department: dedication, commitment, self-motivation, confidence, integrity, courage, optimism and vision," said Chief Seifert. "I chose Logistics Technician Keith Topper because he exemplifies those qualities as he continues to learn and hold himself to the highest ethical and moral standards of our profession and department."
Topper, 41, became a full-time Spring Fire employee in early 2020, but he has been a part of the Spring Fire Department for much longer. Starting as a volunteer Spring firefighter in 1997 and then a part-time employee in the Quartermasters division, he has led efforts for improved Personal Protection Equipment (PPE) for firefighters. "Every day he puts his many years of experience as a firefighter to work keeping our team – and thus – our community safe," added Seifert.
"I, and my command staff, are blessed to have such a passionate group of leaders on the fireground and behind the scenes helping us fulfill our mission here in our community," concluded Seifert. "Today we honor their dedication, because this mission is bigger than all of us and it takes all of us."