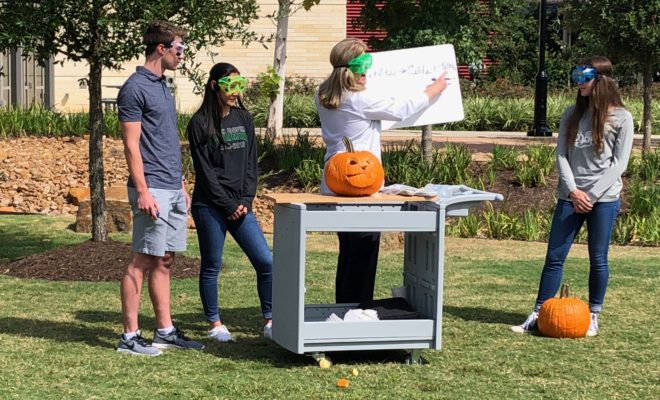 Lifestyle
STEM Club students celebrate the "Chemystery" of Halloween
By |
At The John Cooper School, Upper School chemistry teacher Cathy Mock is a faculty sponsor of the STEM Club, a club for students interested in all things science, technology, engineering and math. This October, she surprised club members with a science experiment that "carved" Halloween pumpkins.
Watch what happened in the Hello Woodlands video below:

The "Exploding Pumpkin" or "Self-Carving Pumpkin" experiment was a fun surprise for the STEM Society. Students had the opportunity to learn more about science at Halloween and learn a new way to carve a pumpkin with the guidance of their chemistry teacher.
In the experiment, the pumpkin is first carved and the pieces of the jack-o-lantern are positioned back into place. Next, a chemical reaction is created inside the pumpkin causing the carved pieces to project out of the pumpkin.
If you watch the video closely, Cathy Mock illustrates how the energy is released when you break a triple bond in a molecule of acetylene. The reaction that takes place inside the pumpkin uses calcium carbide to generate a small amount of acetylene gas. When the gas is ignited by the student, energy is released pushing pieces out of the pumpkin.
Advertisement
One of the many positive aspects of a Cooper education is that a wide variety of club and leadership opportunities are made available to students in all three divisions. From the arts, to chess, robotics, or culinary clubs, students can explore their passions and develop new ones. With more than 15 organizations to choose from, students share their interests and advance worthy causes.
To learn more about The John Cooper School and STEM club, visit johncooper.org.
The information provided in this article and video are for educational purposes only. Please do not try this experiment at home without the help of your local amazing chemistry teacher or exploding pumpkin professional.