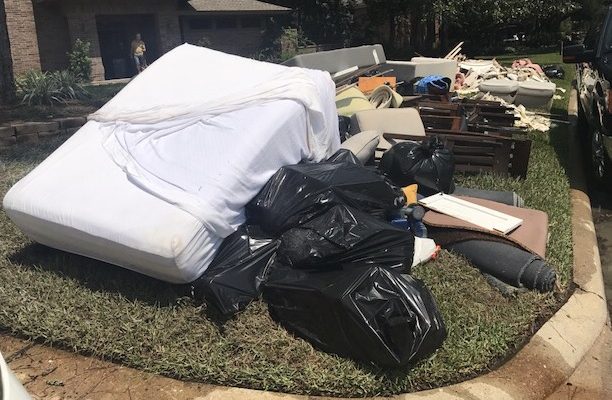 Hurricane Harvey
Storm debris pickup ends in Montgomery County
By |
THE WOODLANDS, TEXAS (October 10, 2017) – The Woodlands Township has received word that the last day for storm debris pickup from Montgomery County is Monday, October 16, 2017.
Just under a week remains for county-operated and managed debris removal. After October 16, 2017, it will be the responsibility of the homeowner to dispose of debris caused by Hurricane Harvey. If you still have debris, please place it in the county right-of-way so that it may be picked up. The county right-of-way is between the road and ditch, or within 10 feet from the edge of the road. All storm debris must be within 12 feet of the right-of-way to be picked up. Crews will not go onto private property to collect debris.
Please remember to separate your debris and place in the county right-of-way, so that it is easily accessible and not blocking the road or the drainage ditch. Do not bag debris:
Vegetative debris
Construction/demolition debris
White goods (refrigerators, ranges, water heaters, freezers, unit air conditioners, washing machines, clothes dryers, and other similar domestic and commercial large appliances)
E-waste (electronics)
Household hazardous waste
DO NOT:
Place debris directly under power lines.
Place next to or leaning against trees, meters, mailboxes, water hydrants or anything that could be damaged during the collection process.
Allow debris to block drainage ditch.
Residents should keep vehicles clear of debris. Normal household trash is to be picked up by Waste Management on your normal service day.
There are two ways to report your debris:
On the Montgomery County website, www.mctxoem.org – there is a registration link for debris removal only.
By calling 936-523-3916. You may also take your debris to one of the debris sites for public drop off at the following locations:
242 – Northwest corner of 1314 and 242; 8 a.m. – 5 p.m., Closing permanently October 16, 2017.
10990 Seven Coves Rd – Conroe; 8 a.m. – 5 p.m., Closing permanently October 16, 2017.
Lone Star Parkway – Montgomery, 8 a.m. – 5 p.m., Closing permanently October 16, 2017.
Continue to monitor www.mctxoem.org for updated and new information.
For more information about The Woodlands Township, please visit www.thewoodlandstownship-tx.gov or call 281-210-3800.
Source: The Woodlands Township