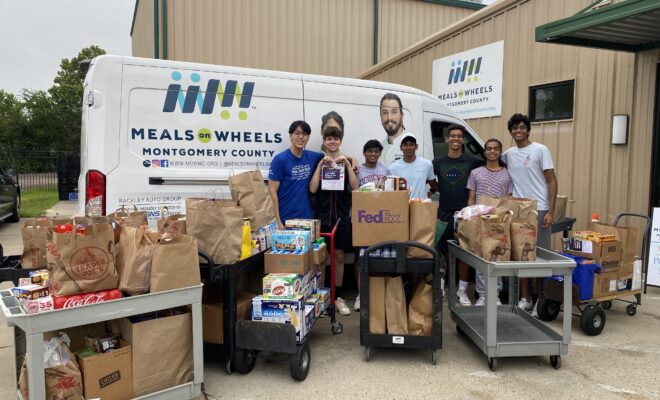 Lifestyle
Student-led Food Drive Collects over $5,000 Worth of Food for Meals On Wheels Montgomery County
By |
THE WOODLANDS, TX – On July 1, 2022, Meals on Wheels Montgomery County (MOWMC) received a generous donation of over $5,000 worth of food, all collected from a student-led food drive.
The driving force behind the food drive was Kevin Pan, President of the Diversity, Equity, Inclusion Club (DEI Club) at The Woodlands High School, who led members of the club to gather donations from fellow students and the community. The students were from DEI Clubs at both College Park High School and The Woodlands High School.
On May 10, 2022, the club put up an announcement at The Woodlands High School and set up a flyer on the bulletin board informing students of a donation box that was located in the club room.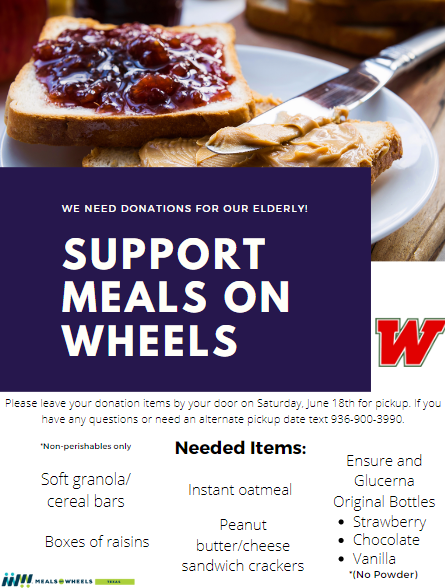 The largest part of the food drive began on June 1, 2022. The club members did not wait for donations to come in; they put in the work by going door to door.
The students created a flyer listing MOWMC's specific needs and spoke with residents from several Woodlands neighborhoods throughout the following weeks until June 14th. Their goal was not only the food drive, but to raise awareness of the needs of homebound seniors in our community. Almost all donations came from these generous residents.
All the donation items were collected on June 18th, which was no small task given the amount of donations. The donated items were then dropped off at MOWMC July 1st.
"Working with my fellow DEI club members to coordinate a genuine positive impact on the community was an amazing experience as we all felt a sense of purpose and fulfillment," said Kevin Pan, President of DEI Club at The Woodlands High School. "It allowed us to not only aid the community but also act on our club's mission of being diverse and inclusive to aid a disadvantaged group, being the elderly."
"Each and every one of us worked hard to ensure the success of this food drive, and it was not only great to discover how much we could do together as a group, but also to see how well we worked together," he added. "It was a truly meaningful experience that has inspired all of us, and we were honored to do our part to support our elderly. We all hope that this brings a smile to the faces of those who rely on Meals on Wheels, and inspires the community to care for them just as much as we do."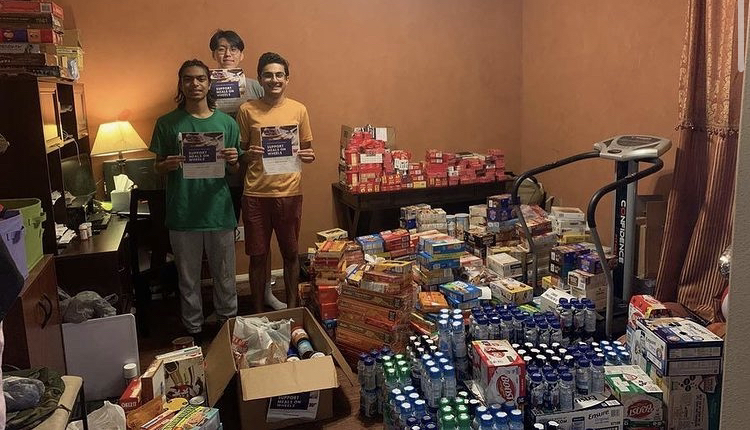 38 total club members participated in food drive. The club officers who helped organize the food drive were: President: Kevin Pan, Vice President: Zaheer Sufi, Photographer/Social Media Manager: Elijah Lo, Secretary: Nishant Palasamudram, and Treasurer: Mark Haanschoten. Other club members that helped were: Vedarth Jain, Ramona Khani, Owen Markel, Felix Luo, Zain Sheikh, Colby Sallee, Ben Burke, Jackie Burke,  Lily Tirpak, Jai Maggu, Siddhant Sutar, Hrishi Sahu, Juan Sett, Luisa Valdivia, Surya Shetty, Carson Moore, Yaseen Elzarka, Jack Whitehead, Merek Soriano, Sanjiv Iyer, Tony Ruiz, Shrish Tiwari, Omar Ali, Vignesh Karnik, Alex Conjelko, Yusuf Ali, Joshua Cesar Pierre, Mateo Casanova, and Mattias Kotz at the Woodlands High, and also Ryan Sen, Matthew Wang, Peter Wang, and Abhishek Tripathi at College Park, which made the food drive a cross-school initiative. Club sponsor Jenny Jiang helped the students by hosting club meetings in her classroom.
"Community food drives like this help provide supplemental non-perishable food for our most food-insecure seniors," said Rhonda Darby, Community Programs Manager at MOWMC, who worked directly with Pan to coordinate the food drive. "We are seeing an increase in referrals because of the rising cost of food. Seniors on a fixed income are being hit hard and our waiting list is increasing. Currently there are a little over 800 seniors receiving meals from Meals on Wheels across Montgomery County. We hope to add 100 additional seniors to our program by the end of summer due to the need. Our waiting list is at 120 as of this week."
Items donated included:
Crackers: 1,544 packets
Breakfast Bars: 2,967
Cereal: 18 boxes
Peanut Butter: 30 jars
Jelly/Jams: 12 jars
Pudding: 10 cups
Applesauce cups: 15
Oatmeal: 1,897 packets, 8 one-pound containers, and 2 ten-pound boxes
Ensure/Boost: 763 bottles
Raisins: 846 boxes
Not only does MOWMC directly donate food, but the kitchen staff also prepares donated food. The two 10-pound boxes of oatmeal and several large jars of peanut butter were both used to make peanut butter oatmeal squares as a treat for the seniors. "The entire building smelled amazing!" recalled Darby.
Other miscellaneous donations that Meals on Wheels doesn't accept such as pasta, protein shakes, canned foods, potato chips, and hand sanitizers/utensils will be given to the Montgomery County Food Bank.
The inspiration for the food drive came from the background most of the club members share. Many of them live with and value their grandparents. Meals on Wheels was a perfect fit for their mission as a club, and as a personal goal for the members.
Pan had already volunteered with the nonprofit for over two years, making coordination easy and smooth. "Kevin is familiar with Meals on Wheels as a meal delivery volunteer along with his mother, Le," shared Darby. "She has instilled a heart for helping others in her son, and I firmly believe he will carry this throughout his life. They were so dedicated to supporting seniors and several of them said it was a way to honor their own grandparents. I just love our community!"
Pan has future plans to work with MOWMC as a club, by not only continuing to organize donations, but also cooking in the kitchen and delivering food to homebound seniors. The club is also committed to continually use their platform to support MOWMC on both social media and during club activities.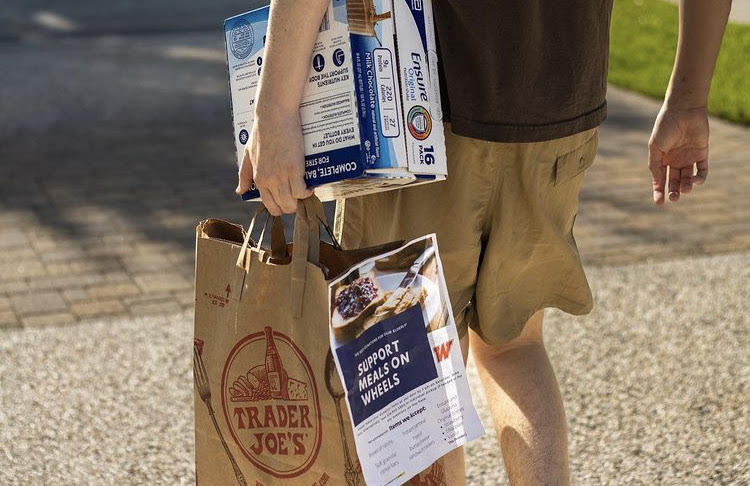 Any group or organization can coordinate an event through a project like this. Additionally, there are many ways individuals can help, such as weekend and weekday meal delivery options.
For more information on coordinating a food drive, delivering meals to homebound seniors, or other ways to help, contact rhonda@mowmc.org or visit www.mowmc.org/volunteer. Donations can be dropped off at 111 South 2nd Street, Conroe, TX 77301.
For more information on The Woodlands High School DEI Club, visit the Instagram page at www.instagram.com/twhsdei.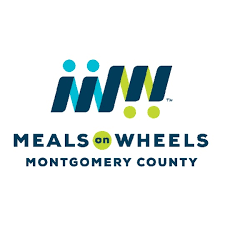 Since 1973, MOWMC has had a successful track record of delivering meals to local homebound seniors, currently delivering 240,000 meals annually. More than 200 volunteers deliver meals along 83 routes throughout the 1,000 square miles of Montgomery County. Seniors in need of meals are added to the waiting list each week. Additionally, MOWMC's curb-to-curb transportation service provides more than 17,000 rides to the disabled and seniors annually. With a mission to foster independence and maintain the dignity of each homebound senior by providing nutritious meals, transportation, and caring connections, MOWMC can always use additional volunteers and donations.
More information about Meals on Wheels Montgomery County can be found at www.mowmc.org or on the Facebook page at www.Facebook.com/MealsonWheelsMC.